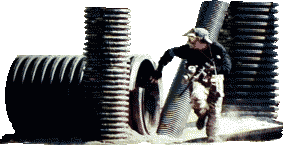 The Fields

From palmetto filled jungle to the sand and pipes of Hyperball
---

Hot, humid and green. That sums up most of the fields at Paintball World in Kissimmee Florida, where the '96 World Cup was held.
The location is very conveniently close to civilization. It is right behind "Old Town", a collection of stores and amusements for people staying in the Orlando/Kissimmee area. This means that parking was more than ample, and hotels were near by.
The surrounding terrain is very level, and the bush is thick. Mostly palmettos on the fields, with trees here and there.
In addition to the natural barricades, some of the fields include man-made bunkers to provide solid cover.

The natural cover is so thick that, from the sidelines it was difficult to tell who the players were shooting at.
A burst of paint would come flying in, splattering on the trees and bushes, and a player would return fire, with nothing more than the general direction of his opponent as a target.
---
HYPERBALL!

It's a whole new game!
Sure, you've seen speedball before, but Hyperball goes a step further in making paintball a sport that is meant for spectators, but still packed with action. What makes it different? A Hyperball court has rounded barricades that mean the players using them for cover can still be seen by the audience.

Hyperball originated in the U.K. and the concept is owned by WDP (manufacturers of the Angel electro-pneumatic paintgun). Brass Eagle is importing Hyperball to the US, with their first showing at

the World Cup. The field is completely surrounded by netting to allow non-goggled spectators in the stands which line each side. The barricades consist of vertical and horizontal pipes. The pipes add a new dimension. Some are large enough for stooping players to run through. What can be a "safe" bunker one moment, can suddenly have an opponent appearing out of no-where. In addition to the visibility afforded by the pipes they are also safer, as there are no corners or sharp edges on which a player can injure themselves.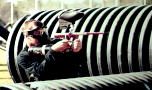 The Hyperball field at Paintball World was set up by Brass Eagle especially for the World Cup, and immediately after the event, it was disassembled and sold to Gino Postorivo of National Paintball Supply. The close proximity of the grandstands to "Old Town" meant a lot of tourists stopped in to watch a few games, and ended up learning about paintball.
Of course there is more to Hyperball than just the field. Brass Eagle is planning to sell Hyperball franchises through out North America. As Brass Eagle president J.J. Brookshire says "Anyone can open a burger stand, but it won't be a McDonalds. We'll be doing the same thing with Hyperball." By franchising Hyperball fields, Brass Eagle will sell a complete turn-key operation from the field, markers and paint, down to the business plan, and inclusion in national advertising campaigns.
The reactions to Hyperball have been mixed. Some people feel it's the future of paintball, a bunch of players in bright colored jerseys in the open court. Others think it will be the death of paintball, wanting to play in the woods in camouflage. More likely it will be an exciting new area for paintball to grow into. With a version of paintball that is more viewable to spectators, and easy to cover on television, more new people can be drawn into the sport. Meanwhile paintball as it is now will continue to grow, and have new players joining in. Hyperball - one of the futures of paintball.
For more information about Hyperball franchises, see the Brass Eagle web site.
---
---
Copyright © 1992-2012 Corinthian Media Services. WARPIG's webmasters can be reached through our feedback form.
All articles and images are copyrighted and may not be redistributed without the written permission of their original creators and Corinthian Media Services. The WARPIG paintball page is a collection of information, and pointers to sources from around the internet and other locations. As such, Corinthian Media Services makes no claims to the trustworthiness, or reliability of said information. The information contained in, and referenced by WARPIG, should not be used as a substitute for safety information from trained professionals in the paintball industry.
'Let a man regard us in this manner, as servants of Christ and stewards of the mysteries of God.' I Corinthians 4:1