The Vendors

Old and new products from the paintball industry showcased at the World Cup.
Click on one of the headlines to advance to the article:
---
AGD Unveils Automag RT

Thursday, October 24th, at 3:00 PM Air Gun Designs, manufacturers of the .68 Automag, unveiled the Automag RT, the next generation of the mag. In a press conference complete with slide presentation and laser pointer, Air Gun Designs' Tom Kaye explained what went in to the 2.5 man year development of the RT. AGD developed a test automag, which was loaded with sensors connected to computers. The data taken from subjecting this mag to various conditions was used to determine what areas of design could be most improved. In refill timing tests it was learned that there is a limit to how fast the Automag's air chamber can recharge through the regulator, so the RT sends full pressure gas straight into the air chamber, then cuts it off with a regulating piston when operating pressure is achieved. This allows the RT air chamber to recharge in only 23 milliseconds (43 times a second).

The next area improved for speed is the trigger. Up until now, Kaye explained, there have only been two types of triggers, straight mechanical (most paintguns) and electronic (the Shocker, and other electropneumatics). Through computer data testing, AGD discovered that while a person can pull a trigger quickly, and release a trigger quickly, there is always a lag time between the pull and release. To combat this, they developed the reactive trigger (hence the name RT). The reactive trigger uses gas pressure to double the return pressure on the trigger once the marker has started its firing cycle. This acts to push the trigger finger back, along with the trigger. Running only on compressed air or nitrogen, the RT can not use CO2, due to different expansion characteristics, and temperature problems. While the fastest technician at AGD, Jeff Streiber, has been able to fire the RT at 9 shots a
second, with an electronic trigger pulling test device and forced feed system (which Kaye declined to describe), AGD has fired paint through the RT at a rate of 26 balls per second. One of the surprising features of the new 'mag is a series of gas output ports near the rear of the grip frame. Kaye announced that these are to allow for "future gas powered accessories". With no description of the feed system used for testing, and the accessory ports in the design, many people have speculated that an air powered positive feed system may be in the works.
Unlike many products that are announced, and not released for many months, the RT is ready today, in fact, Automag RT's serial numbered 41 through 100 were made available for sale here at the World Cup. Number 41 was purchased by Bob Pitts of Team Annihilators less than 10 minutes after the press conference. Of course that trigger and air flow are not the only improvements in the RT, the trigger sear now has carbide inserts that will not wear, the gas system is fed through a foregrip and the grip frame rail eliminating the need for external hoses (through an external gas line is included, supplying gas to the accessory ports). As happy news to current Automag owners, the same barrels will work on the RT, though the stock RT barrel includes a muzzle brake, and dual nubbins.

Kaye explained that the second nubbin was because many people had trouble adjusting a single nubbin. For now the suggested retail price of the RT is $850, and the dealer pricing is "slightly above that of the Minimag", so it is reasonable to expect to see the RT for less on dealer's shelves. There are still some problems in the RT design, Kaye admits, as during field use, the velocity may fluctuate as much as 15 fps, however this is something being worked on at AGD, and as with past Automag models, they will support upgrading the early RT owners as these bugs get ironed out.
US Amateur Sports shows the Viper-AV

US Amateur Sports demonstrated the Viper-AV prototype, a modified Viper-M1 paintball gun featuring on board video camera, power supply, and wireless transmission system for use in paintball event coverage and scenario games. Bill Mills demonstrated the use of the AV with a color LCD display which allowed use of the video components as a sight. This high tech "sight of the future" brought out quite a chuckle from ADCo president Al DaPoli who was proudly showing ADCo's latest products (look elsewhere in this page for more info). With the addition of an infra-red flood lamp, the Viper-AV becomes night vision capable, and turned the heads of Wayne and Jackie Dollack. Keep your eyes open at next year's Wayne Dollack scenario games, you just might see one or more Viper-A/Vs out roaming the field sending telemetry back to the base camps.
ADCo expands product line

A leader in the shooting sports and paintball sight field, ADCo was showing their latest products. ADCo president Al DaPoli manned the booth displaying their selection of sights. New for '96 are the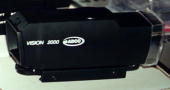 Swifty and the Vision 2000. The Swifty is a new compact, lower cost sight that uses a light gathering prism and fiber optic technology to project a sighting dot on an aiming lens. The Vision 2000, is similar to the Square Shooter in size and shape, but with fewer brightness settings (the seven of the Square Shooter are not often all used), a sleeker design, and a stronger and more optically correct lens protector, it promises to be a great new addition to paintball.
Rec.sport.paintball readers will recognize the name Tom Greening. Tom manned Barrels Of America's booth displaying their full line of custom barrels.
Brass Eagle provides resort like setting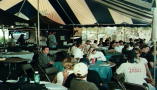 Brass Eagle had quite a showing. Located outside of the Vendors' tent, they had their own pavilion next to the Hyperball court. What's Hyperball? See the Fields section to find out. In addition to their retail product line, Brass Eagle was showcasing Hyperball, and promoting the import of Forest paintballs to the US (Forest has long been a major line of paintballs in Europe). The Brass Eagle V.I.P. lounge allowed selected guests to relax in a comfortable environment, while watching the games taking place on the Hyperball court. That put a whole new dimension on the business of paintball. More than once, Brass Eagle president J.J. Brookshire was seen working out a business deal, only to jump up, and yell "Watch this... right there, there he goes!!!!", as the attention in the tent was focused on the action on the field. Moments later, it was back to business while the teams outside got ready for the next game.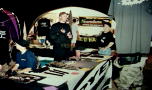 When he was not out on the field with the Ironmen, Dave Youngblood could be found at the DYE (Dave Younblood Enterprises) booth, surrounded by DYE barrels and clothing products.
The Paintball Press was out in force

Everywhere we looked, the paintball press could be seen. Faces like that of reporter Ken "Hollywood" Gilder seemed to pop up everywhere. Rene Boucher of Paintball News was standing on tables and holding his camera in the air to get the pictures he wanted. When that wasn't good enough, he hitched a ride in a helicopter!

Indian Springs shows clear loaders

Indian Creek's clear loaders continue to make a splash. Unbeknownst to many people in the paintball world, Mike Ratco of Zap Paintballs is a magician when he isn't busy helping to supply the world with paint. We caught him teaching Indian Creek's most prominent employee, Jamey Lorenzetti, to use a "Diablo" a juggling toy for street performers.


J&J Barrels are well known on the tourney scene. One of the features touted on Orlando was the light weight of their stainless steel barrels. Unlike other barrels which are heavy due to the density of stainless steel, J&J uses sleeves of lighter aluminum alloys for the connecting threads, and only stainless for the central body of the barrel, resulting in a lighter weight barrel with the benefits of stainless steel.
Marker Products selection grows

Marker Products continues to expand their product line. While we were at their booth, owner Mark Thompson (pictured talking to Dave Youngblood in the DYE article earlier) had trouble setting up his display. Every time he would unpack an item to put up, someone came along and wanted to buy it. Also in the Marker booth was Evan Money who's outspoken manner brought people from near and far to see Mark's accessories.
MF2 design distributes CO2 muffler
From north of the Canadian border, MF2 Design manufactures accessories and does their own anodizing in house. One of the most unique products we have ever seen is a CO2 muffler they are distributing. Many times we have seen people jump out of their skin at the loud sound of CO2 venting from a fill station. Many times we have seen frostbite from the same. How to control it? We've seen rags, we've seen garden gloves. MF2 has a great CO2 muffler. It's quiet, and it traps the dry ice that forms. It retails for under $20. What could be better?
Morgan Awards provides trophies

Morgan Awards continued their support of the NPPL by providing the trophies. At their booth, one could view their line of custom trophies for the sport of paintball, featuring silver, bronze, gold, and pewter finish figurines of realistic paintball players.
Component Concepts demonstrates revolution

Mike Cassidy of Component Concepts demonstrated the Phantom Revolution. While the revolution is not yet out on the market, prototypes were available at the show for demonstration. Holding up the long tradition of excellence in the Phantom line of pump markers Cassidy has said he does not plan on releasing the Revolution until it is perfect. Taking a bold new approach to chambering the ball, the revolution uses an electrically driven rotary breach that closes around the ball once it falls into the chamber. There is no bolt to push, or possible chop the ball. According to Cassidy,Due due to the way the rotary breach operates it can not chop paint. While a mechanical trigger releases the gas to propel the ball, an on board computer system uses a microphone to respond to the sound of the gas and operate the breach through the power of a pair of 9 volt batteries (good for about 2000+ shots). With the versatility of computer control, the Revolution can actually be set to fire less times per second for indoor play, or more for out-door.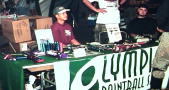 Olympic Paintball Sports showed a variety of customized markers, all with their own unique looks. Amongst their specialties are reverse autocockers (the ram regulator and valving are aligned toward the back of the receiver) and super snipers (automated pump paintguns). Olympic's airsmith, Brad "Q" Nestle, (pictured, right) could be seen at the booth occasionally, but more often could be found lending a hand in the Air Gun Designs booth as an AGD tech.

Palmer's Pursuit displays Blazer
The Palmer's Pursuit booth had an array of custom Palmer markers. The marker that seemed to be drawing the most attention was the new Blazer semi-automatic. Slated to begin production before the year is out, the Blazer is remarkably compact, and has a surprisingly short trigger pull for a pneumatic cocking paintgun. After WARPIG received the photo at right, reportedly taken by a security guard and Universal Studios, Florida, we are left to wonder where Palmer gets his technology. The silver of the Palmer's Pursuit t-shirt is a nearly identical match to the silver cloth of the alien space being.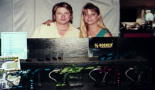 Pro-Team products displayed the Armson semi-automatic paintgun. Outfitted with a blow-forward bolt design, expansion chamber in the grip, Armson pro-series barrel, and sight rail, this semi-automatic is one that people have been waiting for. Pro-Team also displayed their full line of Micromags. During the Cup, Ms. Paintball1996, Shephanie Christensen, purchased her first paintgun, a red and black striped Micromag with some custom components.
R.C.I. brings shirts from up north

R.C.I. Came down from Canada to show and sell their colorful clothing for paintball. Unique to their designs are patterned shirts, using bleached tye-dye like patterns as backgrounds for their printed designs.
Bad Boys Toys - distributes Soverign

The Sterling pump paintgun has long been known for quality. For years people have been waiting for this Brittish manufacturer to come out with a semi-automatic model. Now, Bad Boys Toys is importing the Soverign, and building customized versions, like the one Rennick Miller is holding in this photo
Combat Vision cuts through the fog

Modern World Ventures was on hand with their fog defeating paintball product Combat Vision. The Combat Vision inserts mount inside singal pane goggle lenses to convert them into durable double paned thermal lenses for fog-free performance.
Everyone was sweltering in the humidity and heat of Florida, except for Rob Kerr. He and everyone else in the Sandana booth was going Hawaiian, looking smashing in flower print shirts, and straw hats and flower leis. Of course it was on the fields that players were sylish in Venomwear apparel from Sandana.

Smart Parts continues to show off their marker, the Shocker. This electro-pneumatic paintgun operates at the low pressures they say are needed for the ultimate in accuracy. Smart Parts also held a number of technical seminars to teach participants about proper Shocker maintenance. The Shocker runs on such low pressure that according to Smart Parts' Bill Gardner, there is no reason to use nitrogen over CO2.
Midland Paintball makes Impact

While Midland didn't have a booth, owner Jim Frenshaw was on hand with Impact Soverign semi-autos. Midland is distributing Soverign semis within the U.K., and selling the Impact customized models.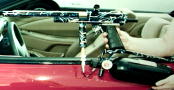 Tagline produces flip-top loader for TS-1

Tagline has turned heads with their TS-1 select fire marker. Locked into semi-automatic mode its hopperless design has been sought after for tournament play, but has had the drawback of limited feed capacities. Tagline has remedied this with a flip-top foregrip loader that holds 200 balls. Also shown were their integral bottom line set ups, and camoflage finish options.

Dennis Tippmann (front) Sr. and Dennis Tippmann Jr. (on the right, talking to Joe West of J&J barrels) of Tippmann Pneumatics strolled around the vendor's tent with their new product, the 68 Carbine. The carbine feels lighter than the Pro-Lite, and features a more modular design for easier upgradability, and a redesigned valve system for better velocity consistency.
Venom announces PMI distribution
Venom, manufacturers of European paintball tournament accessories, and the first company in the paintball undistry to distribute a catalog on CD-ROM, was on hand to display their wares, and to announce a distribution arrangement with PMI, to make their Venom bolts and high-lines available in the United States.
Warrior Products clothes teams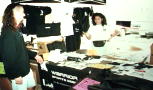 Larry and Marcella Cossio displayed the full line of Warriro Sports Gear products. Their tournament paintball shirts offer bold, high contrast black and white images that "you won't be ashamed to wear in front of your grandmother". Warrior Sports also manufactures a full line of gear bags and marker bags.
---
Copyright © 1992-2012 Corinthian Media Services. WARPIG's webmasters can be reached through our feedback form.
All articles and images are copyrighted and may not be redistributed without the written permission of their original creators and Corinthian Media Services. The WARPIG paintball page is a collection of information, and pointers to sources from around the internet and other locations. As such, Corinthian Media Services makes no claims to the trustworthiness, or reliability of said information. The information contained in, and referenced by WARPIG, should not be used as a substitute for safety information from trained professionals in the paintball industry.
'Let a man regard us in this manner, as servants of Christ and stewards of the mysteries of God.' I Corinthians 4:1