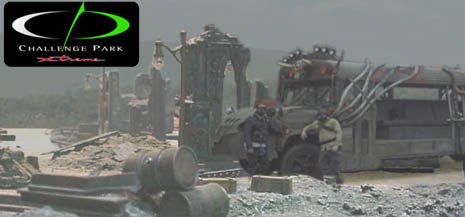 Challenge Park Xtreme Nears Completion
by Bill Mills - July 2000
A couple of years ago I interviewed Forest Brown for an Industry Profile in Paintball Magazine. During the interview, he told me about a project that was still top secret at the time. Now it nears completion.
Before involvement in paintball, Forest had made a name for himself in the fantasy role playing world. He founded the company Martian Metals which specialized in casting metal figures used in the games. He also coauthored the game Battletech, and wrote a large amount of material for FASA's Star Trek game that ended up being written into the history of the Star Trek "universe" in Star Trek movies and television series.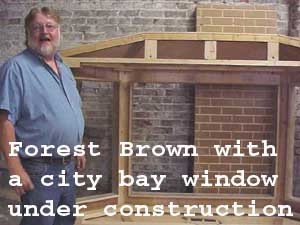 Brown founded Challenge Park paintball field in Joliet Illinois, and along with various partners expanded the operation to include locations in several states, and even Russia. He remains active in tournament paintball with his team, Farside.
The dream Brown had when I interviewed him was the ultimate paintball park. It was something he and partner Anderson Humphreys had been cooking up - a place to play paintball that was so different from what is out there today, that people would literally want to fly across the country to play recreational paintball there. His goal was to do to paintball, what Disneyland did to carnivals and amusement parks.
"Walt Disney was my hero."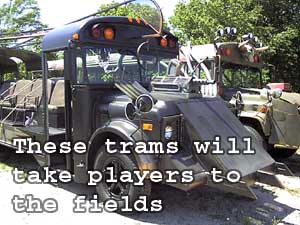 "Walt Disney was my hero," he says. "I cried the day he died." The Disney theme park approach was to take carnival type rides and dress them up. A train ride became a journey through prehistoric times. A roller coaster became a wild toboggan ride on the Matterhorn, and a boat ride became an adventure with the Pirates Of The Caribbean.
Enter Challenge Park Xtreme. The idea is a paintball field that's built like a theme park. Not just games in the woods. Not games in a lot of land that is filled with shipping pallet bunkers and a plywood town, but games that run through ruins of a bombed out war zone, door to door paintball in the downtown of a city that looks real, raiding a Aztec temple for a golden statue, and more.
That was the dream. It started taking shape in Brown's workshop with models of what he envisioned. The models soon went on display in his Challenge Games store in Joliet. After a chance meeting with Dean Oien the owner and director of Scenic View, things really started to take shape.
Scenic View is a set design and construction company, located in Chicago, IL. The are in the business of making fake things look real. Their primary clients are stage shows and theme parks. After seeing a portfolio of theme park walls, mountains, statues and buildings they had created, Forest was convinced he'd met the right people.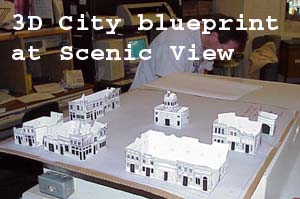 With design for Challenge Park Xtreme taking shape it expanded to more than paintball. In addition to the themed fields, paved and lighted parking, and 90 seat movie theater (to be used primarily for safety briefings), it would also include a dirt track BMX park, skateboarding and inline skating parks, and miles of mountain bike trails. As the ideas grew, so did the cost, and there was still the question of how to pay for it all. The "downtown" paintball field alone was budgeted to cost $900,000. That's nearly a million dollars for just one of several themed fields at the complex.

Designer's concept of finished city street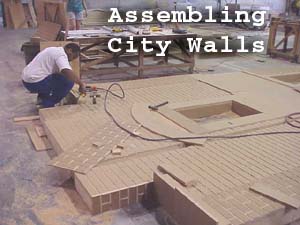 The hunt for investors was on. The largest single investor in the project was Brass Eagle, when it made headlines, dedicating 5.5 million dollars to the project. "They'll make their investment back, with a comfortable profit," says Brown. With hefty bills for the park to pay off, Forest is following the model of many mainstream theme parks. Rather than a high entry fee (the cost at Challenge Park Xtreme will be the same that a player pays at any of the Challenge Park fields now) part of the park's business plans are structured around sponsorships.
Fantasy Paintball fields, Tournament Complex, BMX and Mountain Biking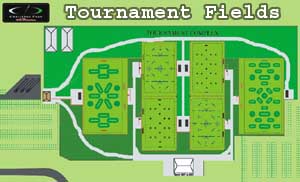 Much as roller-coasters and other theme parks rides are "presented by" corporate sponsors, so will be sections of Challenge Park Extreme. Staging pavilions adjacent to the park's tournament fields (2 mound, 2 Hyperball, and two inflatable) will each be sponsored, as will banner positions on the fields, bus benches, billboards and stores in the town, and even the company name on the side of the crashed Boeing 737 to be featured on its own field. And this one's not a prop, it's a real, full size 737.
The tournament complex itself includes innovations that will be sure to bring major competitions to Joliet. All 6 tournament fields will be fully netted with grandstands for spectators. Vendor and concession stands will cater to the audience as well as the players and computerized score keeping systems and video monitors will make tracking the games easy.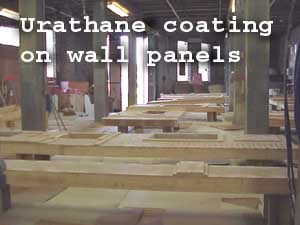 In June of 2000 I had the opportunity to tour the park grounds with Forest. Cruising around in a 6 wheel ATV we went to each of the main fields, most of which were still being cleared and leveled for foundations to be poured. Linking the fields will be screen covered walkways allowing both players and visitors to walk to and from the staging area in full protection.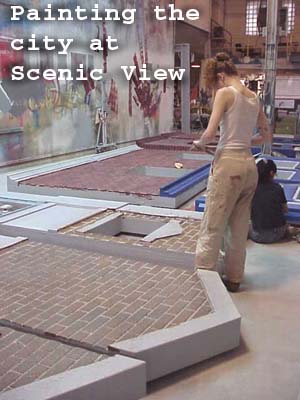 With 18 wooded fields and all of the additional sports facilities, it's quite a haul from one side of the grounds to the other, so Challenge Park Xtreme will take another tip from the big theme parks - trams. Scenic View took a pair of run of the mill school busses and converted them into creations that look like they are straight out of one of the Road Warrior films. The trams, named Phobos and Deimos, are named after the sons Mars, the Roman god of war. Running through the park from stop to stop, they will carry players from field to field and back out to the staging area. Brown also explained how the downtown city field got it's name. After a "name that town" contest, the winning name was chosen - Bedlam Illinois. The name was sugested Mark Hahn of Shorewood, IL who was rewarded with a lifetime pass to Challenge Park Xtreme.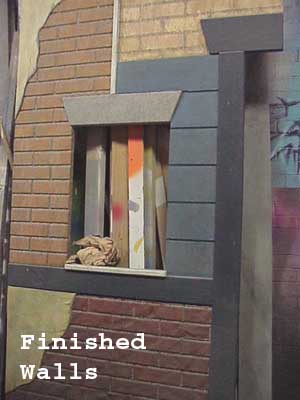 We also toured through Scenic View's Chicago workshop where much of the downtown field was under construction. Workers were cutting brick patterns in plywood with a CNC mill, and shaping them with formers and struts into walls, window frames and doorways. A coating of dense urethane foam gave them texture and impregnability to both paint and weather. Then came the scene painters who gave the bricks and walls realistic colors. Finally, after being assembled on site, set dressers will apply "weathering" - using paint to simulate daily grime and dust, giving the final touch of realism. Already loaded onto trucks ready for on site assembly were the Armageddon (bombed out town with smoldering rubble piles and sound effects), and Lost Temple sets.
Challenge Park Xtreme is taking shape quickly, heading toward it's projected grand opening in September of this year. Labor Day weekend is targeted as the opening date, with the majority of the main fields online, including the tournament fields, the town, temple, cavalry fort, and Armageddon. For the latest information on opening dates see the Challenge Park Homepage.