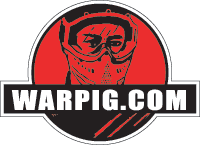 Pork Links
Enjoy these tasty WARPIG
sm
links to web sites around the world.
See these USDA grade A Pork Links from the genuine WARPIGsm homepage. Genuine Pork Links are freshness dated to make sure you're getting the US daily recommended allowance of paintball information, and not stale, out of date links. Beware of substitutes.
If you know of a high quality paintball web site that is not on this list, please contact us with the URL by filling out our feedback form. At this time, we are not linking to team webpages. Stores and Fields should follow the directions listed in the Store and Field directories.
Please do link back to us - we love it! If you want banners or buttons, look for them here.
---
Copyright © 1992-2012 Corinthian Media Services. WARPIG's webmasters can be reached through our feedback form.
All articles and images are copyrighted and may not be redistributed without the written permission of their original creators and Corinthian Media Services. The WARPIG paintball page is a collection of information, and pointers to sources from around the internet and other locations. As such, Corinthian Media Services makes no claims to the trustworthiness, or reliability of said information. The information contained in, and referenced by WARPIG, should not be used as a substitute for safety information from trained professionals in the paintball industry.
'Let a man regard us in this manner, as servants of Christ and stewards of the mysteries of God.' I Corinthians 4:1