---
Curious Paintguns

by

Originally published in Action Pursuit Games reprinted with author's permission.
---
Without the paintball gun, where would our sport be? In the beginning there was only the NELSPOT 007. Sheridan was quick to introduce their PMI-EB pistol, (later to evolve into the PGP). Then in 1986 came the short lived PUMA (the first Nelspot clone), and NSG's SPLATMASTER. Today the pages of this magazine are filled with a cornucopia of paintguns- pumps and semis, pistols and rifles, in every color from standard black to the latest "splash anodized". Yet even from the earliest days of the sport advertisements for fantastic paintguns with incredible claims appeared. Were these paintguns for real- or just figments of a would-be paintgun manufacturer's wildest dreams? Below are a few of the strangest and most wildest of these rarely heard of paintguns.

MYSTERY PAINTGUNS - in October 1987 advertisements for science fiction looking "semi-automatic" paintguns appeared in Action Pursuit Games magazine. The "Interceptor" and the "Hurricane"- reportedly manufactured by White Lion Industries of California, who operated a playing field in West Corvina. Since the paintguns were shown only in artist rendition- one must wonder if prototypes had even been developed- since eventually the advertisement disappeared from the magazine and to my knowledge no actual photographs or working models surfaced . A semi-automatic paintgun called the "Hurricane" did appear in 1990 but bore no resemblance to the artist conception in the White Lion ad. Glenn Palmer of Palmer Pursuit Shop custom modified a Sheridan pellet rifle with an ingenious pneumatic, under-mounted, semi-automatic, closed-bolt cocking mechanism and called the resulting work of art the "Hurricane".

THE PAINTGUN THAT TIME FORGOT- during the summer of 1987 another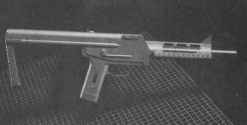 revolutionary gun briefly appeared- the "Equalizer". Three years in development, the project was spearheaded by Navarone team member John McLeod and "mechanical genius" Brian Sullivan (who was rumored to have helped invent the Barbie doll's bendable knee). They actually developed several prototypes and applied for patents and some of their innovations. By 1987 they had a model that they brought around to different playing fields to drum up interest (I actually saw a demonstration and held the Equalizer in my hands at the 1987 Air Pistol Open in NY). McLeod predicted that 2500 to 4200 "Equalizers" would be rolling off the assembly line per month, stocking store shelves by spring of 1988. A double-action semi-automatic, utilizing two 12 gram CO2 cartridges, and having a built-in, spring powered 20 round magazine, the gun made the cover of APG magazine and a short lived appearance in I&I Sports advertisements featuring a price tag of $325. Then it disappeared from the marketplace. But the story doesn't end there! In 1990 Rod Lovell of Major Paintball Industries marketed a paintgun known as the "BE90" through Blue Enterprises Corporation of El Monte California. Also known as the "Edge", this gun was claimed to have been invented by Larry Littlefield of WWP and manufactured in the People's Republic of China. The odd thing is- it looks exactly the same as the "Crossfire"! (I had the opportunity to hold a "BE90" in my hands also- it was the same gun!) After a brief appearance in some local paintball stores, the "BE90" disappeared as completely as its twin brother the "Crossfire". Both are now paintball legends- until their next reincarnation.
THE PAINTGUNS THAT NEVER WERE- beginning in the spring of 1989 and continuing through summer, advertisements for the "Destroyer" paintgun made a monthly appearance in Action Pursuit Games magazine. This state-of-the-art paintgun sounded too good to believe right from the beginning- but that didn't stop dozens of players from plopping down $450. each in a special "pre-issue" price. Just listen to this list of features included in the two page advertisement:
50 or 100 round positive feed drum magazine!
selector switch for semi or FULL AUTO!
precision honed, removable 14" barrel
adjustable sight
velocity selector switch for 210, 250, 290, 325 fps!
internal thermal heating system for cold weather play!
disposable 12oz CO2 tank!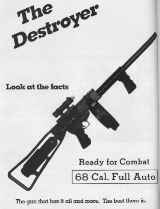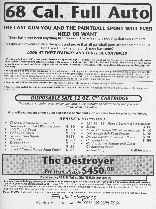 It's interesting to note that some of these innovations (positive feed drum magazine, full auto, internal heating, and disposable tanks) have yet to be commercially developed by any manufacturer! The ad also claimed that "velocity will not drop off after continuous rate of fire as in SMG60 and other constant air guns do to our patented space age technologically designed polymer spring". When the ads finally stopped appearing the rumor circulated that the gun needed further development due to velocity drop-off from the high rate of fire! It was mentioned that nitrogen was being explored as a alternate power source. Since some of the "Destroyer" ads were placed with advertisements for the controversial "Wolf's Lair" playing fields in Milford PA, it is assumed that the gun was being developed by the same people who were the principals at the field. When "Wolf's Lair" folded, the "Destroyer" disappeared along with it- except in the memory of the players who lost their deposits.
In November 1991 another "too good to be true" paintgun made a brief appearance in some paintball magazines- the "Devastator" looked remarkably like an M16 and featured some innovative developments such as a "CO2 powered 250 round posi feed loader, carbon fiber barrel stronger and smoother than metal, stock tank cover, double anti-doubling retainers," and apparently a triple pronged bayonet to stab those nasty opponents who wouldn't call themselves out! As you might have guessed- this paintgun never appeared on the market.
In late 1993 and early 1994 a paintgun named the "Macho Fire" had the paintball industry buzzing. As with the previous two fantastic paintguns, the "Macho Fire" claimed to feature all sorts of bells and whistles that the average paintball player wanted. Most unusual in this case was a new caliber paintball (years after the industry standard had settled down to 68cal) and oddest of all, this new paintball would not be round- but shaped like a little football! Since "Macho Fire" advertisements featured only an artist's conception of the paintgun along with a full page of incredible claims for accuracy and performance- many paintball industry leaders looked with skepticism at the product. When the manufacturers failed to deliver a working prototype to quell the rumors of fraud- the "Macho Fire" advertisements suddenly disappeared.
STRANGE & UNUSUAL- at the close of 1990 a new gun called the "Deuce" appeared in full page advertisements and was reviewed by APG in the December issue of that year. Designer Eric Ouellette and Gotch-Ya Paintballing Supply manufactured the double-barreled Nelspot clone. A single trigger fired both barrels, and a single pump chambered both balls. It was a seemingly good idea that was probably lost in the shuffle of the emerging semi-automatic craze, or perhaps the hefty $439. price tag had something to due with the gun's failure to gain popularity. I actually saw a player use one once for half a day! It was cool watching two paintballs corksrewing around each other simultaneously. The "Deuce" is definitely a collector's item.
STILLBORN- when Air Power announced they were discontinuing their manufacture of pump paintguns to enter the semi-automatic competition, a lot of people looked forward with excitement to the unveiling of the "Vector". Air Power had earned an excellent reputation in the late 1980s as a manufacturer of one of the most accurate Nelspot clones available, (the "Apex") as well as introducing the "venturi" bolt concept. In the 1990s came the Apex "Elite" which featured a rear velocity adjuster missing from the original version. So it was with a great deal of disillusionment that anxious players found that the first batch of "Vectors" to roll off the assembly line had several design flaws- more specifically, velocity maintenance problems. Though the "Vector" has gone through a series of modifications over recent years that have still failed to bring it up to desired performance specifications. This complicated piece of paintgun engineering is typically shunned by most players and rarely seen on playing fields.
YET TO COME- what does the future hold in store? Paintguns that replace CO2 with nitrogen and compressed air? The death of the pump paintgun? A semi automatic that really works in cold weather? Full auto paintguns? New technologies and materials that will make paintguns lighter, more durable, less expensive, more accurate, less likely to break down, less likely to break paintballs? We'll just have to wait and see!
---
Notes from WARPIG: Brian Sullivan, designer of the "Equalizer" double action (not to be confused with the Sheridan semi-auto of the same name) has certainly not dissappeared from paintball. He also is the designer of the extremely successful Trracer pump paintguns, and the award winning TS-1 select fire paintgun. Also, over the past few years, Air Power has refined the design of the Vector to an excellent performing paintgun. Unfortunately, a reputation of problems with early models prevents many players from trying this product. Equalizer photograph courtesy of I&I Sports Supply. Destroyer illustration is the original 2 page advertisement (the phone number has been blurred as it is now someone's home phone).
---
Copyright © 1992-2012 Corinthian Media Services. WARPIG's webmasters can be reached through our feedback form.
All articles and images are copyrighted and may not be redistributed without the written permission of their original creators and Corinthian Media Services. The WARPIG paintball page is a collection of information, and pointers to sources from around the internet and other locations. As such, Corinthian Media Services makes no claims to the trustworthiness, or reliability of said information. The information contained in, and referenced by WARPIG, should not be used as a substitute for safety information from trained professionals in the paintball industry.
'Let a man regard us in this manner, as servants of Christ and stewards of the mysteries of God.' I Corinthians 4:1