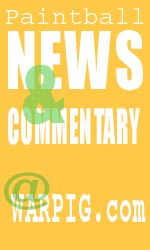 Ultimate Arena Paintball League





What do you think? Add your comments in WARPIG's Forums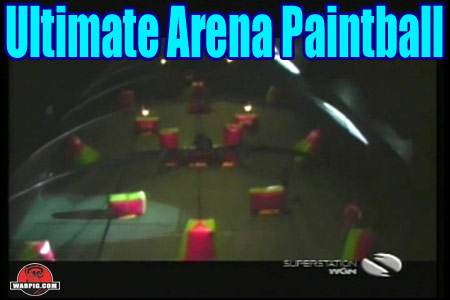 New Three Man League hits the TV Screen
By Bill Mills - May 2005
UAP Screenshots by permission of Paintball Television Productions
While existing paintball leagues have labored to get themselves on television, tournament promoter Milt Call realized that paintball's TV stars of the future won't necessarily be the top players in today's leading leagues – they will be whoever is playing on the top teams in a paintball circuit that is fully televised. Call, who along with his wife Eileen founded Brimstone Enterprises, manufacturers of assorted paintball gear and Ultimate Airball inflatable bunkers has also produced the Ultimate Madness 3 man indoor paintball tournament for the last four years with partner Paul "PGP" Bollenbach of the Jax Warriors.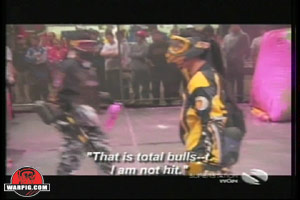 It was at the Madness that "Arena Paintball" was born. Arena Paintball is a 3 man center-flag format, played in a portable cylindrical shaped netted cage. Arena Paintball games are played back to back, to get the best 5 out of 7 games, in order to determine a winner. The full netting across the top allows the arenas to be used anywhere, indoors or out, without fear of stray shots going over the netting and hitting things like scoreboards, TV cameras or worse – spectators.
For the last two years, Call has quietly worked with various producers and consultants with the goal of producing a producing and airing a television series covering a fast paced paintball league. In recent years, most paintball related programming to see national cable exposure in the US has used bought air time. In this format, a show's producer, or other parties who want to air the show approach a cable network and buy a block of air time, either paying for it themselves to promote what they are doing, or selling ads within the show to recoup their costs. The drawback to such an approach is that it takes a serious bankroll to pull off, and also the time slots available for purchase are usually less than prime. Additionally the cable channels on which buyable airtime is during reasonable hours are available in fewer homes. Many channels such as OLN, ESPN 2, etc., are only available in a portion of cable or satellite connected homes which buy premium programming packages. In contrast, Call firmly believed that a paintball television show could be produced that would be so appealing to the networks that they would buy it, and air their own commercials within the show, as is done with typical mainstream television programming.
Of course putting together such a show, and finding the network willing to make it happen is a whole other story. As the project progressed, Call found himself working with Duke Ellinger on Ultimate Arena Paintball. Ellinger is no stranger to shooting and producing paintball, having captured the 2002 Nation's Cup X-Ball tournament on video for his cablecast show Adrenaline TV. He now serves as president of Paintball Television Productions, and described the new TV show in a television production industry testimonial… "Imagine the WWE meets Adrenaline TV meets Arena Paintball: it's going to be off the hook!"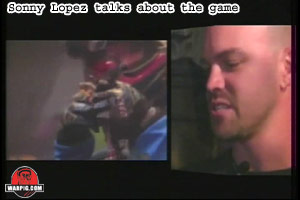 The show was well received by cable TV superstation WGN out of Chicago, Ill, and originally planned for a fall 2004 debut. WGN is a part of the basic cable and satellite TV packages in most of the United States, and is available in over 65 million US homes. After assorted delays Ultimate Arena Paintball found its way onto the air in April of 2005, and faired better than expected. Despite the first Saturday afternoon episode playing a half hour earlier than scheduled, due to a breaking program about the life of Pope John Paul, Ultimate Arena Paintball drew sound ratings. Initial plans were for the program to air on Saturday afternoons before major sporting events, so that it would draw from the pregame audience.
This didn't last for long. By the second week of airing, Call reports that Ultimate Arena Paintball had climbed to the second most popular show in WGN's lineup. This prompted a move to an even more popular time slot – 11 pm Eastern. While folks on the east coast may not see this as a better time position, it must be remembered that the Superstation is a single station, it does not run time delayed versions for each coast. Eleven at night Eastern time is eight PM in the country's most heavily populated state, California.
Ultimate Arena Paintball's first shows have been structured to educate the public about the sport of paintball…. What are the rules of the game, how is it played, what are the terms, what equipment is used?
Unfortunately, this is an area in which the show may draw some serious criticism from the paintball community. At times the host is pictured playing paintball wearing goggles that have the protective mask sections removed. While this may create the shot the director wants with a bright female smile, it sets a poor example of safe paintball operation for those who are new to the sport and do not understand that the mask portion protects not just the face but the eyes as well. Paintball goggles with the mask removed do not provide proper protection against a paintball striking the cheek and deflecting off the cheek bone, which tests performed by the protective eyewear certification council have shown can potentially destroy the eye. "I'll take the lumps for that," said Milt Call in an interview with WARPIG.com. According to Call it was discovered during production that the host's contract had agent stipulated sections requiring that her face be shown when on camera.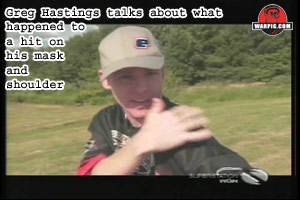 Those who prefer to proclaim the sportsmanship found in paintball may be less than pleased by the show's candor when discussing wiping and cheating. While not outright saying that they cheat, players interviewed on the show allude to the fact that hits can disappear. "I did not cheat. All the paint on the side of my face and over here.. It was like a figment of your imagination. It didn't happen, there was nothing here" said Greg "Red" Hastings while making wiping motions with his hands in the show's first episode. Call commented, "They asked me what to show and what not to show. I said to show the truth."
Once the educational episodes have passed, Ultimate Arena Paintball is planned to go into the mode for which it was conceived – showing tournament paintball. Rather than deal with the politics of existing leagues, Call and Paintball Television Productions have simply founded a pair of new leagues, the WPL and UAPL.
The World Paintball League is a new pro three-man paintball league consisting of 24 teams in three conferences of eight. At the end of each playing season's regular play, the top two teams from each conference will go on to the finals, as will the top two wildcard teams (the next top two overall from all three divisions.) The last two teams in each division will get the boot, to be replaced by top ranked teams selected from the UAPL.
The Ultimate Arena Paintball League (UAPL) is designed to run as a feeder series for the WPL. Like most open entry tournaments it will be the league where any team who wishes can come and compete can do so, for the cost of an entry fee. At the end of the year, the top UAPL teams will be able to move up to the pro level with the WPL.
The concept behind Ultimate Arena Paintball's show and game format goes contrary to some recent thinking which says that paintball games should be longer and more like traditional sports such as hockey and soccer in order to be televised. Instead, Ultimate's approach is to show very fast games, where a single team or competitor is seen for seconds or a couple of minutes at most, before new competitors are seen. This style falls more in line with extreme sports programming like the X-Games or Gravity Games. The WPL and UAPL tournaments, being formatted with an elimination bracket system will ensure that the more successful teams are playing more games, and thus get more camera time, something that is better for their sponsors, as well as better for their fans.
Ultimate Arena Paintball airs Saturday nights at 11 pm on Superstation WGN.