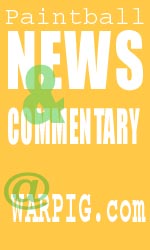 What do you think? Add your comments in WARPIG's REC TALK Forum
NPPL, Inc. Readies for 2003
NPPL 2003 Season Organizational Meeting
By Bill Mills
20 Dec 2002
On December 4th, 2002, NPPL, Inc., held its organizational meeting in Las Vegas, Nevada. The meeting, the purpose of which was work on league re-organization and 2003 NPPL Super 7 man series planning was attended by approximately 40 people, most of whom represented teams concerned with the league's future. The turnout was quite large compared to meetings held at tournaments earlier in the year, which may well be indicative of the concern teams have for the league's future after its split with Paintball Sports Promotions.
The meeting began with league president Chuck Hendsch setting out the meeting agenda, much of which started with his laying out a history of the league and its structure. This agenda quickly changed as questions began popping up about the plans for 2003, and where the league was going, rather than where it has been.
Important issues involved event dates, locations, and who would be supporting the series. The first event has been planned as a pro/am/novice/rookie event to be held on the beach in Huntington Beach, California, which has been host to a number of other sporting events in the past, including Ocean Pacific sponsored surf tournaments and skate events. According to Hendsch the beach sees over 11 million visitors per year. With the league's focus on exposing more of the general public to tournament paintball, Huntington Beach makes an ideal venue.
The beach does represent one change from the league's previous announcements about the Super 7 tournament series. The city of Huntington Beach plans to level the beach sand, removing the top dry sand, to expose the damp, more packed sand as a playing surface, which is not the grass playing surface previously announced. In an interview with WARPIG.com, Hendsch addressed this point directly.
"Surface of the playing field is very important," said Hensch, "We've looked at the sand and tested the sand, and looked at tournaments on sand. If done properly, it's really a surface that's not that difficult to play on. The city will level the sand. Grass would be great, but Huntington Beach, is an incredible venue where we will attract 5,000 to 10,000 people who will see paintball for the first time. I think the ambiance will be worth the minor adjustment to the players."
At the organizational meeting, Brass Eagle's Nathan Greenman additionally commented, "I played on the soft sand in Aruba without any equipment problems this venue will have hard packed sand."
One of the advantages to the NPPL move to 7 player format rather than dual 5 and 10 man tournaments is that the entire tournament can be held in three days, rather than taking up the better part of a week. This is expected to make the Super 7 Man series events easier for more teams to attend.
In addition to WDP who had previously announced their financial support of NPPL, Inc., the Brass Eagle companies, JT, ViewLoader and Brass Eagle, as well as Kingman/Raven and Zap paintballs have committed to backing the series as platinum level sponsors. This financial support has been critical, as the league is planning a big future, and that is going to come with a hefty price tag. An additional change was made to the price structure, with pricing increasing from rookie to pro at $1350, $1450, $1550 and $1650 dollars respectively.
Rather than self-producing events, the NPPL, Inc. is looking to act as in the past, by sanctioning events produced by an event promoter or promoters. The league has selected a new company being formed by the owners of WDP (manufacturers of the Angel) to produce events for 2003. The new promotion company will also work hand in hand with co-producers who have contacts for access to specific venues or sponsors.
Some changes to the tournament structure were discussed. The new promoting company and the NPPL are planning a "center court" concept like that used in sports such as tennis. In this concept, preliminaries and semifinals games take place on various fields, but key finals games are played on a center court. This allows for both stadium seating, and television crews to set up in a single location that will host the most sought after action.
At the meeting, player representative committee representatives were selected, which included Chris Haggin of KAPP Factory for the amateurs and Ed Poorman of Avalanche for the pros. Owing to a low turnout of novice and rookie team captains at the meeting, no representatives were chosen for those classes, but that is planned for the near future. For the time being these positions are all appointed, but are planned to translate into elected positions as NPPL, Inc. converts from a privately held corporation into a not-for-profit corporation. One of the points noted in the planned changeover is that financial records of a not-for-profit corporation become publicly accessible, giving the league direct accountability to its players.
A new league rules committee was formed which consisted of Glenn Forster (Dynasty), Chris Haggin (KAPP), Mitch Karn (Lockout), and Ron Kilbourne (Bushwackers). Chuck Hendsch was selected to temporarily hold the position of rules commissioner until a new one could be selected for the league. Several people were suggested as candidates for the paid position, and final selection will depend on a team representative decision, and whether or not those candidates are interested in accepting the position. Considered were: Darryl Trent, Tommy Maliszewski, Dan Bonebrake, Phil Domingues, and Robert "Rosie" Rose. In the two weeks following the meeting, much negotiation has been done with Pan Am circuit producer Dan Bonebrake. Though his selection is not final, both he and Hendsch sound positive that they will negotiate an agreement.
A new ranking system, yet to be finalized was discussed that would be much simpler to follow. A team's total points at the end of an event would be their ranking points for that tournament. The tie in to Millennium Series rankings was dealt with in further detail as well. Teams would be ranked based on their best 5 ranking scores for the season. These scores would come from the 5 US events and two of the Millennium Series tournaments. In this way, a team could win the series without the expense of traveling to Europe, but teams that do go overseas could use it to make up for a poor showing in the states. Further changes are planned to unify the rules being used in the NPPL and Millennium series.
Independent judging is one of the league's priorities, and in addition to the new commissioner, this means 6 head referees, one for each field, in order to provide consistency in reffing. The head referees will be the same for the season, and will act as a disciplinary committee to enforce the rules. Additionally, a "scrutineer" is planned who's sole job is to study the equipment rules, and make decisions on admissibility of products such as goggle systems, clothing, trigger systems, electronics, and whether or not paint has a staining fill.
Of utmost importance to team captains was the selection of event dates. NPPL, Inc. is planning event dates and locations that do not have a direct overlap with Paintball Sports Promotions' 2003 calendar. This means that teams will have the option of playing in both leagues if they so desire. However, as of 20 December, 2002, none of the dates have been finalized. According to Hendsch he expects to receive a final decision on the Huntington Beach venue in the immediate future. He stressed that NPPL, Inc. is more concerned about doing everything right, and pushing back to a later date if that is needed to work out all of the event details, than rushing and ending up with a lower quality tournament.
Another goal Hendsch has for the NPPL's new season is to go after sponsorships and promotions from outside the paintball industry. Some of this will begin by approaching companies for discount prices on products to be used as prizes, such as motorcycles, stereos and video game systems. A prize structure has been set. As in the past, pro teams will be paid cash, while amateur through rookie will receive products worth a specific cash value.
The pro prizes ranking from first through fourth will be $20,000, $10,000, $5,000, and $2,500. Amateur prizes will be products at the same value as the pro awards. Novice prizes will value $15,000, $7,500, $3,7500 and $1,875. Rookie prizes will be valued at $10,000, $5,000, $2,500, $1,250. This prize structure in most cases represents an increase in top prize value over past events, but limits the prizes to the finalists, rather than also including awards for semifinalists. Trophies are planned for the first through fourth place teams, with medals for the 5th through 8th place teams. Additionally, the pro and amateur series winners at the end of the season will receive cash prizes of $10,000 for the pros and $5,000 for the amateurs.
The ownership of the names National Professional Paintball League and NPPL are still a point of contention. Since Paintball Sports Promotions is still using the NPPL name to promote their 2003 series of 10man, 5man and X-Ball pro/am tournaments, confusion abounds amongst paintball players as to who is being discussed when the name NPPL is used. Regarding the ownership of the name, Hendsch stated, "We're looking into the matter, and we feel confident it can be resolved in or favor." [Note: while the name ownership remains unresolved, WARPIG.com will use the naming conventions of NPPL, Inc. and Super 7, as opposed to Paintball Sports Promotions and PSP's NPPL, to clarify the two tournament series.]
NPPL, Inc. is actively seeking referees, and staff members for both volunteer and paid positions. Players wishing to become involved are encouraged to contact the league through president Chuck Hendsch at chuck@nppl.info or Marketing director Camille Baker at Camille@nppl.info.