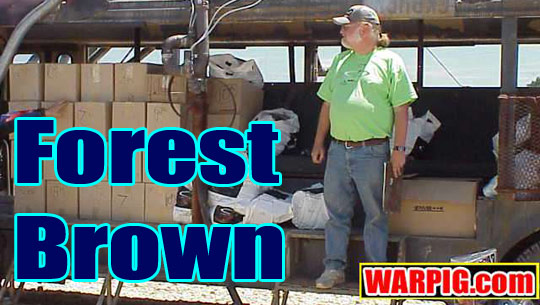 Paintball Loses a Visionary
Sept 2010
In the paintball industry, few people look past the coming months, or possibly the next year, aside from lofty ideas like seeing paintball in the Olympic games with no road mapped out to get there. Forest Brown was one of the rare people in the sport who not only was convinced of where paintball should go in the future, but also saw the road to take in order to get there, and had the creative drive to build that road.
Brown went into military service, serving as an aviator. During his time in the Army his activities included serving as the personal helicopter pilot for General George S. Patton III. With a master's degree in Astrophysics, he was on the path to the US Astronautics program when a ruptured eardrum sustained while flying with a cold sent his life in a different direction.

While fascinated by flight and speed, the passion he would carry through his life involved game playing and miniature models.

In the 1970s, gaming – moving figures or markers on maps and using dice and complex tables to simulate various forms of combat, racing, or other competition, not sitting in front of a TV twitching fingers on a console controller – saw a serious growth in America, and Forest Brown was smack dab in the middle of it. As founder of the game supplier Martian Metals, he sculpted miniature statues of everything from demons and dragons to post apocalyptic tanks of doom. These metal figurines were used by fans of the games for everything from building dioramas for art's sake, to making their game maps come to life in three dimensions.

After a trip to a Southern California comic convention, Brown was excited about a find – a 1982 Japanese animated movie – Macross – in which fighter jets transformed into fighting robots, or mecha. On the plane ride home, on the folded down tray table, Brown laid out the robotic combat game, Battletech. Later with the advent of personal computers powerful enough to produce real-time 3D simulation, the concepts of that tabletop game became the video game Mech Warrior.

Another of Brown's gaming achievements affected a far larger chunk of popular culture. The Chicago based game publisher FASA produced an officially licensed Star Trek space combat simulation game co-written by Brown. This was after the original Star Trek TV show, but long before the long chain of motion pictures and subsequent TV series that would not get their start until the late 1980s. Brown also wrote supplemental materials for the games, including the Federation, Klingon and Romulan Ship Recognition Manuals, and contributions to the Ship Construction Manual. In developing the back-story and space ship designs for the game, Forest Brown expanded the Star Trek Universe, creating material that would be turned to as reference by creators of the later shows, movies and games to explain the science, history and philosophy woven into their stories.

Then came paintball. As a player, team owner, store owner, event promoter and field owner, Forest Brown is a name few Chicagoland paintballers of the 1990s didn't know.

Brown's amateur paintball team, Farside competed across the country, and more than one member of the team expressed to us personally how Forest supported them like family.

Brown opened the Challenge Park in 1985, but didn't stop at just being a paintball field with old cars and cinderblock forts to shoot around. He saw a bigger picture. He saw where paintball could be. In relatively little time, Challenge Park, just south of Chicago, Illinois wasn't just one field, it was a franchise with fields in other cities, states, and even as far away as Socci, Russia. The pooled advertising resources of all of the Challenge Park fields allowed them to be promoted effectively in national magazines, more effectively than a single field.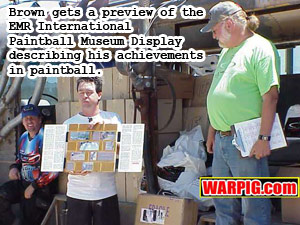 Brown also produced the Challenge Cup Paintball tournaments. The 1998 edition of the Challenge Cup introduced a number of features seen for the first time in a large-scale US event drawing teams from around the country. The '98 Challenge Cup was played in a sports stadium – Joliet Memorial Sports Stadium, in Joliet, Illinois. The entire tournament was played on concept fields (it would not be until the new millennium that even World Cup would not have at least some of its games in the woods) and the teams consisted of 7 players, something that was growing in popularity in Europe, but would not catch on in the NPPL until 2003. The teams also played for multiple flag grabs per game, something that is now standard in the X-Ball "Race" formats and NPPL best 2 of 3 finals games.

Through expansions of Challenge Park and multiple Challenge Cup tournaments, Brown still had a long term goal for the future of paintball – a paintball theme park. "Walt Disney was my hero," he said in a WARPIG.com interview. "I cried the day he died." The Disney theme park approach was to take carnival type rides and dress them up. A train ride became a journey through prehistoric times. A roller coaster became a wild toboggan ride on the Matterhorn, and a boat ride became an adventure with the Pirates Of The Caribbean.

In Brown's vision of the future, paintball theme parks would be built emphasizing the basics, yhey would be clean, well supervised, and safe. The next layer of the vision was a design and structure to immerse players in a fantasy world. And that is how Challenge Park Extreme began.

Even during the '98 Challenge Cup, Forest Brown was working on his miniature models of Bedlam and Armageddon, Challenge Park Extreme's signature fields. Brown wanted to build a paintball field so exciting that people would fly across the country for the experience of playing there, much as they do to go to Disney World.

Enlisting the help of a set design and construction firm that specialized in structures for theme parks and museums, Brown found investors in the Brass Eagle corporation to bring Challenge Park Extreme into reality. Unfortunately, budget limitations prevented Brown's full vision from being realized – the FedEx sponsored crashed full-size DC-10 aircraft was one of a number of planned features that didn't make it into the park. Unfortunately with outside financing, Challenge Park Extreme also had outside control, and the leadership at Brass Eagle didn't see a return on their investment as fast as they hoped, and were unwilling to continue piling money into the park.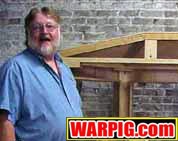 Parting ways with the park, Brown could not sit idle. He continued with another passion, building replica Shelby Cobra Sports Cars. He also founded a new miniatures company, Deimos Design Studio, producing miniatures for gaming, model railroading and slot car racing.

Having suffered cardiac problems in recent years, Forest Brown passed away on September 4th, 2010 while visiting his daughter in Colorado. Forest is survived by his wife Carol, daughters Stacy and Mary, and son Justin, who worked by his side through the construction of Challenge Park Extreme and now owns and operates Combat Sport Supply in Joliet, Illinois.

Dawn and I at WARPIG will always treasure your friendship and the memory of our times together. We'll miss you, Brownie.