US Paintball League Seeks To Fill Gap Left By NPPL
Story by Bill Mills, Photos by Dawn Mills - Jan 2009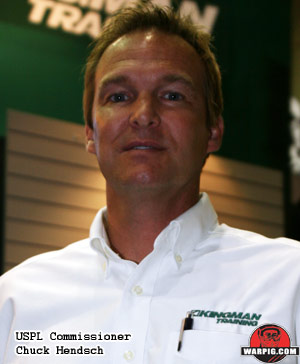 Following the year end announcement by Pacific Paintball that it would be seeking to liquidate its holdings, including the National Professional Paintball League, much speculation has gone into how that would affect tournament paintball in the US. Paintball Sports Promotions has readied itself to see an influx of new teams in 2007, but another group is working to pick up where the NPPL, Inc., Super 7 left off, maintaining the tradition of paintball on the beach in Huntington Beach and providing new venues for 7-man pro/am paintball.
The US Paintball League, or USPL (not to be confused with the USPL run by Steve Davidson nearly 10 years before) is staying true to the 7-man format but taking a different road in terms of operational structure.
In an interview with WARPIG.com at the National Shooting Sports Foundation's SHOT Show, the new league's commissioner and former NPPL president Chuck Hendsch explained that like the original NPPL, and the concept NPPL, Inc. had originally been designed for, the new USPL is owned by its professional member teams, each holding a franchise in the organization. These teams include: Chicago Legend, D.C. Arsenal, Edmonton Impact, Indianapolis Mutiny, Los Angeles Infamous, Miami Rage, Oakland Blast, O.C. Bushwackers, Phoenix United, Sacramento XSV, San Antonio X-Factor, San Diego Dynasty, San Jose Explicit, Scottsdale Elevation, St. Louis Avalanche and Tampa Bay Damage.
While both NPPL, Inc., and the NXL had the goals of trying to eventually gain outside support for and advertising revenues through televising a pro league, Hendsch describes the US Paintball League's as focusing more on the competition and enriching the amateur level teams with support from the pros. Instead of grand sports stadiums as venues and a profit oriented production company creating each event, the majority of the USPL's 6 annual tournaments will be produced by professional teams at their home field. The exception to this is Huntington Beach which will be used for the league's season opening tournament April 3-5 and possibly the closing event in the fall.
Goals for the 2009 season include setting entry fees that will be less than those seen for the NPPL in 2008, and prize packages expanded – much of that being possible by work being performed by pro member teams, rather than paid staff from an event production company. Additionally a program is planned in which each amateur team is assigned a professional player to serve as a mentor to help them learn how to properly train and plan for events.
The USPL will be divided into Eastern and Western conferences, and teams will compete for annual championships within their division (Pro, DI, DII or DIII.) The annual champions will be chosen by totals of ranking points earned at four of the league's six tournaments. Much like when the NPPL Super-7 tied-in to Millennium tournaments for championship competition, teams will have the option of playing five or six tournaments and taking only their top four highest scores for ranking. The requirement of only four tournaments to compete for the title is designed to make national competition less financially prohibitive for amateur teams. Additionally ideas are being discussed for more regional tournaments hosted at the home-fields of professional teams, and offering alternative methods of earning points in a national ranking system.
Expansion beyond the initial group of professional teams is planned at a rate of two per year. Unlike the NPPL Super-7 where advancement to pro was based first simply on willingness to pay a pro entry fee, and later on a top-three finish as a semi-pro, the selection of USPL expansion teams will be based on a vote of the franchise holding professional teams. This will allow the member teams to ensure that new franchise holders are able to undertake the commitment of league operation.
In a contracting paintball market where declining sponsorship/promotional dollars have led more than half of the sport's magazines to stop printing, maintaining team sponsorship is just as important, if not more important for the USPL franchise teams as getting companies to sponsor the tournaments and series. According to Hendch, the USPL will increase the value of sponsoring one of its pro member teams by listing and promoting the team's sponsors as league sponsors. Hendsch described the benefit as a two-way street. The team becomes more desirable to its sponsor, because they gain greater exposure, and the team is able to do more for the league, because they have their sponsor's support.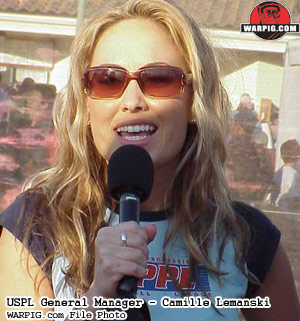 In the 1990s, and even through PSP's last year of 10-man and NPPL Inc's first year of 7-man competition, inter-divisional preliminary rounds were the norm. In this structure, amateur teams had the opportunity to play against pros in the tournament's opening rounds, accumulating total points used for ranking with their peers when advancing to the next round. This offered the amateur teams an opportunity to truly test their mettle, as well as learn from and interact with the pro players. This was changed in the NPPL Super-7 to give the pro teams a more elite status, and their games were scheduled to take place on Saturday and Sunday of a 3-day tournament, to increase spectatorship. Although Hendsch said a return to inter-divisional prelims had not yet been discussed, plans were already in place to move pro games to start Friday, putting more of the lower-division games only on Saturday and Sunday in order to make it easier for younger teams dealing with school and work schedules.
In addition to Hendsch serving as the US Paintball League's commissioner, Camille Lemanski will be the general manager, handling day to day business and operation.
Tom Cole, also a former NPPL president will be serving as ultimate judge. Cole commented to WARPIG.com that he doesn't see that position as being very involved in overall league structure or operation, merely in reffing professional tournaments as he has many years in the past as captain of Bad Company.
The new league is planning to build a web site for more information about 2009 season events at www.uspaintballleague.com.