Viewloader introduces the All-new Genesis Paintball Marker
Company Contact
Charles Prudhomme
Brass Eagle Inc.
Vice President, Marketing
(501) 464-6612
Viewloader, the company long known for product innovation in paintball, introduces the all-new Genesis semi-automatic metal marker. The Genesis represents Viewloader's first entry into the paintball marker product category and defines a complete new class of metal markers.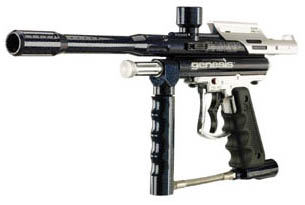 The Genesis is a custom grade semi-automatic marker with features that include: a light weight aluminum alloy receiver with laser engraved custom patterned finish, rear cocking knob beavertail sight rail, velocity adjustment, finger grooved expansion chamber and volumizer working in conjunction to provide gas equilibrium and consistent velocity, a vertical feed port providing maximum feed rate, custom nickel-chrome plated grip frame with double finger trigger allowing up to 10 shots per second, two panel custom grips for comfort and control, removable micro finished barrel ported and fluted for increased accuracy and noise reduction, manual crossbolt trigger block for safety, and a bottom line adapter standard.
The all-new Genesis is designed to play a defining role in the new value priced metal marker category. The Genesis is also available in a convenient player's kit, which includes a goggle system, VL barrel plug, VL 200 count hopper, VL Proflex squeegee, and a Paintball 101 video.

For more information on Viewloader's complete 2001 line of paintball products please visit www.viewloader.com.