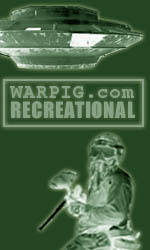 Blackcat Productions Photo Gallery


What do you think? Add your comments in WARPIG's REC TALK Forum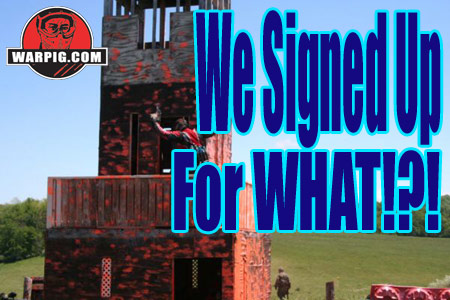 We Signed Up For What!?!
An American Nightmare: The Aftermath
By Capitol Punishment
Photos courtesy Blackcat Productions
June 2006

"It was such a positive experience. I think they did a great job and the feedback from the players was phenomenal. We are so happy with the result, we're planning to make this an annual event." Spiro Mamaligas, Blackcat Productions
In a time not too long ago, and not too far away, a trumpet sounded for scenario paintball teams to "become the producer". Blackcat Paintball Productions had thrown down the gauntlet and challenged scenario paintball teams across the nation to write and produce a scenario game. So, with our mighty, government issued pen in hand, Capitol Punishment rose to the challenge and won with our submission of "An American Nightmare". The rest of the listed ramblings are the unfettered truths that we learned, for the most part, the hard way.
Writing a scenario paintball game is hard work!
Our first task was not only to write an exciting and enjoyable scenario, but also put it into a proposal that would be submitted to Blackcat. The contest stated that we had to include our itinerary, plan of action, list of props, requirements of Blackcat, and our advertising plan. 45 pages later, we had a professional package that would rival a White House rebuttal to weapons of mass destruction not being found in Iraq. But we digress; the man-hours that went into developing our concept, putting it into words, and presenting it in a professional manner are unfathomable. Our recommendation would be to write about what you know and expect to write, re-write, and then re-write it again until you collapse or finally give up and go with what you wrote in the first place. Remember, you have to sell the story, your team, what you're willing and able to do, and your ideas in a contest like this.
Rembrandt makes it look easy!
Something else our team chose to do was to create the artwork for this game. We had a difficult time coming up with an idea that would best represent the idea of the game and still be simple enough to work on posters and patches.
After a lot of discussion and a brief arm wrestling match, we finalized on an idea and set out to draw a pretty picture. What resulted is pretty cool by us, but we would recommend that if the production company is willing, ask their artist to do the work. We lost a lot of time that we could've spent writing characters.
Everyone is a character!
Have you ever tried to imagine over 200 characters with unique traits and back-stories?! Not an easy task by any means, but when you have the knowledge that a lot of scenario paintball players like to get into their roles and become their character, it becomes immeasurable. We spent a ton of long nights and more time than most men should on the phone going over character traits, flaws, and special things that would make each of the 200 characters we created an actual person and not just a static role. Let's just say this, be ready to read the phone book for names, remember people you knew from high school and even further back for character concepts, and realize that if you change a name and some facts, characters from television and movies become useable people for your game. Heck, if you read close enough, we even used NASCAR drivers as some of the characters in our game.
Time to give up the props!
As everyone knows, props play a big part in any scenario game. When we were writing the game, we realized that a lot of missions would require special props. What we couldn't appropriate (nice way of saying borrow or steal), or build, we had to buy. The local dollar stores and an open mind allow for some great props. Your normal props, like helicopters, cash, etc, can be supplied by the production company; after all, they have been doing this for a long time.
One thing we didn't count on (because we didn't know) was that a lot of the players will bring the props they make for the game. Although we were limited in what we could let onto the field, some of the items they made were incredible and you should always try and incorporate them if you can.
Time to party like rock stars!
As everyone knows, one of the best parts of a paintball game is the Friday night players' party. We had to do the shopping and prepare the food for this party that sounds like a lot of work, but we found it gave us a great chance to meet the players and make new friends. The best part was, our team has some of the best camp chefs on the East Coast and we didn't have one complaint about anyone being hungry when we were done. We will recommend that you serve finger foods to prepare for people to eat about twice the normal amount they would at home. Paintball is an active sport, and everyone will need fuel for the fight.
Game on!
We can't begin to go over everything that we had to do during the game, but let us tell you, be ready for the ride of your life. Those of us in the production trailer had to send out missions, deal with role players, handle player and rule issues, and make sure the game progressed in a manner that was good for the players and followed the storyline. We found out quickly that we had to be able to adapt to how the players were developing the story and how the game was flowing.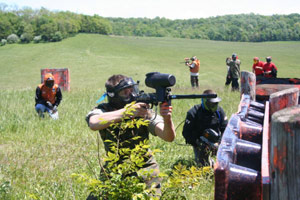 When we wrote the missions, we used some foresight, and designed them to flow and change as the game progressed. We can't stress enough that you have to be able to adapt to what the players are doing and how the game is progressing so that everyone is having a good time and the players remain happy. After all, it is a game for the players and if they aren't happy, you will be miserable!
Refs are invaluable!
We not only produced the game but most of our team acted as refs as well. We were lucky to have a seasoned team, team FedEx, step up and ref the game as well. Between both of our teams, we had approximately 20 refs on the field, all of which did a fantastic job of keeping the game safe and fun for everyone playing. We would recommend to everyone thinking of producing a game to have seasoned and knowledgeable refs on the field who know the game and what the production staff is trying to accomplish. In our game, the refs were the production crew's eyes and ears on the field and we couldn't have done it without them.
In the end, it all works out!
When the game ended, the comments from the players were golden.
We heard a lot of positive feedback and we realized that although we had some hick-ups along the way, the players enjoyed themselves and that was what was most important to our team. We took all of the feedback, both positive and negative and have used it to better our team. We learned what it takes to put on a game and how the game is played on the production side. We learned that this may not be for everyone, but it is a great experience and we would recommend that anyone out there who is thinking of throwing his or her hat in the ring should be ready for everything including the kitchen sink.
In closing, Capitol Punishment would like to thank Blackcat Paintball Productions for the opportunity, team FedEx and the Blackcat refs for being an indispensable asset both on and off the field, team DOA for all of their support, "Tarps" for everything he does, the grounds crew at Professor Lumpy's for all of their work, and, most importantly, all of the players who came to our game and allowed our team to have an experience of a life time!