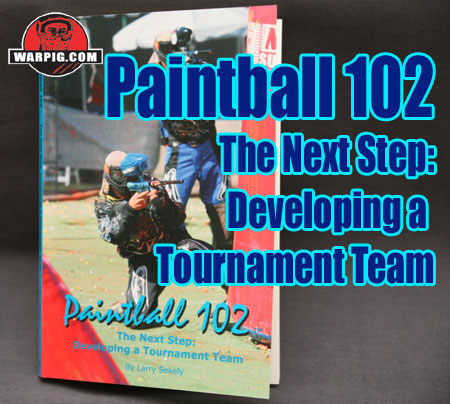 Paintball 102
The Next Step: Developing a Tournament Team
by Dawn Mills - WARPIG.com
December 2007
Larry Sekely, the author of Paintball 101, Paintball From the Basics to Starting a Tournament Team, has tackled the task of writing another paintball how-to book in Paintball 102, The Next Step: Developing a Tournament Team.
After playing for 7 years, Sekely has watched not only his own game, but that of his son, Jason's improve and change. He begins the book with the common evolution of the game, in that while players generally start out playing a walk-on game at the local field, often called recreational paintball, or "rec ball," a lot of players will move from the occasional game to more dedicated team based play. Typically teams will form a group that will either want to focus on the scenario end of things or tournament play. This book focuses on the tournament side of the game with chapters dedicated to basic paintball skills as well as skills more often seen at tournaments rather than walk-on fields, learning to play off of inflatable bunkers, the steps it takes to start a paintball team, practicing for an event, playing a tournament, the joys and pitfalls of reffing, financial responsibility and the chance at sponsorship, as well as game plans and several game layouts with diagrams.
He makes an excellent point early on in the book that a
tournament team is just that, a team. While one player may be the one to make the most flag hangs, the effort from the back player, clearing the lane for the flag carrier to move is putting critical opponents down, allowing for the team win. Likewise he goes into not only the personal investment of energy and determination, but time and finances.
Going through the basics of tournament level skills, he covers the grounds of snap shooting, running, being ambidextrous, sweet spotting, sliding, bunkering, and even reloading a hopper. Setting up a tournament team is a chapter into itself with goal setting, codes and information for the different types of players, what is expected of a back, front and mid players.
Field layouts are provided, with descriptions of the types of bunkers and their common names to allow new teams the benefit of walking the fields at their local tournaments and having a similar naming system. Three, five and seven man playing strategies are found in the last chapter to allow a team to practice the moves they plan to make at the big event.
Larry Sekely is the proud father of son Jason, daughter Jessica and the husband of his wife, Barbara. The family resides in Tampa, Florida. He plays for team Men at Work, a team comprised of members over the age of 40 who play at the NPPL and PSP events.
Paintball 102 is a guidebook, taking an inexperienced player through the gamut of tournament paintball play. Copies of the book are available for purchase online.