Heroes For A Day,
The XSV Story
DVD Review By Bill Mills
Still Images from DVD courtesy Monkey With A Gun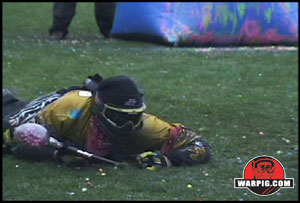 Two-thousand and three was a year of huge changes for tournament paintball. Those changes had brewed for some time. The original NPPL had been disbanded, its corporation being dissolved by the state of New York for non-payment of taxes.
The NPPL existed in name only as a tournament series produced by the companies that came together to form PSP. League president Tom Cole remained in place as the last elected president, presiding over a rules committee that made recommendations to tournament promoters, but had no legal structure or operational guidelines.
In spring of 2001 at the Gettysburg Open, a meeting of attending teams voted to elect a committee of player representatives, and confirm Tom Cole as president with Chuck Hendsch as vice-president. After Cole stepped down from his post, appointing Hendsch as his replacement, Hendsch created NPPL, Inc., with himself as the owner and president, citing a long-term goal of converting the corporation to a not-for-profit status owned by member teams. In the 2002 season, NPPL, Inc. and PSP had their ins-and outs, before a final split at the end of the year.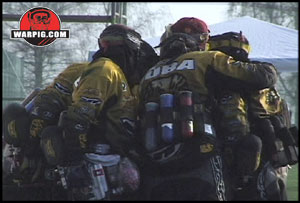 In 2003, NPPL, Inc. launched the Super-7 series of tournaments, while PSP added X-Ball, with the dominant pro teams (aside from Dynasty which at the time was under Hendsch's leadership) staying in the PSP camp (not surprising as most of these teams were owned by PSP shareholders) and forming the National X-Ball League.
The NXL was built as a closed league, modeled after other professional sports leagues, where team owners buy franchises. Players were lured in with talk of TV deals and player salaries, that would all come from the big change. In 2002, the SC Ironmen had been top of the heap. They tied in series points with Dynasty for the pro 10-man title (another point of NPPL/PSP Contention – ultimate judge Bill Cookston ruled the tie would stand, citing no tie-breaker criteria for season titles, rather than using the seed-ranking tie-breaker criteria that would have given the trophy to Hendsch and Dynasty.)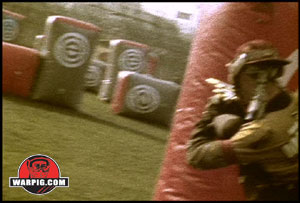 Among the stipulations in the NXL player contracts, was the prohibition from playing in unsanctioned leagues – meaning in a nutshell, that pro players had play NXL or NPPL, they could not play both. Midway through the 2003 season, an NXL partnership with Dick Clark's production company (Olive productions, not Dick Clark Productions, for those keeping track) brought the hope that the big TV deal which would change everything was just around the corner. It wasn't and it didn't.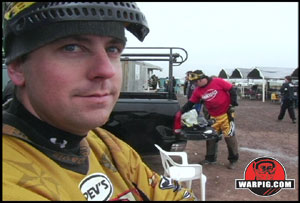 That turbulent back-story is the crucible in which XSV was formed. Los Angeles Ironmen ended the 2003 season in 7th place out of 8 NXL teams. During the off-season, several core Ironmen players came together with other dissatisfied NXL players to form XSV, and play free from league-locked contracts. XSV didn't burst onto the scene at the top. Instead their opening season was met with low-ranking finishes in the NPPL, PSP Open Class and Millennium-Series. Dedication and training brought the team to its current status in the top of the NPPL pro ranks, and playing well as an NXL expansion team.
In the late 1990s, surf and ski filmmaker Patrick Spohrer offered production of a paintball team documentary as a local tournament prize, through which he met The Family paintball team.
Frank, Susan, Keely and Ryan Watson soon had Spohrer on their roster at numerous tournaments across the US.
Spohrer took to tournament paintball quickly, and before long partnered with Bryon Benini to produced PUSH which was released in 2000. Push was a groundbreaking video that set new standards for what a paintball video could or should be, with an emphasis on music and image, as well as the tournament lifestyle off the field. PUSH focused on several leading teams as did the follow-up project Sunday Drivers.
Spohrer later formed Monkey With A Gun Productions with his wife Bonnie Demenge as director of marketing, and created Cereal Killerz, another documentary focusing on the lives of several high profile professional players.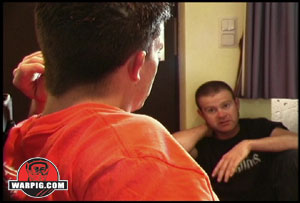 Now, after a 3-year production process, Patrick Spohrer has released Heroes For A Day, the XSV Story.
Heroes follows Rich Telford, Nicky Cuba, Matty Marshall, Micah McGlocklin, Nicky Vegas, Davey Williamson, Thomas Taylor, and Neil Eberle in the quest to bring XSV to the top. With a script co-written by Matty Marshall, who has become a well known author and the leading paintball television commentator, the program goes far beyond the bounds of a paintball music video, or a simple recording of tournament action.
The two and a quarter hour film starts with a voice-over introduction by the members of XSV, that caries the philosophies of the team, then immediately leads in to the team on and off the field at a Millennium Series tournament in Germany. Then the real story begins.
While fast-paced montage sequences filled with sharp color graded images, as well as rough and grainy old-school 8-mm film set to fresh music show some what the team does at tournaments and practices, it is the fly-on-the-wall perspective in team meetings, meals, staging areas and homes that give an in-depth portrait of XSV's players and their attempt to bring a professional level, fully sponsored team from being just another name in the pro division to the top step at the award ceremony podium. Heroes follows XSV through defeat, self-doubt, infighting, and the frustration of standing in second place, inches from the top, all the way to their first place finish in PSP Open Class at the Northeast Open.
In addition to the film, the Heroes For A Day DVD includes over 25 minutes of extras ranging from out-takes to sponsor commercials, and even secret a clip that can only be unlocked by performing an on-line scavenger hunt at PBNation. Physical extras include a Paintball 2 Xtremes subscription card offering 33% off the cover price, set of 7 Monkey With A Gun Stickers and a 45 page collector's book with with still photos from the locations in the film and complete discography of the fourteen songs featured in the Heroes For A Day soundtrack.
Heroes For A Day contains strong language. Monkey With A Gun Productions says, "This film is not rated but parental guidance is recommend for those under the age of 17."