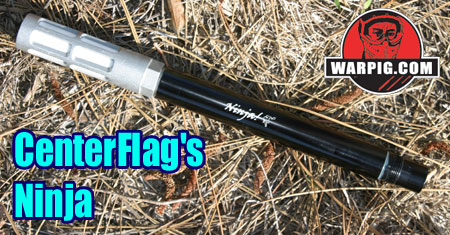 CenterFlag Ninja
By Bill Mills, March 2004
If you've ever spent time at a paintball trade show – especially near a booth where techs are adjusting paintguns, or a new paintgun is being demonstrated you can understand why some people would want to make a dry-fired paintgun quieter. The same holds true for techs working on a paintgun inside a paintball shop where a salesperson is trying to hold a conversation with a customer.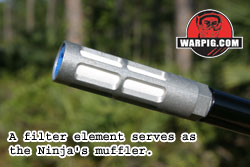 CenterFlag Paintball Product's offering intended to quiet dry-fired paintguns is the Ninja. Centerflag starts with an Autococker threaded barrel (which is actually selected from overruns at a major brand name barrel manufacturer) and mounts a cast metal caged air filter element in the breech. The filter element has the effect of acting as a muffler for escaping gas. Because the filter element is capped, a paintball cannot be fired through the Ninja – it is not a silencer.
In addition to the Autococker threaded Ninja, breech adapters are available which allow it to be used with Angel, AutoMag, Bushmaster, Impulse, Spyder, Tippmann 98 or Tippmann A-5 threaded paintguns.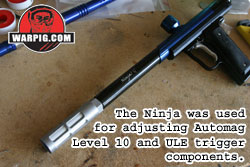 For review purposes, the Ninja was used on multiple Autococker and Autococker compatible paintguns, as well as a Matrix, Matrix LCD, Multiple Automag models, a Rainmaker and Action Markers Sentinel. On the various paintgun models, the performance differs, as the Ninja only affects sound emitted from the paintgun's barrel. While it definitely even made the Sentinel sound softer, the noise from its blowback operation was unaffected.
The only paintguns which showed any noticeable tuning problems were the Matrices. Likely due to pressure build up created by air taking longer to escape from the barrel, a properly tuned LCD Bolt equipped Matrix would double fire when used with the Ninja. Similarly, blowback of gas through the feedneck of any marker is likely to be increased, because the air can not escape as easily through the muffler as through an open barrel. Timing Autocockers, and adjusting the Level 10 and ULE trigger components on an Automag proved to be a much less annoyingly loud task when performed with the Ninja.
Just how much does the Ninja quiet a paintgun? To find out, it went on the WARPIG Ballistic Labs test stand mounted on a Chipley Custom Machine J2 semi-auto equipped with RaceGun electronic conversion. The sound of the cocking block cycling would not be reduced, but this test would show the typical sound reduction in real world use. The Ninja was compared to dry firing through the stock J2 vented barrel.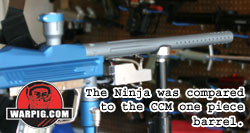 Sound output was measured at a distance of 4.5 feet from the front of the receiver, on an angle of 45 degrees from the direction of fire. Sound levels were measured for a series of 10 shots for the stock J2 barrel, and 10 shots for the Ninja. The J2 barrel yielded an average sound output of 105.9 decibels. The Ninja yielded an average output of 84.1 dB.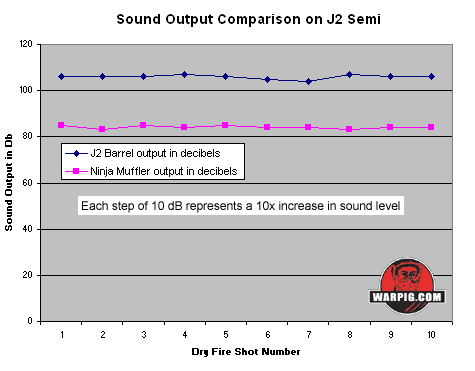 It might be tempting to think that the sound reduction was only 21%. However, the decibel scale doesn't work that way. The weakest sound audible to the human ear (near total silence) is zero decibels. A sound 10 times stronger is 10 dB, while a sound 100 times stronger is 20 dB, and 1,000 times stronger is 30 dB. Each step of 10 decibels represents an order of magnitude in sound increase. Normal conversation is around 60 dB, while extended exposure to sounds over 100 dB can cause hearing damage. For more on the levels of sound needed to cause damage, see this link.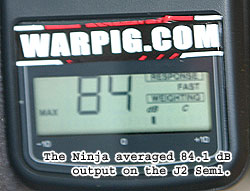 With an average sound reduction of 21.8 decibels on the J2 semi, the Ninja quieted the produced sound by over 141 times, bringing it from a level that would cause hearing damage after 2 hours of exposure, to a level that is not likely to cause damage even for extremely prolonged periods.
There is more to the story however, than just the raw data. The type of sound produced was also altered. In addition to the drop in volume, the sound was not as sharp, sounding more like a lower pitched, dulled thud than a sharp crack. While this is a subjective observation, it was a much less annoying sound than the noise of dry firing through the barrel. Even with the Ninja in place the J2 was still louder than normal conversation levels, but not nearly as disruptive as dry firing through the stock barrel.
CenterFlag's Ninja mufflers are available as a special order item through paintball dealers, or direct from CenterFlag Products.