SM1 Target Comparison Data
By Bill Mills - April 2004
I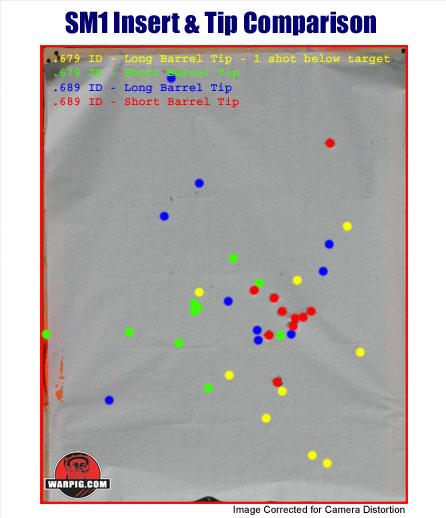 WARPIG Ballistic Labs Test Results
Test Subject: Sanchez Machine SM-1 Barrel target grouping at 75 feet - comparing Two different diameter inserts in combination with two different length barrel tips
Paintgun and Air System: CCM J2, Racegun conversion, Revolution loader, Crossfire 800 psi output 4500 psi air system, CCM Vertical regulator.
Variable: Barrel insert diameter as labled on insert and tip length. Velocity and aim were adjusted prior to the recording of each 10 shot string.
Chronograph strings: Each string represents one group of 10 shots fired at 1 second intervals under microprocessor control - paintgun secured on test stand.
Target Images: 27" by 34" Paper Target - Target images corrected to match corners of target frame to electronic template to correct for distortion caused by camera angle and lens, allowing overlay comparison of target points.
Temp: 79 F
Humidity: 64%
Date 9-Apr-04
Paint: DraXxus Hellfire
Location: Hurricane Paintball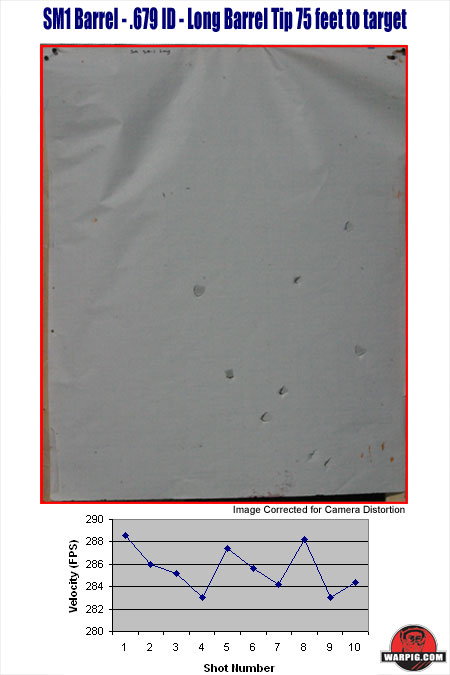 SM1 - .679 insert, long tip target - 1 shot missed the target, going below the target frame low
Shot velocities (fps):
| | | | | |
| --- | --- | --- | --- | --- |
| 288.6 | 286 | 285.2 | 283 | 287.4 |
| 285.6 | 284.2 | 288.2 | 283 | 284.4 |
SM1 - .679 insert, short tip
Shot velocities (fps):
| | | | | |
| --- | --- | --- | --- | --- |
| 290.8 | 285 | 287.4 | 288.6 | 285.2 |
| 286.6 | 287.8 | 286 | 293 | 288.8 |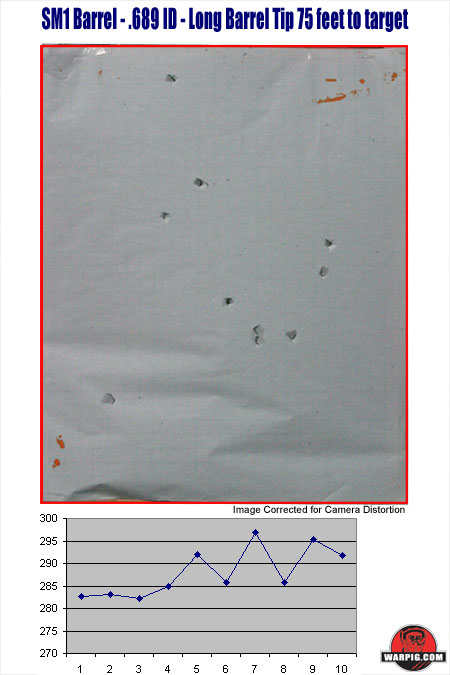 SM1 - .689 insert, long tip
Shot Velocities (fps):
| | | | | |
| --- | --- | --- | --- | --- |
| 282.6 | 283.2 | 282.2 | 285 | 292 |
| 285.8 | 297 | 285.8 | 295.4 | 291.8 |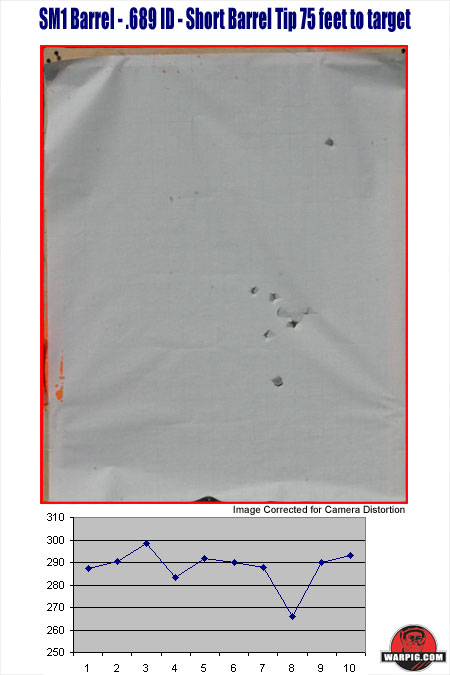 SM1 .689 insert, short tip
Shot Velocities (fps):
| | | | | |
| --- | --- | --- | --- | --- |
| 287.4 | 290.6 | 298.4 | 283.4 | 292 |
| 290 | 287.8 | 266.2 | 290.2 | 293 |