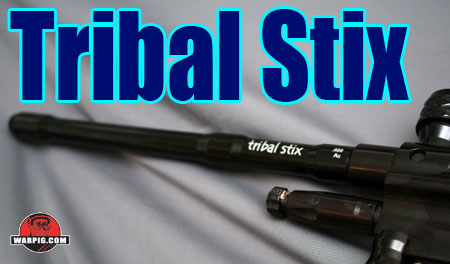 Tribal Stix 2-Piece Barrels
by Bill Mills - Photos By Dawn Mills - July 2007
Not to be confused with the Tribal line of paintball markers produced years ago by Toxic Toys, Tribal Paintball is a new brand from Andover, MA, with the Tribal Stix barrels as its inaugural product offering.
Marketed at a mid-level price, the Tribal Stix barrels are of a two-piece design with a light weight being their significant feature.
The sample barrel reviewed was 14 inches in length, though Tribal also produces a 12-inch model, and a front for assembling a 16-inch barrel.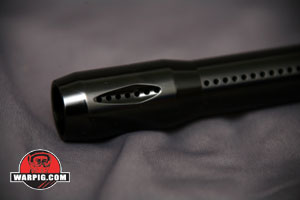 The Tribal barrel front is 0.815 inches in diameter with a wall that is only 0.059 inches thick for most of its length. This narrow wall construction combined with all aluminum alloy construction leads to the barrel's 4.5-ounce weigh-in.
The last two-inches of the front is thicker, with an outer diameter of .976 inches, creating a muzzle that features four rows, each containing 7 ports which are 0.73 inches in diameter. Each of these port rows in is a scooping cut, which results in a narrower barrel wall at the port, making a shorter tube to trap paint and debris if a paintball were to break in the barrel.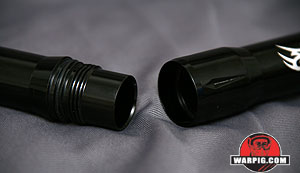 Immediately behind the muzzle are four straight rows of porting in the same size, each with 21 holes, creating a vented region that consists of slightly less than the barrel's last 5 inches.

The rear, or control bore section of the barrel is 5 and a half inches in length, with four and a half inches of that serving as functional bore, and the remainder overlapping the barrel front for a secure mount.
The rear barrel section has a bulge in the front, and tin the rear, serving to add strength and necessary diameter for connection to the marker, and to the barrel front. The two barrel halves simply screw together with a threaded connection. The front features a friction o-ring which through testing prevented vibration from unscrewing the barrel halves, yet let them easily be disassembled by hand.

The breech end of the barrel reviewed was threaded with WGP Autococker style threads, and fit properly in a Matrix, and two different Autococker bodies. This connection too, was equipped with a friction o-ring that served well to lock the barrel in place.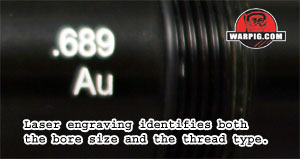 Tribal Stix backs are manufactured in a variety of bore sizes, to allow for paint to barrel matching. The bore diameters are laser engraved on the side of the back, along with an abbreviation for the barrel thread. Any one who has ever faced the task of sorting a bin of barrels in a paintball shop, or even one's own multi-marker gearbag will definitely appreciate this simple feature.
Operationally the Tribal Stix barrel performed as one would expect a well honed, ported barrel to perform. It's light weight conveniently was not a burden when carried on the test marker (Matrix LCD.)