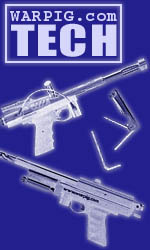 What do you think?
Add your comments in WARPIG's TECH TALK FORUMS.
Loader Lineup2
By Bill Mills - Aug 2004
Hopper test stand data
For on-gun testing, paintguns were mounted on a Custom Cylinders gun stand, with barrels removed to decrease velocity. Paintballs were fired from the test gun into a catch box designed to catch the paintball without breaking, and equipped with a bend sensor, giving it the ability to confirm rates of fire from the paintgun. Hoppers were operated while loaded to one half to three fourgths of their capacity. Fresh paint was used for each test cycle, and paint was handled only with gloved hands. Any paintballs which were part of a group where a ball was chopped (in some of the failed test cycles on guns without anti-chop eyes) or dropped during handling were disgarded and replaced with fresh paintballs. Paintguns with anti-chop eyes had the eye anti-chop mode activated. A microprocessor controlled pneumatic actuator pulled the triggers of the paintguns in 10 shot strings at the listed rates. Three trials were performed at each rate of fire, starting at 10 balls per second. Each time a hopper fed all 10 balls in at least two of the trials, it was advanced to the next rate of fire for three more trials. A hopper's feed rate was considered to be the highest rate at which it passed at least two of the three trials. Information of interest in the trial data, is which loaders passed all three trials at their higher speed, and how many shots they fed on the trials which they failed.

On Gun Maximum Consistent Feed Rates in 10 shot strings
| | | | | |
| --- | --- | --- | --- | --- |
| Loader | OGI 03 | Matrix | AGD ULE | 03 Shocker |
| Ricochet 2KX | 10 | 10 | 12 | 12 |
| Ricochet Apache | 10 | 12 | 12 | 12 |
| eVLution2 | 10 | 13 | 13 | 13 |
| eVLution2 Z | 10 | 14 | 15 | 13 |
| HALO B | 11 | 13 | 18 | 14 |
| HALO B Victory | 12 | 16 | 18 | 15 |
| Q Loader | 13 | 20 | 16 | 16 |
Individual test results
Number indicates the number of balls which fed during each test trial
Test gun - OGI 03 (with anti-chop eye)
| | | | | | | | | | | | | | | | | | | | | | | | | | | | | | | | | | | | | | | | |
| --- | --- | --- | --- | --- | --- | --- | --- | --- | --- | --- | --- | --- | --- | --- | --- | --- | --- | --- | --- | --- | --- | --- | --- | --- | --- | --- | --- | --- | --- | --- | --- | --- | --- | --- | --- | --- | --- | --- | --- |
| ROF-10 shot burst | 10 | 10 | 10 | 11 | 11 | 11 | 12 | 12 | 12 | 13 | 13 | 13 | 14 | 14 | 14 | 15 | 15 | 15 | 16 | 16 | 16 | 17 | 17 | 17 | 18 | 18 | 18 | 19 | 19 | 19 | 20 | 20 | 20 | 21 | 21 | 21 | 22 | 22 | 22 |
| Ricochet 2Kx | 10 | 10 | 10 | 6 | 8 | 8 | | | | | | | | | | | | | | | | | | | | | | | | | | | | | | | | | |
| Ricochet Apache | 10 | 10 | 10 | 9 | 8 | 9 | | | | | | | | | | | | | | | | | | | | | | | | | | | | | | | | | |
| eVLution 2 | 10 | 10 | 10 | 6 | 7 | 6 | | | | | | | | | | | | | | | | | | | | | | | | | | | | | | | | | |
| eVLution 2Z | 10 | 10 | 10 | 8 | 7 | 7 | | | | | | | | | | | | | | | | | | | | | | | | | | | | | | | | | |
| HALO B | 10 | 10 | 10 | 10 | 10 | 10 | 10 | 9 | 9 | | | | | | | | | | | | | | | | | | | | | | | | | | | | | | |
| HALO B Victory | 10 | 10 | 10 | 10 | 10 | 10 | 9 | 10 | 10 | 8 | 8 | 8 | | | | | | | | | | | | | | | | | | | | | | | | | | | |
| Q Loader | 10 | 10 | 10 | 10 | 10 | 10 | 10 | 10 | 10 | 10 | 10 | 10 | 8 | 8 | 8 | | | | | | | | | | | | | | | | | | | | | | | | |
Test Gun Matrix LCD
| | | | | | | | | | | | | | | | | | | | | | | | | | | | | | | | | | | | | | | | |
| --- | --- | --- | --- | --- | --- | --- | --- | --- | --- | --- | --- | --- | --- | --- | --- | --- | --- | --- | --- | --- | --- | --- | --- | --- | --- | --- | --- | --- | --- | --- | --- | --- | --- | --- | --- | --- | --- | --- | --- |
| ROF-10 shot burst | 10 | 10 | 10 | 11 | 11 | 11 | 12 | 12 | 12 | 13 | 13 | 13 | 14 | 14 | 14 | 15 | 15 | 15 | 16 | 16 | 16 | 17 | 17 | 17 | 18 | 18 | 18 | 19 | 19 | 19 | 20 | 20 | 20 | 21 | 21 | 21 | 22 | 22 | 22 |
| Ricochet 2Kx | 10 | 10 | 10 | 8 | 8 | 10 | | | | | | | | | | | | | | | | | | | | | | | | | | | | | | | | | |
| Ricochet Apache | 10 | 10 | 10 | 10 | 10 | 10 | 10 | 10 | 10 | 8 | 9 | 8 | | | | | | | | | | | | | | | | | | | | | | | | | | | |
| eVLution 2 | 10 | 10 | 10 | 10 | 10 | 10 | 10 | 10 | 10 | 10 | 10 | 10 | 5 | 7 | 9 | | | | | | | | | | | | | | | | | | | | | | | | |
| eVLution 2 Z | 10 | 10 | 10 | 10 | 10 | 10 | 10 | 10 | 10 | 10 | 10 | 10 | 10 | 10 | 10 | 9 | 9 | 7 | | | | | | | | | | | | | | | | | | | | | |
| HALO B | 10 | 10 | 10 | 10 | 10 | 10 | 10 | 10 | 10 | 10 | 10 | 10 | 9 | 9 | 9 | | | | | | | | | | | | | | | | | | | | | | | | |
| HALO B Victory | 10 | 10 | 10 | 10 | 10 | 10 | 10 | 10 | 10 | 10 | 10 | 10 | 10 | 10 | 10 | 9 | 10 | 10 | 10 | 9 | 10 | 8 | 9 | 8 | | | | | | | | | | | | | | | |
| Q Loader | 10 | 10 | 10 | 10 | 10 | 10 | 10 | 10 | 10 | 10 | 10 | 10 | 10 | 10 | 10 | 10 | 10 | 10 | 10 | 10 | 10 | 10 | 10 | 10 | 10 | 10 | 10 | 10 | 10 | 10 | 10 | 10 | 10 | 9 | 10 | 9 | | | |
Test Gun AGD ULE - With X Valve
| | | | | | | | | | | | | | | | | | | | | | | | | | | | | | | | | | | | | | | | |
| --- | --- | --- | --- | --- | --- | --- | --- | --- | --- | --- | --- | --- | --- | --- | --- | --- | --- | --- | --- | --- | --- | --- | --- | --- | --- | --- | --- | --- | --- | --- | --- | --- | --- | --- | --- | --- | --- | --- | --- |
| ROF-10 shot burst | 10 | 10 | 10 | 11 | 11 | 11 | 12 | 12 | 12 | 13 | 13 | 13 | 14 | 14 | 14 | 15 | 15 | 15 | 16 | 16 | 16 | 17 | 17 | 17 | 18 | 18 | 18 | 19 | 19 | 19 | 20 | 20 | 20 | 21 | 21 | 21 | 22 | 22 | 22 |
| Ricochet 2Kx | 10 | 10 | 10 | 10 | 10 | 10 | 10 | 8 | 10 | 7 | 6 | 6 | | | | | | | | | | | | | | | | | | | | | | | | | | | |
| Ricochet Apache | 10 | 10 | 10 | 10 | 10 | 10 | 10 | 10 | 10 | 5 | 6 | 9 | | | | | | | | | | | | | | | | | | | | | | | | | | | |
| eVLution 2 | 10 | 10 | 10 | 10 | 10 | 10 | 10 | 10 | 10 | 10 | 10 | 10 | 6 | 8 | 8 | | | | | | | | | | | | | | | | | | | | | | | | |
| eVLution 2 Z | 10 | 10 | 10 | 10 | 10 | 10 | 10 | 10 | 10 | 10 | 10 | 10 | 10 | 10 | 10 | 9 | 10 | 10 | 4 | 4 | 5 | | | | | | | | | | | | | | | | | | |
| HALO B | 10 | 10 | 10 | 10 | 10 | 10 | 10 | 10 | 10 | 10 | 10 | 10 | 10 | 10 | 10 | 10 | 10 | 6 | 10 | 10 | 10 | 10 | 10 | 10 | 10 | 10 | 10 | 6 | 7 | 6 | | | | | | | | | |
| HALO B Victory | 10 | 10 | 10 | 10 | 10 | 10 | 10 | 10 | 10 | 10 | 10 | 10 | 10 | 10 | 10 | 10 | 10 | 10 | 10 | 10 | 10 | 10 | 10 | 10 | 10 | 10 | 10 | 5 | 6 | 5 | | | | | | | | | |
| Q Loader | 10 | 10 | 10 | 10 | 10 | 10 | 10 | 10 | 10 | 10 | 10 | 10 | 10 | 10 | 10 | 10 | 10 | 10 | 10 | 10 | 10 | 7 | 3 | 6 | | | | | | | | | | | | | | | |
Test Gun 03 Shocker Vision
| | | | | | | | | | | | | | | | | | | | | | | | | | | | | | | | | | | | | | | | |
| --- | --- | --- | --- | --- | --- | --- | --- | --- | --- | --- | --- | --- | --- | --- | --- | --- | --- | --- | --- | --- | --- | --- | --- | --- | --- | --- | --- | --- | --- | --- | --- | --- | --- | --- | --- | --- | --- | --- | --- |
| ROF-10 shot burst | 10 | 10 | 10 | 11 | 11 | 11 | 12 | 12 | 12 | 13 | 13 | 13 | 14 | 14 | 14 | 15 | 15 | 15 | 16 | 16 | 16 | 17 | 17 | 17 | 18 | 18 | 18 | 19 | 19 | 19 | 20 | 20 | 20 | 21 | 21 | 21 | 22 | 22 | 22 |
| Ricochet 2Kx | 10 | 10 | 10 | 10 | 10 | 10 | 10 | 10 | 9 | 10 | 9 | 9 | | | | | | | | | | | | | | | | | | | | | | | | | | | |
| Ricochet Apache | 10 | 10 | 10 | 10 | 10 | 10 | 10 | 10 | 10 | 9 | 9 | 9 | | | | | | | | | | | | | | | | | | | | | | | | | | | |
| eVLution 2 | 10 | 10 | 10 | 10 | 10 | 10 | 10 | 10 | 10 | 10 | 10 | 10 | 9 | 9 | 8 | | | | | | | | | | | | | | | | | | | | | | | | |
| eVLution 2Z | 10 | 10 | 10 | 10 | 10 | 10 | 10 | 10 | 10 | 10 | 10 | 10 | 9 | 9 | 10 | | | | | | | | | | | | | | | | | | | | | | | | |
| HALO B | 10 | 10 | 10 | 10 | 10 | 10 | 10 | 10 | 10 | 10 | 10 | 10 | 10 | 10 | 10 | 8 | 9 | 9 | | | | | | | | | | | | | | | | | | | | | |
| HALO B Victory | 10 | 10 | 10 | 10 | 10 | 10 | 10 | 10 | 10 | 10 | 10 | 10 | 10 | 10 | 10 | 10 | 9 | 10 | 10 | 9 | 8 | | | | | | | | | | | | | | | | | | |
| Q Loader | 10 | 10 | 10 | 10 | 10 | 10 | 10 | 10 | 10 | 10 | 10 | 10 | 10 | 10 | 10 | 10 | 10 | 10 | 10 | 10 | 10 | 9 | 7 | 8 | | | | | | | | | | | | | | | |