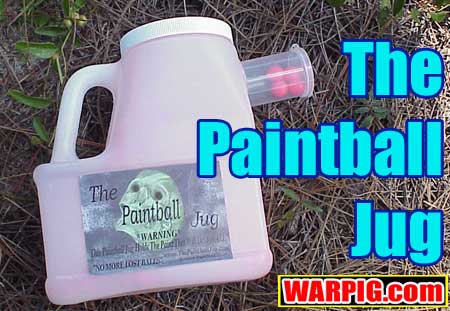 The Paintball Jug
by Bill Mills
Ron Saenz of Riverside, California put a simple idea to work, and filed to protect it with a US Patent, in the form of The Paintball Jug. The Paintball Jug is a resealable plastic container that serves as an effective way not only to store paintballs, but also to fill them into hoppers and pods with a minimum of spillage.
A basic blow molded plastic jug with a generous side neck, and side handle is turned into a Paintball Jug with the addition of a flip top pour spout hot melt glued into the side. The flip top on the spout also seals tight to protect the paint inside from humidity.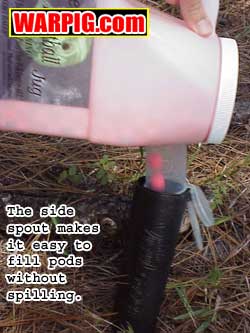 For the casual paintball player who only shoots a hopper full of paint in an afternoon's play the Paintball Jug makes a nice way to store pint. Instead of buying paint in small quantities it can be purchased in a case, or a case split with a friend. When a 1,000 round bag is opened it can be dumped into the Jug where it will be protected when stored in a cool, dry place. When the time comes to play, a hopper full of paint can be poured out of the spout.
For serious tournament players, storing paint isn't so much an issue. That case of paint isn't going to last the day. For this player The Paintball Jug still has a use. The pout spout serves as a funnel making it quick and easy to fill pods or top off a hopper.
A skull clad label on the side of the Jug includes the dire caution, "Warning! This Paintball Jug Holds The Paint That Will Destroy All!" The Paintball Jug isn't quite that scary, but neither is its suggested retail price of $15.95.