Ricochet R5
By Bill Mills - Sept 2004
When Tippmann released the A5, it packed the lessons learned from many of their previous models into a single package. One of the most notable and innovative features was the feed system from the Tippmann F/A updated to operate automatically (the F/A had a spring system that had to be wound up for every 100 or so shots fired.)
The Cyclone feed sets the A5 apart from other paintguns, in that it is the only model to include a bulk loaded force feed system as a standard factory component.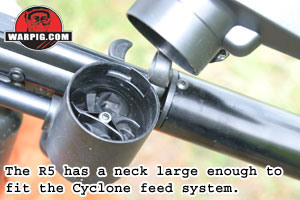 Performance and value wise, this is great for A5 owners, but it has taken one thing away from them – choice. The A5's cyclone feed system consists of a catch cup base attached to the receiver, with the feed mechanism inside.
A non-descript hopper attaches to the feed mechanism via a feedneck that is as wide as the cyclone mechanism – about 2-1/4 inches across, the same size as a typical paint pod.
Since this neck size is not standard in paintball, A5 owners have could only use the stock hopper, or for about the last year a similar, but slightly larger hopper from Allen Paintball Products. Some who play milsim style have ditched the hopper, replacing it with a pod flip-top, yielding a low capacity of 20 or so paintballs, and a profile that looks a lot like an H&K MP5.
Giving A5 owners another option in hoppers is Ricochet Development. Ricochet's new R5 hopper combines their well known "deflection engineering" faceted shape with an A5 size feed neck.
Ricochet's deflection engineered shape is somewhat elongated, presenting mostly slight angles as a target to anyone shooting from directly ahead. This design carries the purpose of increasing the change of a paintball glancing off of its surface, rather than breaking and eliminating the player.
Because all of the Cyclone feed components are on the receiver, the R5 has not electronics or active feed mechanism, and functionally works just the same as the stock hopper. Aside from the shape, the other chief difference is that the R5 holds approximately 210 paintballs as opposed to the stock hopper's 180.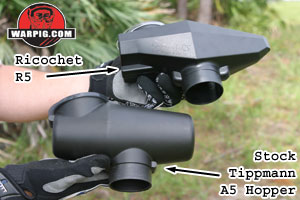 The Ricochet R5 gives Tippmann A5 owners another choice in hoppers with the opportunity to give their A5 a more unique profile, and carry a bit more paint on the field.