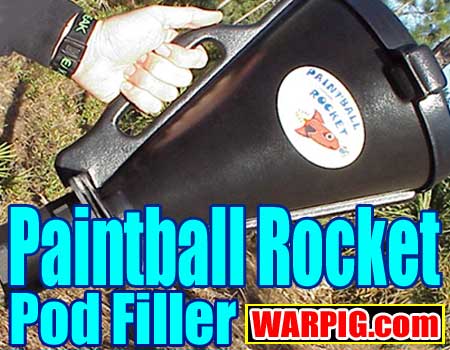 Paintball Rocket
By Bill Mills
Every now and again a product comes along for paintball that just makes you say ďhow come no one invented that sooner?Ē The Paintball Rocket is one of those products.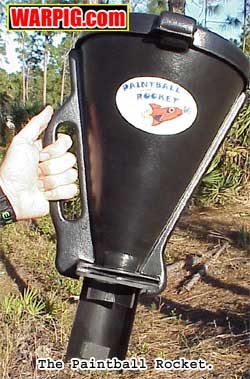 The rocket is a large funnel shaped hopper that holds up to 1,000 paintballs. It quickly and easily dispenses them into loader tubes, whether they are 100 round, 140, or 200 round tubes.
I remember a TV commercial several years ago, for some pouring spout that you can plug into a milk carton. The commercial showed people exaggerating how hard it was to open a milk carton, spilling milk all over. Getting paintballs from their bags into pods isnít quite that bad, but it often does end up with some being lost to spills, and most importantly, it takes time.
For a player just playing walk on hopper ball this may not be a big deal, but for the scenario or big gamer whoís trying to reload quick for an insertion, or worse Ė the team pod bitch (slang term for a person whoís job it is to get the teamís pods and air tanks filled, and take care of all the little gear issues) faced with loading up an entire teamís worth of pods in time for the next match that was supposed to start 5 minutes ago due to a haywire schedule, time is of the essence.
Enter the Paintball Rocket. Itís big. Itís black. Itís made of vacu-formed material (raise your hand if youíre old-school enough to remember the PMI mask Ė the first paintball product from AGD.) The main funnel portion has a handle on the left hand side, and a snap on top. Just pop off the top and dump in a bag holding half a case of paintballs, and slip the top back on.
On the bottom of the rocket is a sliding gate. A pod is pressed up against a lip on the gate forcing it back. As the pod moves back and the gate opens, the pod buts up against a half-pipe guide, which forces the pod to be lined up properly with the rocket. The pod is filled, and as it is taken away, elastic bands close the gate, and not a single ball is spilled.
The entire process takes less than a second to fill a pod. Refilling the Rocket goes almost as fast, due to its wide funnel opening. The Rocket made its debut at the 2002 International Amateur Open. During that tournament several of the Nationís Cup X-Ball teams took to the practice of duct-taping Rocketís to the poles of their staging tents. One person would fill pods, while another poured bags of paint in the top, further streamlining the process in the short timeouts between games during each X-Ball match.
Rocket Paintball didnít miss a beat. By the time World Cup rolled around just over two months later, they had an optional bracket for wall or pole mounting the Paintball Rocket. After a few months of use, Iíve surprisingly found myself using the Rocket during walk on play, just because the faster Iíve reloaded, the faster I can be back on the field, or eating lunch, or talking to someone about paintball, or doing pretty much anything but scooping paint into my pods one handful at a time.