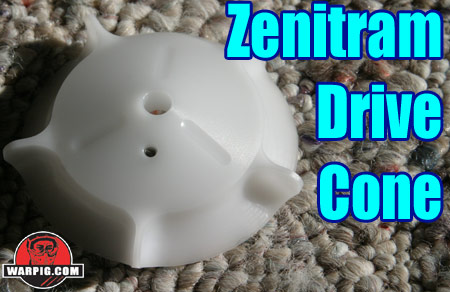 Zenitram HALO Drive Cone
By Bill Mills - April 2005
There is no doubt about it, that Odyssey has made its mark on the tournament paintball scene with the HALO force-feed loader system. As popular as it is, there are still those who run into occasional problems with their HALO.
One issue cited is breaking of the drive cone. The drive cone looks somewhat like a roulette wheel, and sits in the center of the HALOís catch cup. A motor and belt drive system in the HALO keeps a drive spring under constant tension so that the drive cone is always ready to use its five blades to push paintballs around the catch cup, through the feed tube and into the paintball gun.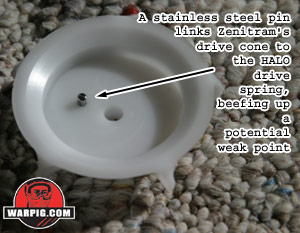 While breaking of the drive cone is pretty rare, it does occasionally happen, and as always, anything going wrong in the last game of the finals round, just isnít a good thing. There are two points on the drive cone where failure can happen Ė short of a truck running over the whole loader. The fins which drive the paintballs can potentially snap. If one goes, the effect on loading will hardly be noticeable, as there will still be four other fins pushing paint. More important is the arm on the inside of the spring cone which engages the drive spring. If this breaks, the spring will unwind, and the HALO wonít feed.
Zenitram Manufacturing addresses both of these potential failure points with their HALO Drive Cone.
Rather than being injection molded, Zenitramís cone is billet machined from a single piece of white acetal resin. Instead of protruding from the cone with squared off corners, Zenitramís fins have fillets. Their interior corners are rounded, giving them additional strength.
At the key potential failure point, Zenitram uses a stainless steel pin to link the drive cone to the drive spring.
Installing the drive cone was a very short process, taking all of about two minutes, as it was able to be installed while the HALO loader was still assembled. Catching the drive spring on the pin took a little finesse and a couple of tries. It is important to make sure the spring catches and has pressure, if it does not, the drive cone will only spin when the motor spins, and not feed properly.
For testing, the Zenitram HALO Drive Cone was placed in a HALO B with Victory Board, and showed no signs of problems. It fed properly, as did the stock drive cone, but with its beefier connection to the drive fins, and solid link pin in the drive gone, the chances of this HALO failing have been reduced.