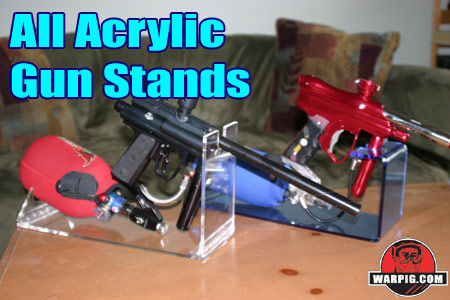 All Acrylic Gun Stands
By Bill Mills - April 2005
All Acrylic is a manufacturer of custom acrylic display stands, cases and trophies. Company owner Skip Jackson has been fabricating acrylic products for over 25 years. Naturally when you mix a paintballer and any creative business, you are bound to see a merger of the two fields.
All Acrylic is now producing two basic models of paintgun display stands. Both are designed to hold a paintgun with its tank in place. While many paintgun display stands have focused on functionality, using materials like sheet metal, PVC or even metal pipe, All Acrylic's stands provide a professional appearance, well suited to counter top store displays.
The basic display stand from All Acrylic is a single sheet of acrylic, with bends and cut-outs to provide its paintgun cradling shape.
A folding model features hinged end pieces which allows it to collapse into a small, flat package, easy to stuff into a gear bag for players who want a stand to take with them in the staging area.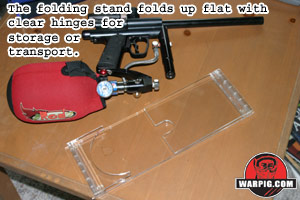 Because acrylic can scratch with relative ease compared to steel or glass, one of these stands might loose its showroom finish after enough trips to the field, especially if used in a dusty or sandy environment and wiped while dry. Simple soft cloth and water cleaning on a stand used indoors on the other hand will maintain its bright and clear finish for years.
In addition to the two basic designs, All Acrylic's stands are available in multi-gun units to hold team or rental paintguns. Most paintguns test fitted with the two models of stand used for this review fit without problem.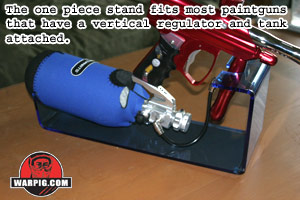 Pistols, and some more compact designs, like Palmer's Blazer with a short HPA tank attached did not fit in the one piece model. The fold-down model proved to be a better match for the Blazer because the support pieces could be angled in to meet the 'gun and its tank, and because it is designed to support the front of a paintgun by the barrel, rather than the vertical regulator.
Because All Acrylic is a custom manufacturer, they can produce stands to order, at the customer's specifications, for unique or more compact 'gun setups. Their two stock designs are available not only direct, but also through stocking paintball shops.
With a suggested retail price from $20 to $25, these stands come in at a lower price, in some cases by half, when compared to competing paintgun stands.