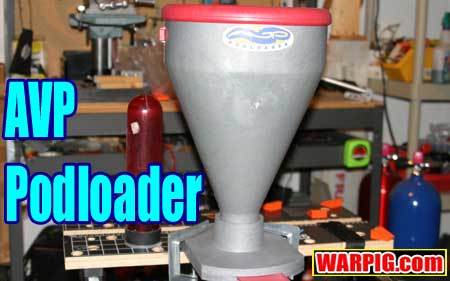 AJP Podloader
by Bill Mills
In the last year and a half, the paintball industry has gone from players simply putting paint into their pods by hand to a plethora of pod loading devices that have popped up in a relatively short amount of time.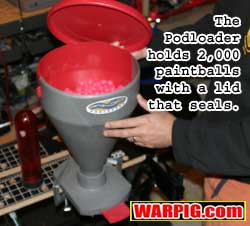 AJP's offering in this category is the AJP Podloader, which is arguably one of the most durable available. In comparison to its competitors it might well be described as industrial strength.
The AJP Podloader is made of injection molded plastic, ¼" thick through most of the product's construction. The plastic used is flexible and resilient. Its texture and feel is reminiscent of super durable children's toys or industrial food crates.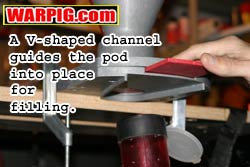 The Podloader consists of a cone shaped hopper, which holds 2,000 paintballs with a sealing cover, and funnels them down to a loading gate. When a paintball pod is held under the loading gate, and the gate pushed in – a two handed operation – paintballs are dispensed rapidly into the pod until it is full.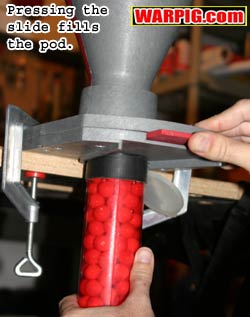 The Podloader's loading gate consists of a flat piece of plastic that is spring loaded to extend out of the front of the unit's base. Pressing it in opens the floodgate to pour paint out of the storage hopper. When the gate is released it is returned under spring pressure to the closed position very rapidly to prevent paint spillage. The gate's inner edges are contoured to prevent pinching or chopping of paintballs, and in testing there were no pinch, break, or jam problems.
Two included C-Clamps are used to mount the Podloader to a table or bench. In testing for review the Podloader proved a bit unwieldy to try to use just by handholding. Clamping it to a bench, however, it was fast, efficient and simple to operate. A pod was placed under the loader, the gate actuated for about a second and a half, then released, and the filled pod was closed and packed.
At the 2003 PSP World Cup in Kissimmee, Florida AJP provided Podloaders in all of the X Ball staging areas. Not only did they assist the teams in podding their paint quickly, but they also held up to the heavy use over the length of the event.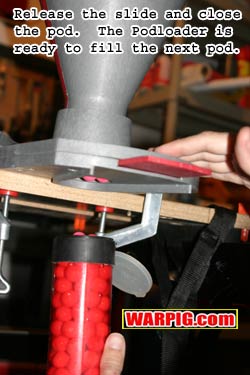 As the bulkiest of the paint storing and loading devices on the market today, storage and packing for travel might be a concern with the Podloader. AJP's product breaks down quickly and easily. The hopper section twists out of the base as it is just a friction fit. It snaps apart into two pieces, and then the base, hopper sections and lid can be dropped in a pack or box with its two mounting clamps.
AJP's suggested retail price for the Podloader is $60, and it is available in a variety of color combinations based around silver, blue and red plastics.