Check It Full Force Bolt
By Bill Mills - May 2005
Check It Products, out of Gardena, CA, manufactures a variety of accessories for the Autococker and other paintguns. In the 1990s, the companyís national reputation was bolstered by the Check It Autococker, a WGP Autococker hopped up with Check It parts.
The Check It Full Force bolt is built in that tradition, as an aftermarket upgrade bolt for the Autococker, or Autococker compatible paintguns. While some bolts are built on claims of amazing performance enhancements, the Full Force, is a simple, no-nonsense, lightweight acetal resin bolt.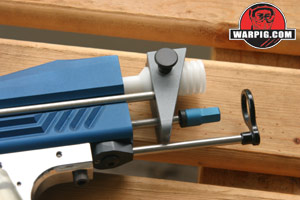 Being light in weight of course means less mass to move when the paintgun recocks, so there is less shaking during rapid fire situations. The Full Force is an open, high flow design, with a forty-five degree gas path from the gas transfer hole to the bolt face, designed for a smooth flow of air.
The bolt rides on three o-rings, the front two of which help gas efficiency by sealing ahead of and behind the gas transfer port of the receiver.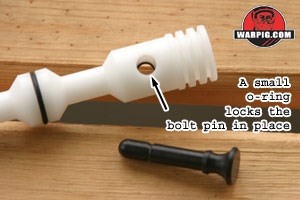 The bolt also comes with its own resin link pin. Unlike most pins which are retained by spring loaded ball bearings either in the pin, or the bolt, the Full Forceís pin is held in place an o-ring. The ring sits in a groove inside the bolt, and locks into a groove in the pin for a secure friction fit.
The friction o-ring sits in the right side of the bolt, which keys the bolt to be placed in properly. If the bolt is accidentally placed in the paintgun upside down (which will cause a drastic drop in velocity) the pin will no longer give the positive feel of locking in place when fully inserted from the left side.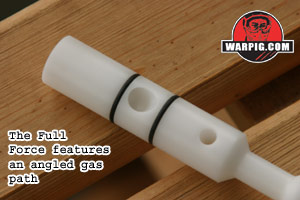 It was learned in testing the bolt on a CCM J2, that if the bolt and pin sit too long, the o-ring can bind. For this reason itís a good idea to keep it lubricated with a light paintgun grease. Battle Lube was tried and worked well. It is important not to use paintgun oils, as acetal resins (Delrin is the most well known brand name) can sometimes absorb oil and swell Ė something that could bind the two parts together.
The left side of the boltís front is grooved to minimize mechanical interference with ball detents, and that worked well with the J2ís old school wire style detent. On gun, the Full Force performed well, with no problems, or surprises.