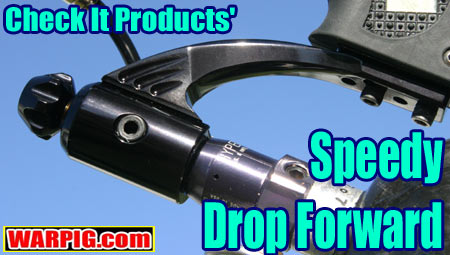 Check It Speedy Drop
by Bill Mills
Located in Southern California, the CheckIt chain of paintball stores produces their own line of paintball barrels and accessories – Check It Products.
The Check It Products Speedy drip forward combines good looks with flexibility in set-up. Included with the drop forward is an ASA adapter for a screw in compressed air system or CO2 tank. The ASA attaches to the drop forward by sliding onto a 3/8" dovetail rail and locking in place with a hex screw. This means that a player can later upgrade to a dovetail mounted adjustable pressure compressed air system without needing to buy a new drop forward to mount it.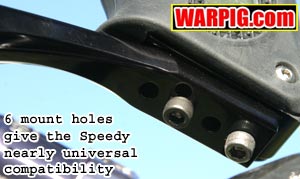 At the top of the drop Check It includes not two or four, but six mounting holes. Four are inline, in sets of two that allow the user to choose from two positions, how far forward the drop should mount. A third pair of holes is placed diagonally to match up with the non-standard screw placement used on Kingman Spyder grip frames. These holes give the Speedy near universal paintgun compatibility.
Also included are an item left out by most drop forward manufacturers – screws. Check It bundles in a pair of 10-32 threaded screws that fit into most paintguns, and split lockwashers. Additionally a pair of steel square nuts are included to allow plastic gripped paintguns that have metric threads to be converted to 10-32.
The ASA is barrel shaped, with two gas ports, one on each side. Included is a hex screw plug, blocking one of the gas ports, allowing a braided hose or macroline to be installed on either side of the adapter. Alternatively a micro-gauge can be installed in the unused port to get a reading of the air system's output pressure.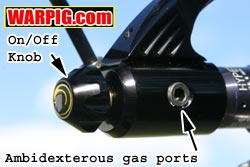 A generously knurled on/off knob in the front controls a hard steel depressor pin in the center of the adaptor. In the front of the knob, a Check It color themed jewel includes a directional arrow and (-) sign to indicate the direction used to turn off the air system.
Turning the knob in actuates the depressor, turning on the valve of the air system used. The on/off feature allows the air system to be turned off and the air-line degassed.
On gun the Speedy performed as expected. The on/off knob worked properly with a variety of pin valves and air systems – something that can be of occasional concern with on/off ASAs. In addition to the Speedy, Check It also produces the Super Speedy, a drop forward with the same ASA, but longer arm, placing the air system further forward.