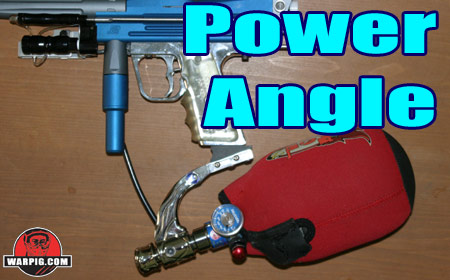 Power Angle
By Bill Mills - May 2005
Setting up the balance points of a paintball gun, especially in regards to tank placement can a very personal process. What one player loves, another will hate. In the 1980s, when Lou "Gramps" Grubb introduced constant air (refillable CO2 tanks instead of little disposable 12 gram cartridges) to the game, there were no standards for where the tanks would go.
Hose clamps holding tanks to airgun stocks were not an uncommon site at Southern California fields where "California Style Constant Air" meant a tank had a valve with a big knob and various fittings that looked like they came from the plumbing aisle of a hardware store. Tippmann stepped in and changed things by introducing the ASA, and back-bottles were suddenly the rage. CO2 tanks screwed into the back of paintguns and served double duty as stocks. Then Colin Thompson, moved things around a little bit by putting the ASA port on the bottom of the paintgun's grip. The LAPCO Bottom-Line was soon emulated on paintguns as a factory stock feature. When compressed air moved into the scene special mounts were needed for adjustable air systems (they were out long before ASA compatible screw-in models) and some of these mounts moved the bottle a little more forward to change the balance. The drop forward was born.
Today, while low bottle placement is still common, paintgun pictures in Internet forums are often met with comments like "It could really use a drop forward," or "lose the drop." Styles and trends are constantly changing, but personal tastes vary even more.
Fireball Mountain Factory offers another twist on balance and tank mounting with their "Power Angle" mounting wedge. While it is not a right angle in the geometric sense, FBM hopes it's the right angle for players who want to tilt their bottom-line or drop forward mounted tank a little bit upward.
An hard anodized aluminum wedge features two sets of screw holes, one to mount it to a standard grip frame, and the other to allow bottom-line accessories to be mounted to it, at a slight angle, about 30 degrees. For most paintguns, this puts the back of an HPA tank on the shoulder, rather than below it when sighting down the body of the paintball gun.
Included with the Power Angle are two sets of screws, one long and one short. This is necessary, as the angled wedge shape needs longer screws in its thicker end. It is set up with the industry standard 10-32 screw placement, and is not compatible with Kingman's Spyder diagonal metric screw placement pattern.
Tank placement and paintgun balance is definitely a matter of personal taste, and the Power Angle gives players one more option to tweak their gun the way they like.