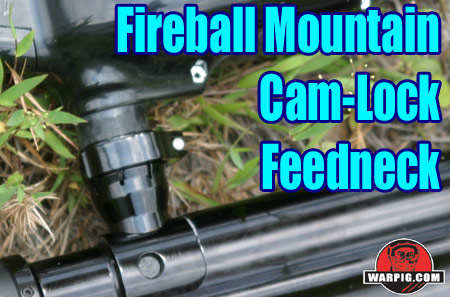 Fireball Mountain Factory
Cam-Lock Feedneck
By Bill Mills - May 2005
When Smart Parts introduced the lever locking feedneck on the Nerve, the clock started ticking down the seconds until the same concept was applied to other paintguns by aftermarket accessories companies.
Fireball Mountain Factory has applied a cam and lever system in their Cam-Lock feedneck.
In a neck as short as their Choke Chain feedneck, the Cam-Lock utilizes a faster, simpler to operate latching system. A single lever wraps around one half of the feedneck. When the lever is pulled away from the feedneck, a cam at its pivot point relieves pressure on the two joining arms of a band which wraps around the top of the neck.
A small adjuster nut allows the user to dial in just how snug the feedneck should be. While it is available with smooth sides for Autococker bodies, and threads compatible with Impulese, 2K2 Intimidators, AKA, Kingman, WDP, and Matrix bodies, the model reviewed was threaded for Matrix.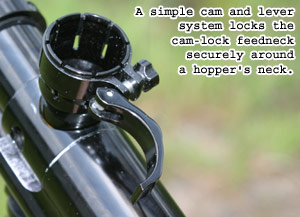 Installation was simple, unscrew the old feedneck and screw in the new one with a small amount of thread locking compound to keep it secure. For Autococker owners, Fireball Mountain also offers an installation service which includes removing the old glued in feedneck, and optional match anodizing.
Without making any adjustments the model used easily clamped onto stock, unsanded loader necks from HALO, Ricochet and ViewLoader. A slight adjustment, tightening the clamp, was needed to solidly grip a HALO that had been sanded down. Once properly adjusted to the loader, the Cam-Lock feedneck locked down tight and solid, or released the loader with just a flip of the lever.
The shape of the cam puts the leverís most pressure when it is pulled out about ten degrees from closed. This causes it to naturally hold shut, making accidental unlatching unlikely.