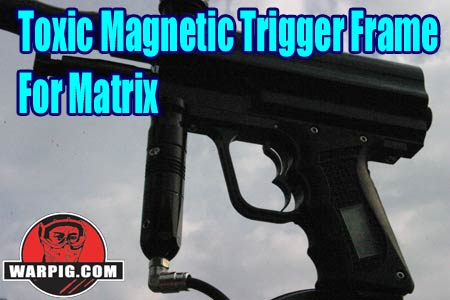 Toxic Performance Matrix Frame
February 2004
Toxic Performance's Magnetic Trigger Frame for the Matrix mazy not look significantly different from the stock frame, but it provides Matrix users with a very different trigger pull.
Dimensionally the frame is nearly identical to the stock Matrix LCD trigger frame. All of the main angles and edges are the same. Toxic's frame is distinguished from stock by some extra cut-outs. The trigger guard is milled down the center, making it into a double guard, and the trigger has a cut-out in its center, giving it a more stylized look.
The rear of the frame has 3 divots for accessing LCD or LED model control buttons.
For review, the frame was installed on an original slide switch model Matrix, which meant that either the frame would have to be drilled to allow access to the slide switch, or the electronics would need to be upgraded. Since the whole paintgun was being overhauled with a new LPR and LCD bolt, an LCD circuit board was mounted in the frame, converting the Matrix to an LCD.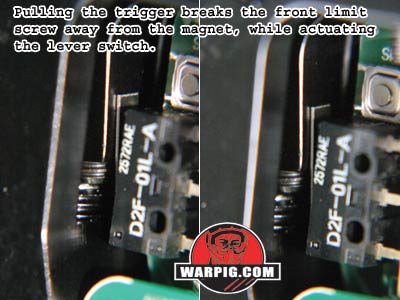 The real difference between the Toxic frame and stock LCD frame is small, and its on the inside. Instead of using a trigger return spring, the Toxic frame uses a small rare-earth magnet to attract the front travel limit screw on the trigger. This gives the trigger a completely different feel. Instead of pulling against a soft, mushy spring, the trigger is held firmly by the magnet, and the user is pulling against the grip of the magnet. When enough force is applied to the trigger to break the screw away from the magnet, the pull weight reduces significantly. This gives the trigger a very sharp "snap" feel.
Adjusting the forward and rear limits of the trigger travel is the same as with the stock trigger and frame. Just like with the stock frame, the rear adjustment is much easier to do if the adjuster screw is removed and then reinserted upside-down, so that it can be tweaked while the grip frame is attached to the receiver.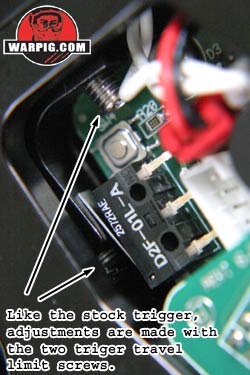 With a few minutes of adjusting the two screws, the trigger pull on the test frame was reduced to just under one millimeter, measured at the bottom of the trigger.
After the trigger was adjusted the pull of the magnet was strong enough to make the trigger fast and responsive. With the trigger resistance strongest when the trigger is at rest, it was also a more stable trigger – very difficult to fire accidentally by striking the gun or tapping the side of the trigger.
While it may not look very different on the outside, Toxic Performance's Magnetic Trigger frame has new features on the inside where it counts. It's simple trigger return system provides a trigger pull that is much more crisp than stock, making speed shooting a breeze.