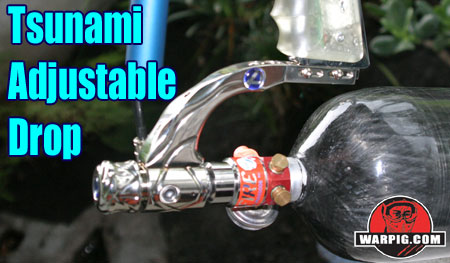 Tsunami Adjustable Drop
By Bill Mills - Aug 2004
Aim Paintball is a company specializing in machined accessory products for paintball. Their product offerings include drop forwards, aftermarket paintgun bodies and ASAs.
The Tsunami Drop Forward does what most do – allows an air system or CO2 tank to be mouted down and forward from a paintgun's grip – but it ads a new twist. The Tsunami is adjustable with a one inch slide.
With most drop forwards, the system balances as it balances – the air system is at a set distance from the regulator. The Tsunami utilizes a mounting bracket that slides within the back of the drop. The mount bracket is a standard two hole design (Spyder owners will need an adapter block to mount to the non-standard diagonal screw placements in a Spyder grip frame.)
Four hex head screws in the sides of the mount slide through inch long slots in the drop forward. This allows the air system position and balance to fine tuned to the user's personal tastes. Once positioned, the drop forward is locked into place by tightening the four screws.
At the far end of the drop, Aim Paintball includes an ASA with an easy to turn on-off knob to open or close the valve on a screw in style compressed air system or CO2 tank. Left and right hand 3/8" openings allow the gas line to be run out of either side, with an included hex screw to cap the unused opening. For review the Tsunami was set up with a macroline fitting in the right hand side for use on a CCM J2.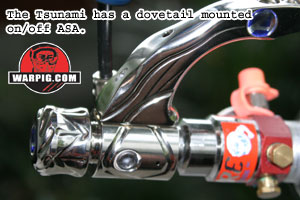 The Tsunami is not limited to ASA only, it can also be used with adjustable pressure dovetail mount air systems, or air systems which have a cradle that adapts to 3/8" dovetail. A pair of small set screws, accessible through holes in the top of the drop forward lock the ASA or other accessory onto the drop forward.
On the field the Tsunami worked as it should. The on/off function worked with both Crossfire compressed air systems and a variety of CO2 tanks, while the adjustability added the ability to do minor tweaking to the balance.