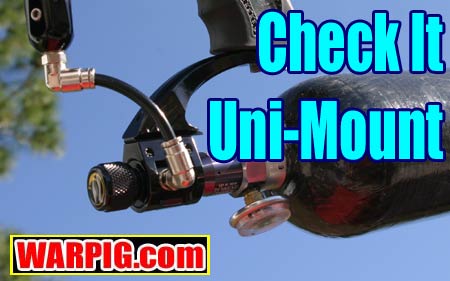 CheckIt Uni-Mount
By Bill Mills - January 2004
The Uni-Mount is an on-off ASA. Its design is unique in that the ASA itself is perfectly cylindrical, and mounted inside of an included cradle which allows the output hose to be custom positioned.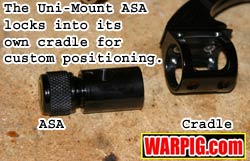 Most ASAs are either limited to a single hose position, or have two or three holes in order to give options for hose placement. The Uni-Mount on the other hand can be rotated within its cradle and then locked into place to place the hose at a number of angles either to the left or right side.
Four hex screws in the top of the cradle lock the ASA in the selected position.
A pair of 10-32 screws is used to mount the assembly either to a grip frame, or a screw mount drop forward. Because the screws heads lie in the top of the cradle, mounting requires that the ASA be removed. A pair of holes in the bottom of the cradle allow easy hex wrench access to these screws. The unusual placement of the mount screws gives a compact look to the Uni-Mount, that can normally only be achieved with a rail based mounting system. Because it does not require a rail, the Uni-Mount can be placed on a drop forward or directly as a bottom-line on a grip frame.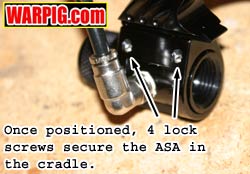 A knurled knob on the front of the ASA moves the o-ring sealed depressor pin in and out, to turn a CO2 or HPA tank on or off with ease. Like Check-Itís other on/off ASAs, the Uni-Mount features a jewel on the front of the knob with a curved arrow and (-) sign to indicate that turning the knob counter-clockwise will release the depressor pin, closing the tank or HPA system valve.
On the field, the Uni-Mount performed as expected, simple operation with no surprises. Its design offered flexibility in mounting configuration that is not found with most ASA products.