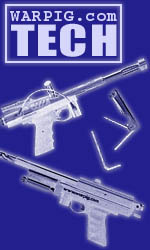 What do you think?
Add your comments in WARPIG's TECH TALK FORUMS.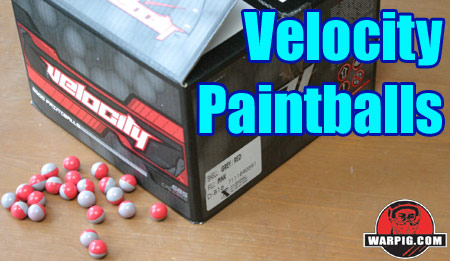 Velocity Paintballs
By Bill Mills - July 2005
Relatively new to the US market are Velocity Paintballs from XO Industries. A Canadian company, XO is owned and founded by Aldo Perrone. While many in the sport of paintball don't recognize that name, Perrone was well known in the late 1980s, and has made some major contributions to the growth of the sport, while maintaining a relatively low profile. Perrone founded the Canadian company Brass Eagle, producing the Nighmare pump action paintguns in the 1980s, and was instrumental in the founding of Zap paintballs. Through Brass Eagle, Perrone also introduced paintball's first semi-automatic paintball gun with an under $200 price tag, the Stingray, before selling the company to world renowned airgun manufacturer Daisy.
The paint XO produces is now distributed through Florida, Illinois, South Carolina and New Jersey by Vengeance Paintball, a relatively new distributor under the leadership of Steve Davidson.
Davidson first played paintball in 1983. While an employee at AT&T Venture Capital Group researching multimedia, his mother sent him a news clipping about Skirmish USA, suggesting he take a trip there as a diversion from his heavy work schedule. He did, and was immediately hooked bunkering a player before learning about the field's four foot rule, and playing in and winning his first tournament the following year. Since then Davidson has had a long career in the sport, writing for numerous publications, working at various paintball related companies including a lengthy term at Pro Team Products, helping in the formation of the original NPPL and writing its first rulebook, as well as his involvement in producing a couple of books, The Complete Guide To Paintball, and Maxing – A Guide To Tournament Play.
Through Vengeance Paintball, Davidson is working to introduce a new brand of paint in the US market – Velocity from XO Industries.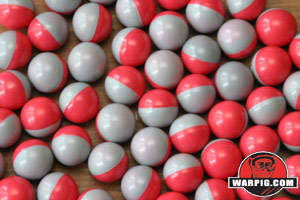 In light of this article being about the paint, a review of Velocity can be summed up by simply saying, "It is round, and breaks when it hits things," the same thing that can be said about most brands of paint. Unless there is something wrong with it, how much really needs to be said about paint, besides that? Testing out a sample of Velocity, it was round, and it did break when it hit things, rather than in the paintgun. The sample paint was split shelled with pink and grey, and the fill was pink in color.
Looking for a little more information, a sample of 20 balls was pulled at random from a case of Velocity, and they were measured at their poles, and around their equator (seam.) The average polar diameter was 0.675 inches, and the average equatorial diameter was 0.680 inches. The standard deviation of the polar diameters was 0.005, the same as at the equator. For full data, click here. Of course as with any brand of paint, measurements from one batch will not necessarily match those of another, due to variations in manufacturing, storing, age and shipping.
To help spread the word about Velocity Paintballs, Davidson is putting together the F7 paintball tournament series, sponsored by Vengeance. He is putting his past experience in producing the USPL Paintfest (a large national tournament that used a repeating score format in 2000, similar to what is used in X-Ball today) to work in developing the series, and working out some new ways to allow it to expand Vengeance's dealer network. A system of sponsorships for entry and paint provided by Vengeance to dealers and stores will allow those stores to send teams of their choosing, helping the stores and fields build stronger relationships with local teams, and in the process building stronger relationships between those businesses and Vengeance Paintball.
Connected to Vengeance Paintball Distributing's warehouse in Palm Coast, Florida is also a retail showroom, where the company sells directly to local customers. One of the unique features of the location is an indoor shooting range using Lazerball reusable indoor paintballs. The use of Lazerball means that customers can try out paintguns before they buy without the risk of a ball break in the gun, dirtying it up and reducing its resale value.