RMR KillStick
By Bill Mills - Dec 2004
Bob Longís Intimidator ranks as one of the more popular paintguns used at the professional level of tournament paintball. That track record has given it popularity at all levels of play.
The Intimidator is quickly field stripped by pulling up on the link pin which connects its bolt to the internal pneumatic ram, and sliding the bolt and link pin together out the rear of the Intimidator receiver.
If for no other reason than they are easy to replace and relatively easy to manufacture, aftermarket bolts are a common upgrade purchase for many paintball players. Rounding out their line of Intimidator accessories, RMR Paintball produces the Kill Stick Intimidator bolt and the Spike link pin.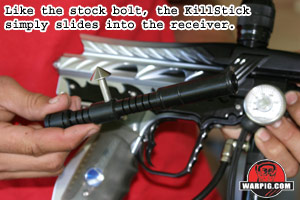 The Kill Stick is made of a machined resin which is self lubricating when it rubs against aluminum parts. However the way the Kill Stick is laid out, friction of the bolt material isnít an issue, as the front half of the bolt rides on o-rings which seal not only the bolt to the breech, but also both sides of the gas port from the lower receiver. The rear gets the very smooth resin finish gliding through the upper receiver half.
The Kill Stick lacks a cut out slot for the Intimidatorís ball detent, which some other aftermarket bolts feature, but leaving this slot out allows for the front o-ring to be retained in the design for a better seal and reduced risk of blowback gas up the feed tube.
While it feels a bit lighter than the stock bolt, the Kill Stick also differs in offering a more open gas flow path, to allow for an increased volume of airflow with each shot. Ribbing in the center of the bolt decreases the weight of its design, and mirrors the looks of RMRís Ram Rod.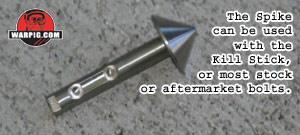 Complementing the Kill Stick is the Spike. This stainless steel link pin functions just as the stock pin does, but has a wide conical top. This top is easy to grab for fast field-stripping, even if covered with mud or paint.
In the field, both the Kill Stick and Spike performed without incident, functioning as they should.