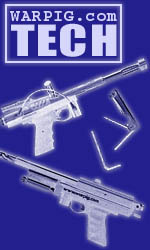 What do you think?
Add your comments in WARPIG's TECH TALK FORUMS.
LAPCO's Air Cooled A5 Shroud
By Bill Mills - Jan 2005
Lapco paintball's Air Cooled A5 shroud may not affect paintgun performance, but it sure changes the look.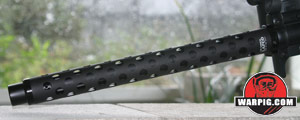 The Browning A1 is probably one of the most famous machineguns ever built, and it served as the inspiration for this piece from LAPCO. When machineguns crank out shot after shot, their barrels heat up, sometimes to the point that they can even warp. For a soldier lugging them around the battlefield, burns from grabbing hot steel aren't a bonus. The shroud around the barrel of the Browning consisted of little more than a pipe with a lot of holes drilled in it. The holes allowed air in to cool the barrel, while the shroud helped prevent barrel burns. While air cooled barrel shrouds served a practical purpose they also created a definitive "machine gun look."
Of course paintguns don't suffer from overheating barrels, but that doesn't stop paintballers from wanting their gear to look distinctive. LAPCO's air cooled barrel shroud for the Tippmann A5 is a hard anodized aluminum sleeve that fits over A5 barrels which have one inch muzzles. Evenly spaced, CNC drilled holes in the shroud bring the familiar machinegun look to the A5. An o-ring, captured in a groove in the front of the shroud holds it snugly in place over the barrel's muzzle, while three small hex head screws in the rear lock it down onto the A5's barrel mount.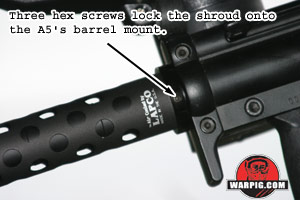 The barrel shroud reviewed was fitted over a LAPCO Bigshot barrel to ensure a proper fit at the muzzle. Installation took all of about twenty seconds to slide it on over the barrel, choose the right sized hex wrench and then lock it in place. Aside from changing the looks of the A5, the shroud had no noticeable affects, on weight, balance or performance. Weighing in at only 3.3 ounces, the shroud has almost no weight compared to the rest of the paintgun, and hopper filled with paint. The shroud is available in three lengths to correspond with fourteen inch, twelve inch and eight inch barrels.
Taking a hit to the barrel proved to be less of a trial than it first appeared. Cleanup was easy with a fleecy barrel swab which can done fairly easily by removing the barrel while leaving the shroud in place, or removing the shroud. This can be done after the day's play is over as paint inside the shroud is still outside of the barrel and has no effect on accuracy.
While it's not a performance part, LAPCO's Air Cooled A5 Shroud does what it is meant to do, add an aggressive eye catching look to a Tippmann.