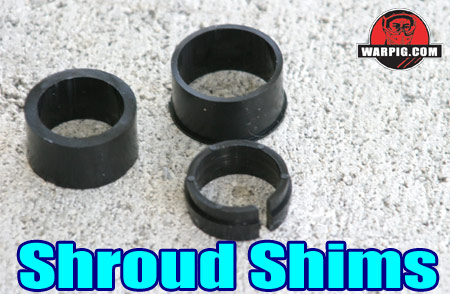 LAPCO Shroud Shims
By Bill Mills - Feb 2005
LAPCO's air cooled shroud has proven to be one of their more popular products, which is quite impressive when one considers that it isn't a performance part, it is meant simply to change the look of a paintball gun.
Between the time that a sample shroud was received for review at WARPIG.com and the completion of the review, LAPCO produced another product to go along with the shroud – adapter rings.
The air cooled shroud fits easily onto a LAPCO barrel, locking in place with three hex nuts at the back, and resting on an internal o-ring in the front. The new ring kit addresses players who want to use the shroud, but want to use it on another brand of barrel.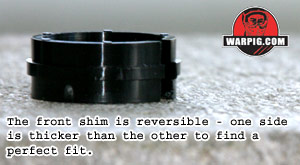 These adapter rings fit inside the back and front of the shroud and shim it to fit barrels that are narrower than LAPCO's. The rear insert is available in two thicknesses, 0.07 and 0.13 inches. These both sleeve inside the shroud and flex when pressured by the shroud's lock screws, holding the shroud securely in place.
For the front end, a dual sided shim is 0.080 inches on one side and 0.078 inches on the other, with a ridge in the center. This front shim is reversible for a proper fit. Surprisingly the front shim even worked on the angled end fluting of a DYE Exell barrel. Although it sat at a slight angle, it locked tight when pressure was applied between the shroud and muzzle. On a Custom Products barrel, neither side of the front shim worked until the thin side was sanded to develop a custom fit.
The new adapter rings give more flexible options to owners of this unusual shroud that can quickly turn a tricked speedball gun into a mean scenario machine.