Raven OBG Backpack
by Bill Mills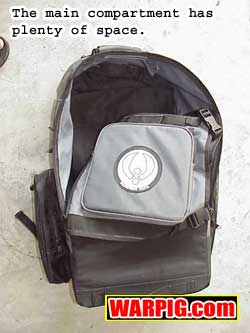 Raven USA is expanding into more than paintball softgoods, their new OBF, or Optimized Bio Gear line is being cross promoted for skating and motocross as well as paintball. The OBG backpack is designed for paintball, but its massive storage space makes it effective for other activities as well.
The pack consists of two main sections, the upper section features a pocket in the back, big enough for a paintgun with the air system and loader removed. Inside the main front flap is a padded barrel case with slots for four barrels. This gives all the protection of packing a roll-up padded barrel case, but without the extra space it would take up. The main compartment is also big enough to hold a motocross helmet.
In the bottom of the main compartment is the second main section. It is hidden by a semi-rigid floor panel that is held in place with hook and loop fasteners. Peeling open this "trap door floor" reveals two compartments, both protected by semi-rigid framing, and spacious enough to store and protect two pairs of paintball goggles.
Mesh pockets on the outside of the pack are available to hold variously sized items, and a left side compression strap is available to keep the pack snug around its contents.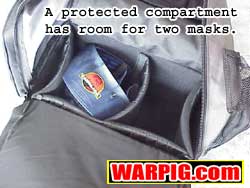 A large flap on the pack's front features a slim pocket and holds in place with a pair of quick release buckles. Underneath the flap is a slim mesh pocket and a pair of hook and loop straps. For paintballers the flap easily stores a paintball pack full of pods, something that hasn't been done on other paintball packs. For skateboarders, the straps will hold down a deck, and the flap will lock down between the trucks, great for traveling with a board. Similarly a snowboard will fit under the flap, with the straps gripping its bindings.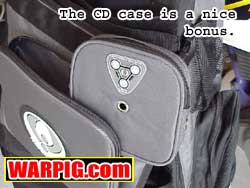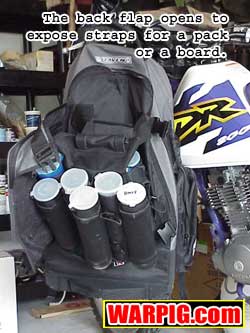 There's nothing worse than having to dig through your whole gear bag to find your car keys, and Raven has answered that problem with a small mesh pocket at the very top of the bag, that hangs down into the main compartment with enough space for a cell phone, keys and few other odds and ends.
The pack is comfortable to wear with a padded back, padded straps, and sternum strap. A detachable gel "pillow" pads the lower spine while wearing the pack. D-Rings on the shoulder straps allow various accessories to be strapped on. If there is one thing missing from the design, it is a waist strap to transfer the weight of the back onto the hips.
Raven has thrown in an extra bonus, a padded Raven OBG CD player cover with a belt loop and metal grommets to protect headset wires leading out from the player.
In all, the OBG backpack has plenty of storage space, a must for paintball, and with the outside flap, is ready for use by snow boarders skaters as well.