The Rat's Pac
By Bill Mills, February 2004
What happens when you are a teenager with a nickname like "The Rat," living in a family that owns a softgoods business who's main product is diaper bags, and you get into paintball? The Rat's Pac is what happens. In 2003, at the Mardi Gras Open, New Orleans, Louisiana based Kalencom introduced Ratco, their new line of paintball soft goods. One year later, they are still going strong, with an assortment of products including their flagship, the Rat's Pac.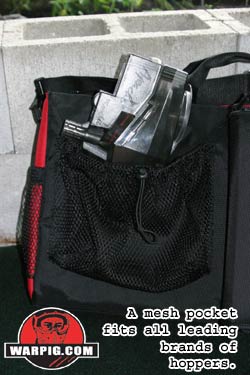 The Rat's Pac is designed to be "one bag for all your paintball needs." While it is not as large as some of the paintball specific luggage on the market, it is well sized to carry guns and tech gear out for a day of paintball.
The main body of the pack is designed to be stood vertically, and it even has non-skid feet on its base. Two loop handles, one on either side of the bag are in place for carrying, while an adjustable shoulder strap clips into polymer D-rings for easier carrying over longer distances. On one end is a small looped strap with a snap, which can attach to a goggle strap, while a paintball pack can attach to an extra loop by the bag's handles to carry a day's supplies from the parking lot to the staging area.
The entire bag is made of heavy-duty synthetic material with at least two layers stitched together on all surfaces. A rugged zipper gives access to the main section, which can easily hold 3 paintguns – two with HPA or CO2 tanks on drop forwards attached.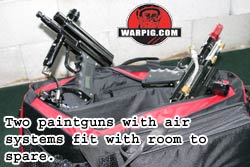 It is clear from it's design that the Rat's Pac is meant for the player who does his or her own tech work. A padded divider protects two paintguns from scratching or denting each other in the main section, while a smaller stiff divider can protect a third. Both are removable, and the padded divider than acts as a gun mat which can go on a table, or across the hood of a car to layout out the parts of a paintgun while doing tech work.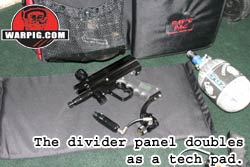 On the front of the bag is a mesh pouch with an elastic drawstring top. ViewLoader, Ricochet, and Odyssey loaders all fit in the pouch with room to spare. Next to the pouch is the true techie feature – a breakaway folio style tool bag. A series of 6 hook and loop fasteners keep the tool bag securely in place. While we wouldn't trust it to airline handlers, tossing it in and out of a Jeep, and banging it around the workshop during review it never came detached by accident.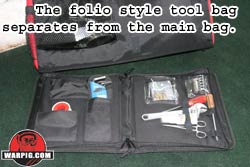 Grabbing the tool case by a corner it pulls easily away from the main bag. A zipper around its edge opens to allow the case to unfold like a book. The folio style tool bag has rigid sides which protects the tools inside, and is of a small size that is easy to handle with the few tools needed for typical paintgun repairs at the field.
7 elastic tool retainers hold items like screwdrivers and wrenches, or even bottles of de-fogger or oil. A good jolt can sometimes knock one of these items loose, but the outside zipper makes sure nothing is lost. Two clear vinyl pockets, one of which has a zipper closure can easily hold small items like cup seals or Level 10 o-ring carriers. The opposite side of the tool bag has three pockets in different sizes – one with no top, one with a zipper top, and one with a hook and loop folding flap top.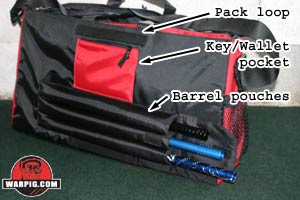 One end of the main bag is fitted with another mesh pocket, sized well for folding barrel swabs and other nick-nacks. On the back is a padded pocket with enough space for a wallet and car keys. Below that is the pack's barrel bag. 3 padded tubes with a hook and loop secured folding flap are large enough to hold 16" barrels.
It is significant to note that aside from the two mesh pockets, literally every major area of the Rat's Pac is padded. It does not just carry gear, it protects it. The Rat's Pac is available from stocking dealers, as well as factory direct for purchase through their web site.