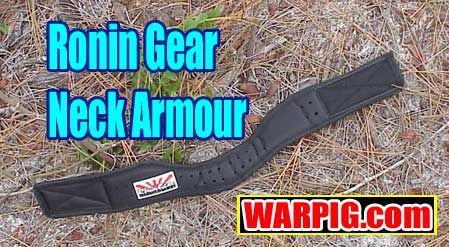 Ronin Gear Neck Armour
by Bill Mills
If youíve ever taken a shot in the Adamís Apple, you know itís not fun. Tender skin, combined with the natural reflexes tied into the brainís instinct to guard the throat make it one of the least desirable places to be shot with a paintball.
Extra neck protection has been common place in paintball even in the early days, with anything from a bandana, to cooling neck wraps, or padded neck protectors in use.
Ronin Gearís Deluxe Neck Armour is a straightforward neck protector. The interior is lined with a soft, comfortable material, while the outside is slick nylon, and the core is open cell foam that is ample to provide protection from a paintball hit. It will still definitely be felt, but protection is provided from bruising and breaking of the skin.
A hook and loop fastener attaches the Neck Armour in the back. While many neck protectors have been simple strips, the Ronin Gear Neck Armour has a curved shape in the front which allows it to give wide neck coverage on the sides and back while it dips down in front to clear the chin and protect the lower front of the neck.
The Ronin Gear Deluxe Neck Armour is distributed by I&I Sport Supply.