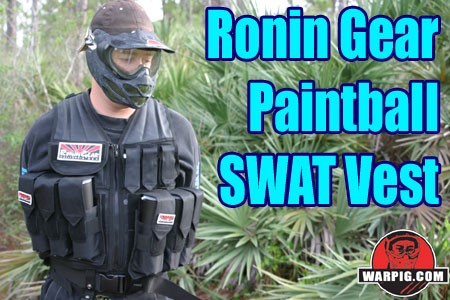 Ronin Gear SWAT Vest
By Bill Mills - April 2004
Photos by Dawn Mills
In the mid 1980s it wasn't uncommon to see a tournament paintball player wearing a tactical vest to haul their 12-gram CO2 cartridges and 10 round tubes of paint with them on the field. Some of these vests started out designed for hunting or police use, and were converted to paintball use. The elastic bands used to hold shotgun cartridges proved also effective for CO2 and paint tubes. That changed as the sport grew, and a number of manufacturers built custom paintball vests.
With the 1990s the game changed, and it was all about packs and large pods of paint, the combat vest nearly disappeared from paintball, save for the neon green vest worn by paintball publicist Ken "Hollywood" Gilder, but we won't count that as he wore it for photography.
In the late 1990s and into the new millennium, the combat vest has come back into paintball due to the growth of scenario and mil-sim games where players aren't always looking for the maximum amount of paint to carry, have other items like maps and paint grenades to haul, and are after a police/military look.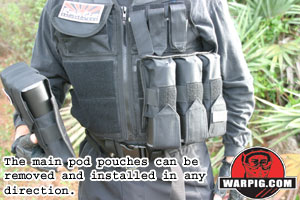 California based Ronin Gear addresses this market with their Paintball SWAT Vest, which is also cross marketed as their Airsoft Moduler Assault Vest. Under either name, this product brings something new to paintball tactical vests – modularity.
The base vest is made of rugged nylon mesh-which hangs over the body in three panels – one over the back, and one each over the right and left side of the chest and stomach. The two chest panels close together with a heavy-duty zipper closure on the front.
Hanging below each panel are two straps which utilize both a hook and loop closure, and a snap closure for security. In standard configuration, a two-inch quick release web belt runs through these loops. Ronin Gear also makes a variety of belt based pod packs, which can attach to the belt for additional paint carrying capacity, a three pod belt pack is sometimes bundled with the vest. Since they are able to be opened and refastened, the loops can also be used to carry additional items without the belt, or hang items like ghillie panels around the waist.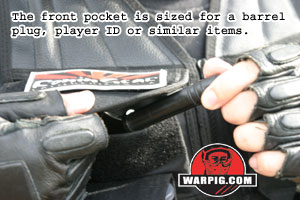 On the top of each shoulder are three-inch wide hook and loop straps which can be used to adjust the shoulder length for a proper fit. Similarly, the front panels are connected to the back panel by a trio of one-inch cinch straps on each side so that the vest will snug down rather than hang loosely.
Along the back of the vest are three strips of heavy webbing, each sewn down on the ends and at two center points, to create a grid of nine flat-laying loops. On the inside of each loop is the loop side of a hook and loop fastener. These serve as mounting points for any variety of rear packs – from the pack portion of a modular paintball pack to hydration pouch systems.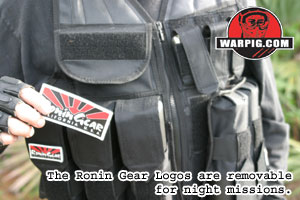 Each shoulder has a lightly padded shoulder rest area, with a raised anti-slip rib designed for bracing paintguns with stocks.
On the inside of each chest panel is a large, flat mesh pocket with zippered access. These have room for a large folded map, game documents, ID or other flat items to be carried onto the field.
On the top of one side is a single pouch bearing a large, bright Ronin Gear logo. This pouch is sized appropriately for game ID cards, an FRS radio, a barrel plug, or similar items.
Opposite this pouch is a trio of small pouches. The small pouches are sized appropriately to carry a couple of 12-gram CO2 cartridges each, and have a very unique feature. Their top flaps are not sewn to their mount. Instead both ends of the flap are connected with hook and loop fasteners. This means they can not only be removed, but also that their length can be adjusted to fit the cargo carried.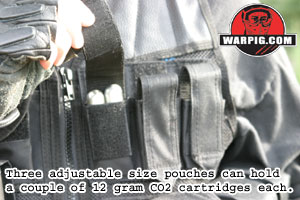 On the lower part of the front panels, over the stomach area large areas covered with the loop side of hook and loop fasteners. This fastening system is what gives the vest its modularity. The vest ships with these areas filled with a pair of 3 large pouch sets. The large pouches are sized for 100 round paintball tubes. The hook and loop fasteners that hold the flaps over the pods are positioned so that they can hold the pod securely, but also fold down flat and stay in place when the pouch is empty. Each of the 3 large pouch units can be removed or repositioned with their tops facing up or down, depending on the way the user likes to pull pods.
Also include with the vest is a cross-draw pistol holster. While holsterable pistols aren't all that common in paintball, they most often make their appearance with mil-sim players or scenario players in leadership roles who won't be on the front lines, but want to have the ability to pop off a few shots if they get in a tight spot. The holster is backed with hook material and easily attaches to the vest in a variety of locations and positions.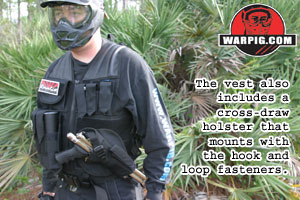 Like most manufacturers in paintball, Ronin Gear's logo is highly visible on their pack, something which helps promote their company. A large logo on a chest pouch and a pair of smaller logos on the 100 round tube pouches are molded in three dimensions out of a rubber like material. Unlike other pack companies, Ronin Gear puts these bright logos on with hook and loop fasteners. This gives the player the option of removing them to make the vest all black for night games, without needing to cut or rip stitching.
On first look the hook and loop connections holding parts of the vest together were a concern, that sections might come off on the field. However, once worn, it became obvious that this was not the case, due to the amount of surface area given to each mount point. The removable sections are quite secure, and require a serious pull to remove.
With its modular front panel construction, Ronin Gear's Paintball SWAT Vest takes paintball tactical vests in a new direction, not just of carrying gear tight to the body, but also allowing the user to customize the system to their individual needs and tastes.