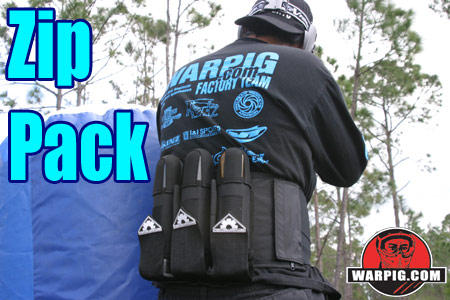 Zip Pack
By Bill Mills - Jan 2005
PaintballGear.com was one of the first Internet "superstores." Today it stands as a part of the Action Village family of extreme sports online retail sites, and continues to carry a wide range of products at discounted pricing. The Zip Pack represents a move for PaintballGear.com into the realm of manufacturer as well.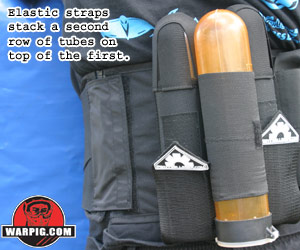 Most paintball packs today begin with a belt, and sew or attach a pack to it. PaintballGear.com took a more modular approach with the Zip Pack. Rather than a complete pack, the Zip Pack is a system of harness components and belt components. It begins with the two belt halves, one for the left and one for the right, that form the front part of the pack. Then a variety of middle sections can be zipped in between the two belt arms.
The pack sections utilize what has become a standard two-layer design. Main downward facing pockets have hook and loop flaps to hold pods. Ejector loops on the top of the pockets slide the pods out quickly, while a second stacker row of elastic pockets can hold an additional row of pods. As an added plus, small hook and loop strips can secure the elastic pockets out of the way between the main pockets when they are not in use.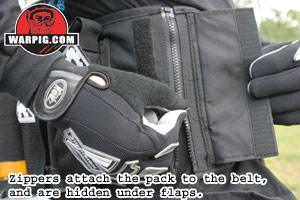 The true flexibility of the system lies in the fact that the pack sections are interchangeable, and may even be combined. A Zip Pack system with the belt ends, and a three plus two back and a four plus three back can be worn as a four plus three pack in the woods, or a three plus two pack when playing a front position on an air bunker field. When playing a back position, the two pack sections can be combined to form a seven plus five pack, carrying a dozen pods of paint onto the field.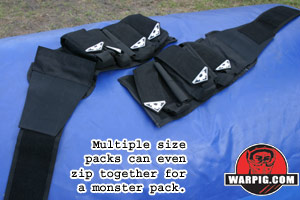 A pair of hook and loop fastened covers fold over the zippers, which attach the belt fronts to the pack. This secures them from accidental unzipping, and protects them from dirt and sand which might cause the zippers to jam.
The Zip Pack is available both in the form of complete packs, as well as a'la carte components allowing players to build a pack system of their own choice.