3" Bench Grinder
From Airsmith.com
by Bill Mills
For an airsmith, getting the job done right means having the right tools on hand. A bench grinder is a very useful tool for metalworking. Its primary purpose is grinding or polishing metals. Another handy tool many airsmiths have on hand is a Dremel brand Moto Tool, or similar small high speed rotary tool with bits for detailed cutting, polishing or grinding.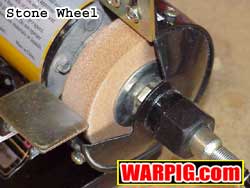 Airsmith.com is a retail store owned by Keven "Six" Polk specializing in tools, and supplies and training materials for airsmiths. Six has worked as an airsmith for Worr Games Products and taught airsmithing classes for the Paintball Training Institute. One of the new products Airsmith.com started carrying in the late spring of 2002 is their three inch bench grinder which combines a bench grinder with a rotary tool. I've put it through the paces in my shop over the summer, and found it to be quite useful.
This first feature that I really noticed was the size. For a grinder, this thing is small. I'm used to the full size grinder in my wife's Grandfather's shop where I learned about metal working. Owing to its small size, the 3" grinder doesn't need much space on the workbench and is light enough to easily move around for storage.
The drawback to the size is something Six had warned me about. It's not as powerful as a full sized bench grinder. The variable speed motor is adjustable up to 20,000 rpm, and it responds nicely. In practice, grinding edges on aluminum plate material, steel screws down to a shorter length, or shaping balsa for an R/C airplane, I found the grinder to slow down as the load of grinding was applied to it. Grinding in short passes made this bearable, as the wheel would get back to speed very quickly between passes.
Like most bench grinders, this one features two wheels. One for grinding, and a fiber wheel that is loaded with a mild abrasive. I found the fiber wheel to work well for first rough polishing on aluminum, using it to clean up some tooling dings that were on a feed-neck. It is too coarse to provide a mirrored finish, but did a great job at buffing out the scratches and left the metal with a frosted look ready for a final polish with a cotton wheel and polishing compound. Both wheels on the grinder are removeable, so raking one off to swap for a cloth polishing wheel is no problem, though the light horsepower of the motor wouldn't be ideal for that task.
The bonus of this grinder lies in the flex wand, making it two tools for the price of one. The unit sells for about the same price as a hand held rotary tool with bits, and for less than many wand style tools. Fortunately, I already had a supply of 1/8" Dremel bits on hand – years ago I had bought the whole Dremel display case from a hobby shop that was going out of business, but I never got around to picking up a Dremel tool. The bits are useful in my drill press, but somewhat ungainly to get into a tight space.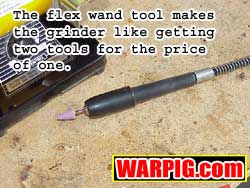 The rotary tool is on a twenty six inch flexible shaft that links into the right side grind wheel for power. It is easily removed if it's in the way. For the rotary tool, the motor has more than enough power, dwarfing the motors used in hand held rotary tools. For jobs from cutting plastic to grinding down sharp edges off of sheet metal, and even sharpening lawn mower blades the rotary tool was up to the task without deficiency.
Included with the grinder are a wrench and a short rod needed to change the wheels or rotary bits, and a cone shaped grinding stone rotary bit. The rotary tool is fitted with an 1/8" collet, but it looks as if alternate sized Dremel collets will fit to allow bits of different diameter.
All told, the 3 inch bench grinder turns out to be quite an effective tool for the airsmith or home workshop that is short on space, and working on a small budget. As with all similar tools, eye protection is a must when using the grinder.