CSP - South American Paintball Circuit
October 2007
Photos and information provided by Tania A. B. Huamani
Open Class Series Champions - Attack-Rapinas (Brazil)
Amateur Series Champions - Rangers (Venezuela)
The 2007 season of the CSP brought together players from Agentina, Aruba, Brazil, Chile, Columbia, Curaçau, Ecuador, Peru, Puerto Rico, Uruguay and Venezuela. Organized by Brazillian paintball distributor, Mercenarios Paintball, the CSP stands as Latin America's largest tournament series. It is sponsored by Smart Parts, Spyder, Sup'Air Ball, Tippmann, Planet Eclipse, Dye, Proto, JT USA, Portal Paintball Magazine, Draxxus, Play Paintball and Mercenários Paintball Store.
On October 6th, not long before the PSP Paintball World Cup in North America, 300fps Paintball in Argentina hosted the CSP's end-of season tournament, which saw participation by teams from seven of the CSP's member countries.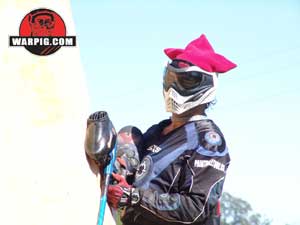 Games started on Saturday with preliminary rounds. Teams played in mixed prelims, as was done in major US tournaments until somewhat recent changes in scheduling systems. Although open class teams played amateur teams through the prelims, they would only be compared to teams of their own skill level when ranked for advancement to the finals.
Open class games saw the most experienced teams. Team Madbox (Chile) got off to a strong start, unlike Mercenarios (Brazil) which had a rough first three games – owed in part to 2 fresh players on the roster for the first time. Ninjinhas (Brazil) and Generacion (Chile) also started out well. Games were overseen by the Argentinean Moonwalkers, who served as the tournament's referees under ultimate judge Ricardo "Pelado" Lopez from Chile.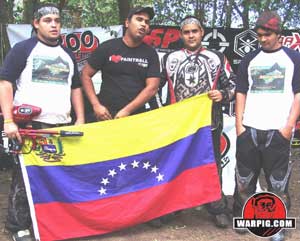 The Open class teams were not alone though, Amateurs also played prelims on the first day, where a pair of Chilean teams, Legion Petoriana and GXS JR led Group 1 in points, pulling ahead of the Venezuelan Rangers and Paintball Uruguay, these top four separating from the pack.
Paintball Uruguay's prelim finish was a big surprise to many, as they come from a country where they are the only team with modern electropneumatic markers. That can make competitive practice sessions hard to come by.
Preliminary Round Point Totals
GROUP 1
Mercenarios - Brasil (O) 330
Madbox Team - Chile (O) 584
Peru Paintball - Peru (O) 334
Legion Pretoriana - Chile (A) 204
GXS Jr - Chile (A) 318
Zurikatas - Equador (A) 60
Dharma - Argentina (A) 154

GROUP 2
Ninjinhas - Brasil (O) 558
Generación - Chile (O) 514
Moonwalkers - Argentina (O) WO
Panteras - Chile (A) 338
Verdugos - Peru (A) 206
Rangers - Venezuela (A) 494
Pickass - Argentina (A) 130
Paintball Uruguay - Uruguai (A) 428
Sunday saw the finals games. All Open Class teams played each other, while the top four amateur teams also continued on.
In Open Class, Team Mercenarios brought their A game,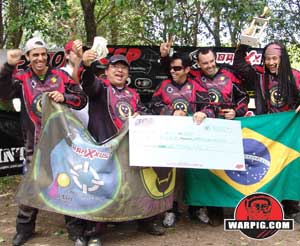 winning all of their games. Mad Box and Ninjinhas followed close behind, with Generacion in fourth. Mercenarios dropped their last game to Ninjinhas, but still had enough points for a first place finish. For Ninjinhas and Madbox, their finish would depend on the outcome of the last game between Ninginhas and Generacion. When it looked good for Ninjinhas, ending the game with the pull and hang of the flag, they were struck with a one-for-one penalty. This nullified their pull and hang, giving the game to Generacion, and second place to Madbox.
The series champions for 2007 had already been locked in
before the tournament started. Attack-Rapinas of Brazil had such a strong lead, that no one could have taken the Open Class championship from them in Argentina. Finishing in second rank was Generacion of Chile, with Perupaintball from Peru in third. The Rangers of Venezuela were crowned the 2007 Amateur Champions with Zurikatas of Ecuador in second and GXS Jr. of Chile in third. Brazil has been a leader in South American paintball, so it has not been surprising to see heavy Brazilian representation in past CSP championships. Seeing more countries in the winner's circle this year is a fantastic sign of how the sport is spreading and growing throughout Latin America.