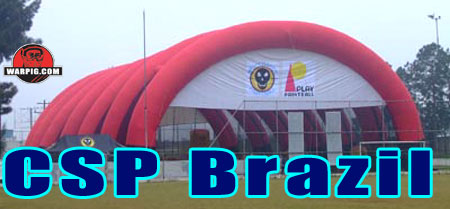 CSP Brazil
June 9-10, 2007
Photos Courtesy - Tania Huamani, Mercanarios Paintball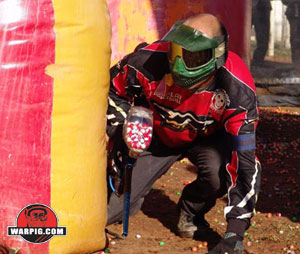 In South America, "The Big Leauges" means the CSP – Circuito Sudamericano de Paintball – the South American Paintball Circuit. CSP's annual series is spread out through the countries of Ecuador, Chile, Brazil, Peru, Argentina, and due to a recent schedule change – Aruba.
The third tournament of the 2007 season was held June 9th and 10th in Brazil. The event really started on Friday before the games, as almost two dozen players volunteered to help the set-up crew arrange and inflate the forty foot tall tent that provided shade and spectator protection for the games.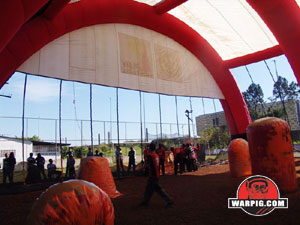 The tournament kicked into gear the next day with a DJ turning up music between the games for a festival atmosphere. Competing teams came from Chile, Peru and eight of Brazil's states to participate in the games. Darryl Trent, who's tournament paintball resume includes playing and coaching for high profile teams like the All Americans and Ironmen, served as the tournament's ultimate judge, working with Roberto "Fuscao" Loutfi and a South American reffing crew.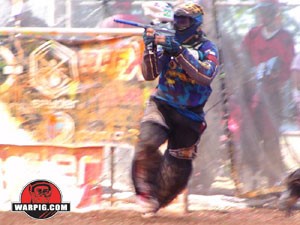 Twenty-seven teams gathered to compete, playing the preliminary round in three groups before the top two Open class and top two Amateur teams from each group went on to the semifinals which selected one team from each division for the finals.
The final Open Class games came down to Attack-Rapinas, Jungle Boyz and Papaletto, while the Amateur finalists included Ronin, Head Hunters and Bulldogs. Jungle Boyz finished taking home first place Open, and Ronin took the trophy for Amateur. Champagne flowed as the prizes were awarded, chich included cash and free entry to the CSP season finale in Aruba.
CSP's series sponsors include Smart Parts, Spyder, Draxxus, Tippmann, Sup'Air Ball, Dye, Proto, Planet Eclipse, JT USA, Portal Paintball Magazine, Adventure, Mercenarios Paintball Store and Play Paintball to support of Mercenarios-Brazil, 300 FPS-Argentina, GXS-Chile, Perupaintball-Peru, Aruba Madness-Aruba and Monosalvaje-Ecuador.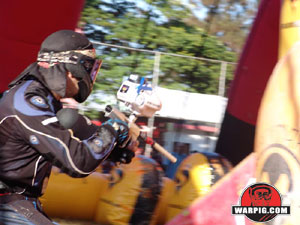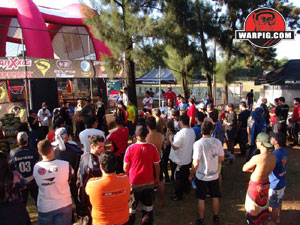 Final Team Standings:
| | |
| --- | --- |
| OPEN | AMATEUR |
| 1- Jungle Boyz - Brazil | 1- Ronin – Brazil |
| 2- Attack-Rapinas – Brazil | 2- Bulldogs – Brazil |
| 3- Papeletto – Brazil | 3- Head Hunters – Brazil |
| 4- Hitman - Brazil | 4- Barra Paintball - Brazil |
| 5- Ninjinhas - Brazil | 5- Hell Boys – Brazil |
| 6- Angers Shockz - Brazil | 6- Red Pill – Brazil |
| 7- Papeletto Black - Brazil | 7- Generacion Jr. – Chile |
| 8- Shitsukoi – Chile | 8- Vipers – Brazil |
| 9- Angers Team - Brazil | 9- Cabras da Peste/Heroes – Brazil |
| 10- Mercenarios – Brazil | 10- Zillion – Brazil |
| 11- Jungle Juice – Brazil | 11- Rapinas Rookie – Brazil |
| 12- Perupaintball – Peru | 12- X-Five – Brazil |
| 13- Generacion – Chile | 13- Bushido - Brazil |
| 14- Play Paintball - Brazil | |