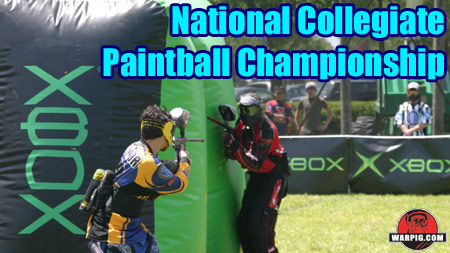 NCPA 2005 Championship
Story by Bill Mills, Photos by Dawn Mills
April 15-17, 2005
A Champions - Illinois
AA Champions - Arizona State University Sun Devils Maroon
High School AA - Industry
Not many foresaw the day a giant corporation like Microsoft would be backing a paintball event, but that day came with the National Collegiate Paintball Championship presented by Xbox. That major step came tied also to television airing of the tournament, via the College Sports Television channel.
The National Collegiate Paintball Association's championship tournament was held April fifteenth through seventeenth at Disney's Wide World of Sports. The location, just outside of Orlando, Florida provided the competing college teams with Disney's well manicured grass playing surfaces, and was made practical because the tournament was being held literally days before Paintball Sports Promotions' Orlando Open. This meant the two events could share netting and set-up for their main fields.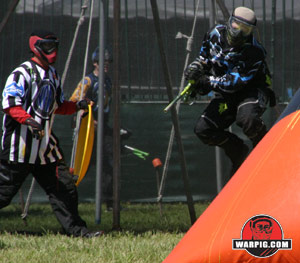 The National Collegiate Paintball Association (NCPA) was founded in 2000, building on the experiences gained in three years of the Midwest Intercollegiate Tournament. The NCPA held its first national tournament that same year, and has been coordinating competitions between college and even high school paintball teams ever since. Sixty-eight college teams competed within the NCPA through the 2004-2005 school year.
2005 marked the second year in a row that the NCPA's largest event found its home in Orlando, but the first time that it would be televised. College Sports Television (CSTV) is a nation wide cable and satellite channel dedicated to airing college sports competition from basketball, football and hockey to unique challenges in debate and karaoke. The NCPA championships made a perfect topic for the network. A foot in the door for television also lead to key marketing introductions, and soon the NCPA's event was being supported by mainstream names like Xbox and State Farm.
At the tournament, CSTV's crews shot video during A division games that was destined to air in three half hour shows highlighting the best action from the tournament. When available, air times for these shows can be found at CSTV.com. A division NCPA paintball is similar in format to PSP X-Ball with 16 minute halves and some minor rule differences including an expanded coaching zone and different penalty times. Original plans for the 2004-2005 season would have put 3 national conferences competing for the chance to get into the championship.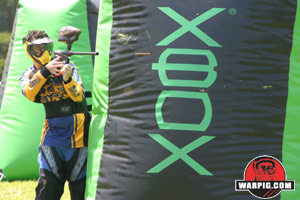 What unfolded were games in the northeast and west combined with NCPA rankings from the 2004 World Cup to select championship schools. An additional wildcard team was selected through a round of games held on the first day of the tournament. The top teams from regular season play and the wildcards were then ranked to compete in an elimination bracket system.
In addition to the A division games that were in the spotlight, 34 college teams and 3 high school teams entered in the AA division championship, a standard 5 man center flag tournament. AA division was open entry with no need to earn a rank to compete through regular season play. The AA teams went through eight preliminary round games on Saturday to be ranked for their semifinals on Sunday morning.
With only three high school teams competing in AA, their tournament was finished on Saturday as they were ranked by their total scores from the preliminary rounds. It was Industry that finished in first place, having been defeated only once out of eight matches, by Celebration Storm. Storm finished in second, and Industry Kids in third.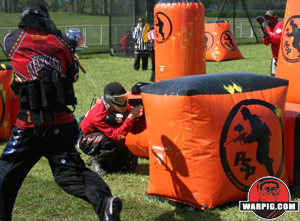 Of the 34 college teams playing AA, the top 16 advanced to Sunday morning's Second round. Saint Mary's University of Minnesota took the top ranking, having lost only one game to the Stevens Institute of Technology Ducks. Hot on St. Mary's heels were the University of Connecticut Huskies White, who had also dropped only a single game. The break to the semis was ridden by two other Huskies squads, Red and Blue. Huskies Red made the 16th slot by bringing home six more points than Blue.
On the A division field the quarterfinals round of long format games saw St. Mary's defeating Drexel, Florida beating Penn State, Maryland taking down Arizona State and Illinois besting Navy. In the semifinals, Florida beat Maryland and Illinois defeated St. Mary's. This put Florida against Illinois in the finals game which went to Illinois, the 2005 champions.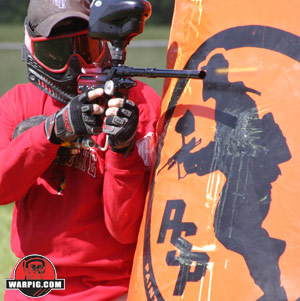 The AA second round took sixteen teams and sifted them down to eight in three games. This round ranked University of Connecticut Huskies White in first, a step up from their first round finish. Arizona State University Sun Devils Gold edged out Saint Mary's University of Minnesota for eighth place and advancement by an eight points margin at the bottom of the rankings.
The quarterfinal round trimmed down to 4 AA teams to play NPPL, Inc., style semfinals and finals. Both semifinals pairings needed three rounds to get the best two games out of three. Then the winners played each other and the losers played each other to determine fist or second and third or fourth respectively.
Unlike the semis, the finals concluded after two games, a pair of back to back wins for both match-ups. Arizona State University Sun Devils Maroon beat University of Connecticut Huskies White for first place, and Arizona State University Sun Devils Gold beat the John Hopkins University Fighting Blue Jays for third.