NPPL Las Vegas
Sept 2004
Story by Dawn Mills
Photos by Radar - Sin Sity Raiders
Professional - Dynasty
Division I - Farside
Division II - Mox Nix
Division III - PTI
The NPPL Super 7 series returned to Las Vegas, Nevada for its fourth event of the year. Teams hit the grass practice fields outside of UNLV's Sam Boyd stadium to rack up as many points as possible before the league's west coast season ender in San Diego. For those with a large enough budget to travel, however, Vegas would not be the last place to grab points. Because the Super 7 includes Millennium series events in its rankings, teams going to Malaga, Spain, would also have a chance at picking up more series points before San Diego.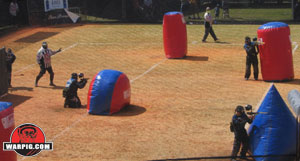 For the pro teams of the NPPL, this season's rankings would prove more important than ever, as only the highest ranked pro teams from the 2004 season would be invited in to the 2005 season's closed access pro division.
Las Vegas has always proved to be a successful location for large paintball tournaments, due in part to the large number of tournament paintball teams on the West Coast, and also to relatively inexpensive airfare costs in and out of Vegas. 2004 marked the second year that Pure Promotions utilized UNLV's facilities for their Vegas tournament, and their first event of the season to be played on grass. In the year since the last NPPL Vegas event, the UNLV groundskeeping staff worked hard to bring more life and green to the practice field.
As with Tampa and Denver, television was used to draw more spectators out to the tournament. A compilation show covering the 2003 season was aired on Fox Sports West with inserts promoting the Las Vegas tournament.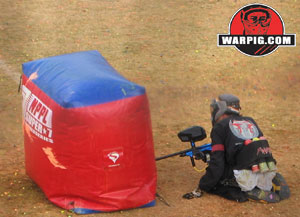 With a shockingly large number of professional teams, twenty-eight, competition was fierce to be in the top 12 to go onto the quarter finals in Vegas. Avalanche had a lovely prelim run with eight wins for a total of 781 out of 800. Dynasty was right behind them by seven points. Redz Hurricanes had a bye during their prelims, helping a drop with a freebie 95 points. Arsenal dropped a game for fourth place, joined by Ironmen with a drop and a bye, Icemen who had a single drop, and XSV who had two drops but played high scoring games throughout in their other six games for seventh into quarters. Entourage also had two drops as did the New York Raiders and Infamous. Jax Warriors lost three games, a tight squeeze into eleventh and rounding out the quarters match was Shockwave UK with three drops and 526 points. Notable teams, Shock, Naughty Dogs and Sedition were all right behind the last team, a tense time watching scores rack up at the end of the day.
Division I likewise had a large number of teams, and only a few spots to fill into the quarter finals though the level of competition was definitely less cutting edge. Arsenal A had a drop in the prelims and scored 694 points for first place. Joining them in the quest for a final match were Wicked with a drop and a bye, Future Ball with a drop, Docs Raiders with a drop, Evolution with a drop and a bye, Dallas Roots with two drops, Viewloader Allstars with two drops and a near miss for seventh, Justice with two drops, Farside with two drops in ninth, Fusion with a drop count of three, Evil with three down, and in 12th Colorado Shooters with three down and a 508 total.
In Division II the numbers just got higher. With 51 teams shooting for the quarters. ACI Splat Factory rolled through their competition undefeated to grab the first ranked position with 771 points. Mox Nix dropped their first game but won the rest, ranking number two with 685 points. Ether, also dropping a single game ranked third at 676. Division III had some missing scores. Karma Black posted no points, unable to attend the tournament as they took care of their own families and neighbors still recovering from Hurricane Frances. Even a week after the storm, significant sections of Florida remained without power or potable water.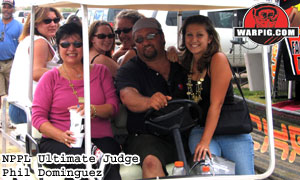 For Division III, it was Thunderkids that topped the list of 16 quarterfinalists at 698. Panic was close behind them at 689, and Paintball Mart Factory ranked third at 613. The cut for the division was set by Legend at 500 points, cutting out APC Factory by a mere 6 points. Last minute ended up with all of their tournament points being disqualified after league scrutineer determined that the Nerve being used by one of the teamís players was set into an NPPL illegal mode which fired more than one shot per trigger pull. According to Dave Zinkham, the scrutineer, access to changing modes on the Nerve is protected by the grip cover, which requires tools to remove, so it would not be a problem to have the gun set up for legal operation. Regardless of set-up, the NPPLís trigger-bot test stand quickly determined that the paintgun was set in an illegal mode, meaning that all points earned while it was on the field would be nullified. Especially now that the NXL allows modes of fire which offer more than one shot per trigger pull, tournament judges will have to be more vigilant to make sure that paintguns, even with factory stock electronics, are operating in the proper mode to fit their leagues rules.
The quarterfinals had a dramatic impact for each bracket of teams but none more so than for the top four of the professional teams. Only Dynasty made the cut to move onto semi-finals out of the top four of Avalanche, Dynasty, Redz Hurricanes and Arsenal. Infamous, XSV and Entourage joined Dynasty in the battle of semi-finals to decide who would fight for finals.
Division I allowed for a single drop in each quarter final game, but the necessity for bodies was apparent with teams moving on by a spare point or two. Evolution, Viewloader Allstars, Justice and Farside made the break for their divisions.
Division II saw just Mox Nix out of the top four earn enough points to move on. Interestingly, Division II was the only bracket in which the top teams each won all of their quarter final games. Joining Mox Nix was MOD, Nor Cal, Maxim 2 Factory.
In Division III, the lineup was closer to the higher ranked teams from preliminaries with PTI moving on, Richmond Riot and Paintball Mart and Thunderkids joining them for the fight to first place.
The semi-finals set the plan for which teams would play for the chance at first and second and then third and fourth. The top ranked team out of the Professional bracket was Dynasty and they would face off against XSV after they beat out Infamous. Entourage would face Infamous in the finals for third and fourth place.
Division I would see Justice and Farside competing leaving third and fourth to Evolution and Viewloader Allstars.
Division II would face Nor Cal and Mox Nix against each other for best two out of three and MOD and Maxim 2 Factory against each other.
Division III pitted Paintball Mart and PTI and Thunderkids and Richmond Riot.
The finals round saw Dynasty beat XSV two games in a row for a first place finish leaving XSV in second. Infamous beat out Entourage for third place. Farside beat Justice in two games for first place. Evolution beat Viewloader Allstars two games out of three for third. Mox Nix and Nor Cal faced off for first place and second, and thatís how they settled up with Mox Nix in first. MOD and Maxim 2 Factory flopped, with MOD in fourth. Division III gave the first place win to PTI after two wins out of three games against Paintball Mart for second place. Richmond Riot beat Thunderkids two to one for third.
From Vegas the next place for teams to earn Super 7 Series points would be the Millennium Series tournament in Malaga, Spain. From there the series heads to its season ender back to Southern California where it started, but this time in San Diego, rather than Huntintgon Beach.