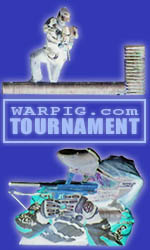 Prelim Schedule of Games
Pro, Semi-Pro, DI, D2, D3
What do you think? Add your comments in WARPIG's TOURNEY TALK FORUM
NPPL Huntington Beach
March 28-30, 2008
Huntington Beach, California
Professional First Place - San Antonio X-Factor
Semi Pro First Place - Arsenal Evolution
D1 First Place - Aftermath II
D2 First Place - LA Endurance
D3 First Place - CS Union
For the sixth year running, the NPPL is starting out the season with their coveted beach location in the sunny city of Huntington Beach, California.
In today's world, major tournaments are billed by a city and a venue, but often they're actually held in a suburb of the city named and further are more often than not held in the parking lot of the touted venue. This is not so with Huntington Beach. The event is right in the city center and smack dab on the beach which gives it a unique level of crowd participation as people may come to see the vista of the beach, the surfing, or the pier, but instead get a view of the top professional players in the world as well as several up and comers of the sport. This is further reason for vendors to make a point of showing their products at the California tournament's trade show as more non-participants will see logos and products than at just about any other tournament in the States.
Hitting the sand would be 18 professional teams, including the top three contenders from last season's finale, San Diego Dynasty, who pulled their winning streak out at the last event in 2007, as well as Edmonton Impact and the Los Angeles Ironmen who changed their name for 2008 to the Golden State Ironmen. A nearly equal number of semi-pro teems would be taking to the field on Friday as well, with 17 in their division. In Divisional play, D1 had 27 teams, D2 with 53 teams, D3 with 72 teams and a Pump Division of play with an impressive 27 teams playing. Games were scheduled on Friday for a 7:30 am start with the sun rising at 6:43. Taking advantage of the long spring days, the competition was planned to run nearly 12 hours, wrapping up with the last game starting at 7:10, with the sun sinking into the water on the other side of the netting.
Preliminary games wrapped up mid-day on Saturday for the D3 teams who began playing on Friday under sunny skies with temperatures in the 60's. Of the seventy-two teams in the D3 bracket, just 16 would advance to play in the next round of games. Leading the pack with a solid lead was Chi Town Raiders who sailed through the 8 preliminary games without a single dropped game with 779 points. Among the top teams were NV who won 7 of their 8 games, as well as CS Union, and Faction Evo. Rockstar Factory Red, Bomb Squad, Naughty Dogs Black, Half Baked Kidz, Black Cell, Effects, Sinister, CDRstar, Naughty Dogs Silver, and FKA all made the cut after dropping only two of their games. Velocity Wrecking Crew and RGV Kaos would continue on as well with three loses. Team ByF8th and LA Distraction missed the cut by just two points, both being tied at 531 after the 8 prelim games.
Division I teams took the top sixteen teams out of the twenty-seven teams who played all throughout the preliminary games into the round of games to be played on Sunday. Taking top billing was NeX with 780 points out of the 800 available without having lost a single game. NeX secured themselves a long margin with their 168 point lead over the next team, Legend with 612 points. Joining them were Aftermath II, Chop Shop, Notorious, Hollywood HK, LA Hitmen, Arsenal Kidz, RNT Allstars, Splat Kids, Stoned Assassins, Miami Devious, 187 cRew, Red Devilz, PB Warehouse Squadron Red, and All or Nothing who beat out 17th ranked Nxe by a single point with 429 points.
Professional games were broken into two divisions with 18 teams hitting the field on Saturday. After eight games, the first division of teams saw the Ironmen in first place with a 612 score after two dropped games. Following them in their division were Jersey Authority with three dropped games, newcomers OC Bushwackers and New England Hurricanes with four games lost and a score of 438 after 8 games. In the second division of professional teams newly pro team San Antonio X-Factor scored 599 with two losses. Joining them in the lineup was another first time pro team Escondito Aftermath with 598. San Diego Dynasty dropped three of their games, but earned a 543, with room to spare for St. Louis Avalanche with a score of 508. The Naughty Dogs had a disappointing game with a ramping gun penalty giving them a -100 point score during the prelims, though even with that devastating loss, it didn't land them in the lowest score category, which went instead to Oakland Blast who started out with a win, but lost the other 7 games for a total of 152.
Semi Pro teams were smaller in number with just 17 teams hitting the fields, which meant that only 8 teams would advance to play in the following rounds. Taking the lead out of the prelims was Avalanche Army with an huge lead of 167 points over their competition with 771 points. SF Design with 604 points was likewise comfortably settled over Arsenal Evolution and Misfits who were tied at 520. Impact and Phoenix United both tied with 518 points with three dropped games between them. Likewise Method of Destruction and Los Angeles Bushwackers dropped three of their games, rounding out the top eight teams with the 8th ranked team making the cut with 501 points.
Last to finish for the day on Saturday were the DII teams who played on into the night, well after the sun set into the waters of the Pacific. Of the 53 teams, the top sixteen were ranked to move on for Sunday's games. At the top of the list was DC Arsenal Predators with a dropped game and a score of 694. The pack was tight with the DII teams, Tombstone right behind Arsenal with 689 and Ground Control ranked third with 680. Joining them in the games on the following day were Island Breed, Aftermath Factory, LA Endurance, Miami Rae, HKN by Paintballphotography, REGIM3, Go For Broke, ZJ Factory, Fallen, Method X, Destiny, Jersey Distortion, and Kolohe by Goggedpaintball with 535 points after five wins during the 8 prelim games.
No time for fun on Sunday, the games were scheduled to start under cloudy skies at 7:30 in the morning with cooler temperatures. The Elite 8 Pro and Semi Pro, alongside the Sweet 16 rounds of the Divisional teams, would play through the morning hours, hoping for a chance at the semi-finals. Semi-Finals would start about 1:00 p.m. if the schedule stuck to the plan with Finals to begin on the sand at 2:30 p.m., wrapping up about 5:30.
Hitting the fields on Sunday would also be the Pump games at 11:00 a.m. with a large number of teams scheduled to play, harkening back to the days of old.
The Sweet Sixteen games for the D1, 2 and 3 brackets took up the morning hours on Sunday with best two out of three games between two teams, putting the top ranked teams against the lower ranked teams. In D1 the odds were against All or Nothing in 16th place, but their namesake proved true and they took down NeX with two wins. Second ranked Legend took on 15th PB Warehouse Squadron Red with two wins. Aftermath II won over Red Devilz and Chop Shop won over 187cRew. Twelfth place Miami Devious beat out 5th ranked Notorious. Hollywood HK took down the Stoned Assassins and LA Hitmen took out Arsenal Kidz. Finally in D1 Splat Kids in 8th place took both games against 9th ranked RNT Allstars.
D2 teams faced off in the same method, but with quite a few games going to the third match. DC Arsenal Predators lost their first game against Kolohe, but came back to win the next two. Tombstone did the same with Jersey Distortion. Ground Control won over against Destiny and Island Breed beat out Method X. Aftermath Factory had to win a 1 on 1 contest to beat out Fallen. LA Endurance won the first two games against ZJ Factory securing their spot, while Miami Rage did the same over Go For Broke. The only upset in D2 where the high ranked team didn't win out over the lower ranked team was 9th place REGIM3 taking down 8th place HKN.
First ranked D3 Chi Town Raiders beat 16th RGV Kaos in two games, giving them a run towards the Divisional Elite 8. NV took down Velocity Wrecking Crew and CS Union did the same to FKA. Faction Evo won two games over Naughty Dogs Silver and Rockstar Factory Red traded games with CDRstar, but came out on top. Bomb Squad took the first two matches over Sinister while Naughty Dogs Black traded games with Effects, but still held their own. Black Cell took down the Half Baked Kidz after a loss, but won the next two games.
The professional games on Sunday started off with the Elite 8 rounds with the top 8 ranked teams playing 7 games, the top four moving on throughout the day. Heading the teams after 7 games with a score of 594 points was the Ironmen. Behind them with 514 points and two dropped games was Dynasty. Third place into the next round of games was new pro on the block, San Antonio X-Factor with 421 points and St. Louis Avalanche earned 346 points, enough to secure them a chance at the finals. Coming in fifth place was Jersey Authority with 319 points, OC Bushwackers with 318, New England Hurricanes with 238 and Escondito Aftermath in eighth place with 216.
Elite 8 semi pro games matched Avalanche Army against the Los Angeles Bushwackers, giving Army the win. Method of Destruction took down SF Design after two games while Arsenal Evolution traded wins with Phoenix United, but winning the third game, sending them to semi-finals. Impact dropped two games giving the Misfits their shot at the next round of games.
D1 team All or Nothing continued their winning streak for the day against Legend after an initial game loss. Aftermath II beat out Miami Devious after three games. Splat Kids won the first game, dropped the second and won the third over Chop Shop, then Hollywood HK took down LA Hitmen after two wins.
In D2 games DC Arsenal Predators took on REGIM3, winning two games and moving them on. Miami Rage won, lost and won over Tombstone. LA Endurance took down Ground Control with two wins while Aftermath Factory did the same over Island Breed.
D3 Elite 8 games saw eighth ranked Black Cell taking down the first ranked team Chi Town Raiders with two wins. NV beat out the Naughty Dogs Black after a single loss. CS Union took down the Bomb Squad and then Rockstar Factory Red beat Faction Evo after losing the first game to Faction, sending Rockstar onto the next round.
Sunday afternoon watched the semifinal and finals rounds under sunny skies with a brisk wind and 50 degree temperatures. In the Pro division semi finals the Golden State Ironmen dropped two games against Avalanche sending them to the final round to battle against Dynasty who also dropped their two semi games to X-Factor. Semi Pro had Method of Destruction winning two out of three games with Avalanche Army while Impact lost their two games to Arsenal Evolution. D1 Aftermath II beat out All or Nothing while Hollywood HK took down Splat Kids in two games. D2 Miami Rage traded games with DC Arsenal Predators but came out on top in the third game and Aftermath Factory dropped both of their games to LA Endurance. D3 put NV over Black Cell in two games while CS Union took down Rockstar Factory Red.
Final matches of third and fourth rounds saw Dynasty over the Ironmen in Pro, Impact over Avalanche Army in Semi Pro, Splat Kids over All or Nothing in D1, DC Arsenal Predators over Aftermath Factory in D2 and Rockstar Factory Red over Black Cell in D3.
First place professional went to San Antonio X-Factor after a win, a loss and a final win over St. Louis Avalanche for the newcomers. This set them up in the same class as Dynasty, the only other team in the recent NPPL history to win first place in their professional debut. Semi Pro finals saw Arsenal Evolution coming back from a loss over MOD. D1 watched Aftermath II come back from dropping a game to win the following two games over Hollywood HK. Miami Rage dropped two of their games to LA Endurance, Endurance going on to take the top spot. D3 teams likewise traded games, the win going to CS Union over NV.
After the sun set on the fields, the after party got started at the cantina while field crews began the arduous task of dismantling the setup of bunkers and netting. The NPPL would move on from Huntington Beach to hit the other coast, heading to Jacksonville, Florida for the event scheduled to be played May 16-18, 2008.