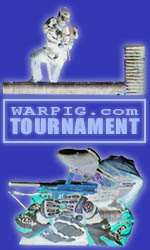 Prelim Schedule of Games
Pro, Semi-Pro, DI, D2, D3
What do you think? Add your comments in WARPIG's TOURNEY TALK FORUM
NPPL Jacksonville
May 16-18, 2008
Jacksonville, Florida
1st Place Professional - Escondito Aftermath
1st Place Semi-Pro - Dynasty Entourage
1st Place D1 - Hollywood HK
1st Place D3 - CS Union
After a successful event in Huntington Beach last March, the NPPL has moved to the other side of the country in Jacksonville, Florida for their second event of the 2008 season. The setting for this tournament would be Jacksonville's Municipal Stadium in the heart of Jacksonville itself. Early registration was held on Wednesday at the local Army Navy Outdoors Store. Thursday dawned with clear skies for field walking and continued registration of teams. The captain's meeting was held at 5:00 p.m. in the center court grandstands to cover rules and to answer any questions the teams might have, with games scheduled to begin at 7:30 in the morning on Friday. Games were not the only draw for local paintball enthusiasts, they could also attend the event to visit the trade show set up along side the game fields for bargains and a look at the latest paintball technology.
Friday games would showcase the Professional all-star game, a collection of paintball players who were selected using the NPPL's website for enthusiasts to cast their vote for their favorite player. Preliminary games would also begin on Friday and continue on into Saturday with the Semi-Pro division as well as D1 and D2 teams taking the field in an effort to be the best in their bracket to move on to the quarterfinal rounds on Sunday. The Professional games and D3 would not start until Saturday.
The All-Star game was made up of a South Conference, the Blue Team, consisting of members of Dynasty, Ironmen, Aftershock, Naughty Dogs, X-Factor, Damage, Oakland Blast, XSV, Aftermath and Bad Company. The Red Team, competing for the North Conference held team members from Edmonton Impact, Infamous, Hurricanes, Avalanche, Jersey Authority, Miami Rage, All Americans, DC Arsenal, and the Bushwackers.
Saturday ended with the preliminary rounds for all of the divisions of competition. With two groups of Professional teams for a total of 18 teams, the top four of each division moved on to the next round of games. Taking the top spot with 7 games won and just a single game lost was Jersey Authority with 684 points. Joining them in the Sunday line up would be New England Hurricanes, St. Louis Avalanche, Escondito Aftermath, Oakland Blast, San Antonio X-Factor, Golden State Ironmen and OC Bushwackers.
The Semi Pro division showed 16 teams in the prelim rounds with their 8 games, allowing half of them to move on. The fight was on to make the cut, the ninth place team missing advancement by a single point. With 694 points and 7 wins out of 8 was Dynasty Entourage. Arsenal Evolution, Impact, TCP Machine, SE X-Factor, Method of Destruction, Studio City Icemen and Phoenix United would move on to play on Sunday.
D1 moved 8 teams out of their 18 original to the next round of games. Arsenal Kidz took top billing after winning each of their eight prelims with a grand total of 774 out of 800. Aftermath II joined their brothers in the Pro division as did 187cRew, Chop Shop, Synergy, Hollywood HK, NeX and Splat Kids who made the cut with a two point lead at 518 points.
Division 2 teams fielded 29 teams during the games on Friday and Saturday which allowed 16 teams to move on for Sunday play. L.A. Endurance proved their mettle with 8 wins and a total of 770. Also moving on were Go For Broke, Brooklyn Ratpack, Miami Rage, Asylum, Tombstone, Petra, Odonto, Armageddon, REGIM3, Huntington Beach Bushwackers, ZJ Factory, Miami Hot Shots, Island Breed, Wiseguys and Enigma brought up the rear with 427 points after winning their first four games.
D3 had 37 teams show up to play, moving 16 on to play on Sunday. CS Union took the top spot with 785 points and shared the glory of winning all 8 of their prelim games with Archon Army who took second after the preliminary matches. Joining them would be Topgun Factory, CXP Xtreme, Bomb Squad, SD Tension, NXe JRNY, Titus, Comeback Kids, Black Cell, L.A. Swat, Gunslingers, Paintball Addix, Crown Town Killaz, Velocity, and University of Tennessee with 507 points on the bottom end and 5 games won.
On Sunday both D2 and D3 played through their Sweet 16 rounds, moving just eight of the sixteen teams in each bracket on to the quarter finals with the other divisions of play. In the D2 bracket this weeded out LA Endurance, Wiseguys, Island Breed, Miami Hot Shots, Asylum, Huntington Beach Bushwackers, REGIM3 and Odonto. In the D3 University of Tennessee, Archon Army, Crown Town Killaz, Paintball Addix, Bomb Squad, L.A. Swat, Black Cell and Comeback Kids went home after the sweet sixteen round.
Moving on to the Elite 8, the Professional teams played 7 games to eliminate half of the eight teams. Escondito Aftermath won all but three of their games as did the Ironmen and Oakland Blast. New England Hurricanes made the cut with four losses. This sent St. Louis Avalanche home as well as OC Bushwackers, San Antonio X-Factor and Jersey Authority.
Semi-Pro saw Dynasty Entourage win over Phoenix United, Studio City Icemen dropped their first game against Arsenal Evolution but came back to win the final two. Impact traded games with Method of Destruction, but pulled out the final game for the advancement. TCP Machine lost their first match against SE X-Factor, but won their final two.
D1 saw Arsenal Kidz droppping to Splat Kids, Aftermath II continuing strong over NeX, Hollywood HK over 187 cRew and Synergy over Chop Shop.
D2 had Go For Broke over Enigma, Brooklyn Ratpack over ZJ Factory, Miami Rage over Armageddon and Tombstone over Petra.
D3 watched CS Union take down Velocity, Topgun Factory over Gunslingers, CXP Xtreme dropping to Titus and SD Tension over NXe JRNY.
Semifinal matches were held mid-afternoon with the Professional teams matching up Escondito Aftermath with New England Hurricanes and Oakland Blast with Golden State Ironmen. Aftermath took down the Hurricanes while Ironmen beat out Oakland moving both Aftermath and Ironmen to the finals rounds for first and second place. Semi-Pro semifinals saw Dynasty Entourage taking down Studio City Icemen and Impact beat out TCP Machine for their shot at the first and second finals. D1 watched Splat Kids win over Aftermath II and Hollywood HK over Synergy. D2 showed Go For Broke over Tombstone and Miami Rage over Brooklyn Ratpack. D3 had CS Union over Titus and Topgun Factory over SD Tension.
Finals rounds were played under cloudy skies with the threat of heavy storms on the horizon. Third and fourth place rounds were played for the Professional teams Oakland Blast and New England Hurricanes. Oakland Blast improved mightily after the Huntington Beach event, taking fourth place to Hurricanes' third place win. In the first and second place match with Aftermath and Ironmen. Aftermath took the first game and then came back to win a stunning victory over Ironmen in their second game with 7 alive at the end of the game and 5:20 left on the clock. Semi-Pro finals saw TCP Machine taking fourth place and Studio City Icemen in third place. Dynasty Entourage took down Impact for a $10,000 prize purse and first place. D1's loser bracket saw Aftermath II in third after their win over Synergy. Splat Kids lost to Hollywood HK for second, giving the guys from HK the first place win. D2 saw Tombstone over Brooklyn Ratpack for third and fourth, respectively. Some teams started their finals rounds after the awards ceremony was held for the Pro and Semi-Pro teams with rain falling and 20 mile an hour winds. The weather conditions made for interesting slides, but unfortunately lead to the tournament being called early. D3 had Titus over SD Tension for third place while CS Union took down Topgun Factory for first place. D2 first and second place final games were postponed for Go For Broke and Miami Rage who would play their final match in New York at the NPPL's third event of the season.