PSP Chicago Open
June 18-22, 2003
10 Man Rookie - Rock It Kids
10 Man Novice - Momma's Boys
10 Man Amateur - Brimstone Smoke
Division 1 X Ball - Naughty Dogs
Division 2 X Ball - Twisted Factory
5 Man Novice 1st - AGD Kids
5 Man Rookie 1st - Dedicated Paintball 2
For 2003 PSP moved the Chicago Open from its traditional home at the Badlandz Paintball field Lansing, IL, to the Maywood Park harness racing track, closer to the urban center of Chicago, IL. This move reflects the league's move to more progressive venues.
The new location placed the event closer to Chicago's major airports and a wider variety of hotels. It also brought about an increase in field quality, allowing netted fields to be set up on the racetracks grass infield. Unlike the thoroughbred track use for the LA Open, Maywood Park's track surface consisted of compacted gravel, o the track itself could be used for vendors and the team staging compound. Immediately adjacent to the track was the clubhouse facility with a restaurant, bar, indoor rest rooms, and even pool and fusball tables, just a few hundred feet from the playing fields. Like the full PSP series, Chicago featured 5 man, 10 man, X Ball, and NXL competitions.
WEDNESDAY
The start of the five man was met with a larger vendor presence than has been felt during the first part of the week at the other PSP events. A dozen trucks were on hand for the vending, giving the racetrack a look of a carnival with the displays and flags flying. Several vendors were busy setting up displays under the vendors tent area while games got underway shortly after 8 am. Paintball Sports Promotions adapted to the shape of the racetrack infield by using a long narrow tent for the smaller vendors, laying out their displays like a strip mall rather than packing them into a cavernous tent that would trap the heat and humidity of the day.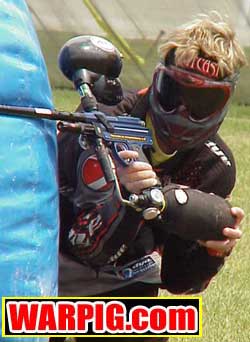 Doc's Raiders took top ranking after their win of Vegas and the other three teams ranked higher in series points, Femmes, Organized Crime and CP Factory opted not to play the five man. Following Doc's were Cross, Reflex, Outlook and P&L Hurricanes. Cross ended up not making the trip though they were included on the registration and were slotted into the schedule. The teams who competed against them would receive a 95 or an average, whichever would be higher in points. Nineteen teams who hadn't played 5 man yet this season showed up, adding to the novice ranks. The Rookies had a few more teams competing, with six making a return. Method was ranked first after third and second wins in the first two events, respectively. Adrenalin Rush got a fourth place win in LA but didn't make the cut in Vegas, coming in second ranked for Chicago after ACI Turmoil and Shadow Company didn't make the trip to play. Doc's Raider's rookie squad showed up to play ranked third after their dramatic win in Vegas. Team Ultimate also made the cut in Vegas, taking third place. They ranked fourth here in Chicago. Rat Factory and Ringworm Factory Team were both returned to the five man brackets after playing in Vegas. Forty-two more teams showed up in Chicago to play five man Rookie, new teams to the series this year which is fairly common for the Chicago event.
The weather looked like it would cooperate for the PSP event. Forecasts were calling for warm, sunny weather on Wednesday, highs in the 80s with the temperatures cooling off on Thursday for the start of X Ball and the wrap up of five man's semi final and final rounds.
Games progressed without problem after a slightly late start on the morning of Wednesday though they lost ground and got behind schedule by mid-day. With muggy weather, hot sun and despite using the same tight scheduling and staging layouts used in Vegas, the teams failed to make it to the fields on time.
The PSP Las Vegas tournament site placed team staging in individual tents immediately adjacent to the air fill station and very close to the game fields. This allowed the tournament to stick to it's tight schedule with a three minute turnaround time between games. One of the features found in Vegas that was missing in Chicago, was a public address system. Without the ability to call teams to fields as needed, game delays had a way of cascading, as one field getting behind would slow down the ability of teams to get to another field for their next game.
By one o'clock, the games were close to two hours behind, but gaining ground and catching up when the heavens opened up and drenched the site at 4 o'clock. Almost half of the teams had finished their eight preliminary games, freeing them to flee the scene and head back to dry hotels while the teams remaining had to tough it out in the rain. Because the storm included lightning, game were postponed until the electrical hazard passed. They resumed under a light rain with little wind.
After the preliminary games wrapped up, teams were faced with another wait while scores were rounded up and double checked after holes were found on the scoreboard. Through it all, Mommas Boys topped out the novice bracket tied with Nebraskapaintball.com at 788 out of 800 points. Since the two teams truly were tied, having lost the same amount of bodies and eliminated the same amount of opponents, they were ranked based on their series ranking. Dedicated Paintball fell just behind them at 776 followed by Docs Raiders, AGD Kids, Thunderstruck, Reflex, and CT Turmoil at 536.
Rookies took 16 teams to the semi-final round since they had more than 32 teams competing in the preliminaries. Top of the marks were Docs Raiders at 702, followed by Team Rogue, Rat Factory, Adrenalin Rush, SV Ballers, Venom, Reality Check, Dedicated Paintball 2, Dead Presidents, Buddahs Sister, Powers Rangers, Rat Dogs, Riven, Red Devils, Method, and Team Rush at 418.
THURSDAY
Thursday's weather was balanced by clear blue skies and cool temperature with light winds as the 5 man semifinal teams took to the field. With the 10 man schedule calling for prelims to run later into the day, PSP's Paul Sattler spent Wednesday night shopping for a public address system that was set up on site Thursday morning to help keep teams getting to their fields on time. Sixteen rookie teams hit the fields, playing their semi-final games at 8 o'clock and wrapping up play about 10:30, efficiently run with fewer teams going on the fields. In the first bracket Doc's Raiders and Dedicated Paintball 2 fought for the first placement, in their bracket, Dedicated winning the fight by 18 points. They moved onto finals in first place ranking with 226 points, Reality Check took second with a solid lead in their bracket. Adrenalin Rush took third going into finals with a near 100 point lead in their bracket and Rat Factory brought in fourth.
Novice teams were in a smaller semifinal round with only 8 teams, the top two teams advancing from the two divisions. AGD Kids won all three of their games, two with 100 maxes to take first into finals, Dedicated Paintball winning their bracket to take second, Nebraskapaintball.com in third and Momma's Boys in fourth.
There was a very brief break in the games for re-airing and tubing paint, then the five man teams hit the field again by 11 am to continue their games. With only six games to be played on the two fields being used, hopes were high that the games would wrap up in an hour or so so ten man teams could walk all three of their fields.
Meanwhile on the NXL field, Baltimore Trauma faced off against New York Xtreme in the first game of the day. Stands were absolutely packed by mid-day with color commentating from Peg Green from Generation E. Baltimore was victorious in that match 10 to 8. Miami Effect defeated the Philadelphia Americans with a score of 13 to 4. Detroit Thunder scored 5 points against the Oakland Assassin's 13 points. Los Angeles Ironmen took down Chicago Aftershock with a single point - 10 to 9, and in the final NXL match of the day New York Xtreme defeated Miami Effect 13 to 6.
The rookie finals saw Dedicated Paintball winning two of their games to take home the first place trophy with a finals score of 208. Reality Check also posted two wins for a score of 192 grabbing the second place trophy. Adrenalin Rush and Rat Factory finished with tied scores of 114. Since Rat Factory was the winner when the two teams played each other in the finals, they were awarded third place with Adrenalin Rush in fourth.
AGD Kids finals score of 218 landed them in first place, with Momma's boys in second at 206. Nebraska Paintball.com finished third with 88, and Dedicated Paintball finished fourth.
Reffing points would go to Organized Crime, Division, and BBT Ninjas after reffing 5 man.
Division One and Two X Ball got off to a late start, owing to power problems for the air compressor on one field, and rain from the night before causing electrical problems with one of the score boards.
In Division two Pinnacle Woods defeated AMOK 9 to 5. P&L Hurricanes, Division two champs from the Vegas Open defeated Team Rattlesnake 11 to 3, while NCPA Allstars fell to Team Drive 6 to 9. Twisted Factory posted a 15 to 2 win over Team No Name. Ground Zero Silver took a single point victory over Fraction 7 to 6. Chaos beat Ignition 7 to 6.
In Division 1 with the pro and amateur teams, Vegas winners Naughty Dogs shut down Fury 19 to 2. The All Americans beat Farside 10 to 7. Platinum Check It defeated Legacy 9 to 8. Due to the late start, not all of Thursday's scheduled matches were played. The remainder were bumped to Friday morning when the 10 man action would begin.
FRIDAY
Ten man competition started early on Friday morning under gorgeous blue skies, cooler temperatures and a busy schedule with NXL and Division 1 and 2 games continuing. Tippmann Effect and the Purdue game, First Strike vs. Saberwolf Pups and Underworld vs. BBT Ninjas in Division 2 all had games were all played on Friday morning after delays in the Division 2 fields on Thursday. Tippmann vs. Purdue had Tippmann winning with 10 points over 3. Saberwolf Pups won against First Strike 8 to 6. Underworld beat BBT Ninjas by 10 points with scores of 13-3. Reffing the Division 1 and 2 fields were Jax Warriors and Thunderstruck.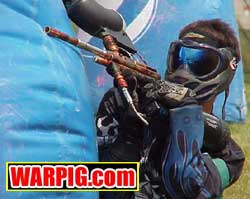 In the ten man competition, 59 teams took the three fields, reffed by Shocktech, Static and Evil. The sound system installed on the last day of 5 man made a world of difference for 10 man running not only on time but ahead of schedule by 30 minutes to an hour. In the Pro-Am bracket, Fusion was the only returning professional team who made the showing. They were ranked as though they'd played amateur this season, coming in after Nasty who was third in series ranking after reffing points from Pomona and making the semi-finals in Vegas. Shockwave also had ref points from Pomona and from playing in Vegas. Cartel came to Chicago in third place after two trips to the semi finals this season. Addicted started in fourth after a showing in Pomona and their win in Vegas. Image was in fifth place after their return this season, ECX Factory was in sixth place after two trips to semi finals. Robinhood came in ranked 7th, just ahead of Fusion who had 4 ranking points for the series. Brimstone Smoke returned to ten man competition after playing X-Ball joined by Nemesis who had taken a bit of a break after Huntington Beach's NPPL event.
Novice ten man had fifteen teams returning out of the twenty-four teams who were set to compete in Chicago. Justice returned in first place, followed by the second place team Atomix Factory, Mommas Boys, Mantis, and Fat City all came ranked as they have been in the series ranking, BC Kidz moved up a spot to sixth place since Next Level didn't return to play. Shadowmen also moved up a couple of slots followed by two teams who advanced from Rookie play into the Novice bracket. Sin had been ranked at third place Rookie after semi-finals in Pomona and winning in Vegas ranked with 76 points. Losing a portion of their points after advancing up, they moved with 46 points putting them in 8th place in Chicago. Lockdown also moved up from Rookie's fifth place with 61 points, dropping those down to 37 points after the advancement, putting them into 9th place Novice. Reign, Havok, Outcasts, Static AKA, Industry, Works Factory, Rough & Ready Black, and Fox 4 Paintball all returned to the Novice bracket to compete in Chicago. Enemy was on the schedule and team list to play in Chicago but didn't end up making it. Bad Karma was put into their spot, though they would have been ranked in ninth place instead of the 22nd rank where Enemy was placed in the schedule.
Nine rookie teams returned this season to play in the windy city, Cartel Empire taking up their first place spot after two trips to the final four thus far in the year. Outlaws also made the return in second place after their fourth place wins in both Pomona and Vegas. Rock It Kids, Dominion V3, Outkast, Texas Torn, Precision, Super Natural, and XXX all returned taking third through ninth place.
Division 1 and 2 X Ball started off with the games originally scheduled for Thursday night, and the downtime between matches was rushed in an attempt to get X Ball back on or ahead of schedule by the start of Saturday morning's games. Division 2 games progressed into their second round where a loss meant going home. AMOK was knocked out by Strange B 16 to 2, Purdue was taken out by MO Magic 11 to 5. NCPA Allstars eliminated Team Rattlesnake 10 to 6, First strike was taken out by Affordablepaintballsupply.com 8 to 5, Fraction knocked out Team No Name with a 10 to 7 win, and Ignition removed BBT Ninjas with a 12 to 7 victory.
Division 1's first day scheduled games wrapped up with Storm beating Alive 15 to 3, and Nasty taking victory from the Demonic Factory team 15 to 2. The second round of games started with Fury defeating Alive 10 to 3 which knocked Alive out of the running. Demonic Factory lost their second match to Farside, a long game with a twenty point spread of 22-2.
On the NXL field Oakland lost to Philadelphia 10-7, while Baltimore Trauma beat out Chicago 12-9. Detroit won against Los Angeles 11-9, a good win for the boys from Michigan. Miami beat Oakland 12-7, Bobby Long taking the field for a good part of the game, giving up his coaching spot, surprising the crowd. Then Chicago beat out New York 11-9.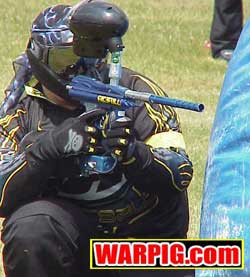 Division 1 wrapped up the day with Naughty Dogs winning over Texas Storm 15-3, leaving them with two games to make up after delays. Division 2 finished on time, leaving one game to make up.
Ten man wrapped up a full hour ahead of schedule, the kinks worked out of the scoring, the PA system making a world of difference in the event running not only to time but ahead of schedule since teams could be called to fields that were 45 to 60 minutes ahead of the printed schedule.
SATURDAY
The weather held for another beautiful day in Chicago for the start of the weekend games. With games to make up on the Division 1 and 2 fields, teams were a bit disgruntled generally handled the switch up in schedules well. In contrast the ten man competition started right on time after finishing early the day before and quickly got ahead again. By ten o'clock most fields were playing their 12:30 games, a full two and a half hours ahead of the schedule. The Pro-Am bracket had high scores running rampant through the preliminaries, the cut looking to be a game loss of the eight games played. Novice was equally high, the estimated cut being the loss of two games but Rookies were looking like they might be able to squeeze in with three losses. The efficiently run tournament meant a longer than scheduled lunch break for both the teams and the referees. Like the days before an entire shipping palette of bottled water was delivered on site to provide players with free water. Maywood Park augmented its indoor restaurant with a pair of snack bars in tents outside serving up cold beverages, sandwiches, and grilled foods.
In Division 1 X Ball the odd number of teams led to a strange combination of games for Legacy and Platinum Check-It. The two had played on the first day with Platinum winning. This moved Platinum into the winner's bracket facing top ranked Strange. Since there were an odd number of teams Strange had skipped the first round in essence getting a buy. Strange beat Platinum which moved them to the loser's bracket where they had a saturday math up with Legacy. For Legacy this meant their first two matches of the tournament were against Platinum. The second time was a charm for Legacy and they knocked Platinum out 15 to 5. Nasty defeated Fury 11 to 6, sending them home. Storm defeated Farside 12 to 4, eliminating Farside from the event. Naughty Dogs handed the All Americans an 11 to 4 defeat, sending them to face Legacy. In that match, Legacy was the victory 9 to 7. Nasty defeated Storm 10 to 6.
In division two the number of teams created a scoreboard that looked like a tangled spider's web. In the winner's bracket Total Eclipse defeated TKO 8 to 5, earning them a position one step away from the final round. In the loser's bracket all teams had already suffered a single loss, losing another game would mean going home. Strange B posted an 8 to 5 victory over Tippmann Effect. Saberwolf Pups earned a 10 to 5 against the National Collegiate Paintball All Stars. AffordablePaintballSupply.com stayed in the running by defeating Team Drive 8 to 6. Fraction stayed in by a single point. They scored 9 points against Chaos' 8. Ignition fell to Ground Zero Silver 12 to 6. Strange B defeated Pinnacle Woods 8 to 5. Ground Zero then knocked out Fraction with an 11 to 5 win. Saberwolf Pups took down Affordablepaintballsupply.com 10 to 3. Underworld knocked out the Las Vegas Div 2 champions P&L Hurricanes in a hard fought match. At the half, Underworld was leading 4 to 5, but then the Hurricanes grabbed two points early on taking the lead. With less than 4 minutes left Underworld tied the score back up at 7 to 7, and made their game winning point with 1:03 on the clock. Back in the winner's bracket Twisted defeated Mayhem 10 to 5.
Shockwave took top ranking into the semi finals for the Pro-Am after winning all of their games and scoring 770 points. In fact, Image, Nasty and Cartel also won all of their games, points adding up to give them second through fourth. ECX Factory and Brimstone Smoke each dropped one game giving them fifth and sixth. Addicted and Fusion each dropped two games, taking seventh and eighth at 593 points.
Novice ten man teams had Momma's Boys edging out top ranked novice team Justice for first placement into semi-finals by two points at 770 after no losses for either team in the preliminaries. BC Kidz, Atomix Factory, Cypress, Mantis, Havok and Sin followed them for the eight teams into the semi finals for the novice bracket. Bad Karma and Sin tied after prelims ended with 514 points but since the boys from Florida, Bad Karma lost 48 bodies during the course of the eight games, and Sin only dropped 46 bodies, Sin advanced to semi-finals, sending BK home.
Rookie team Rock It Kids dropped one game in the eight, giving them top ranking at 608. Syndicate, Cartel Empire, Outlaws, Texas Torn, Outkasts, Trance and Crucial joined them in the semi-finals, the cut being five losses and 339 points.
On the NXL field, the bleachers were full all day, with more spectators lounging in the grass. As in Las Vegas, the end zones of the field were covered with solid black netting to prevent end zone coaching, which is prohibited in the NXL rules. The first match of the day wa between Baltimore Trauma and Detroit Thunder. Baltimore came out on top with a score of 10 to 7. When the Philadelphia Americans faced the Los Angeles Ironmen there were several one on one situations in the first half where the Ironmen got the point. That was not so for the whole match however, and the win went to Philly 15 to 5. A few keen observers spotted the four 2003 Shockers being used by the Americans. The new Shocker is significantly smaller and lighter than not only its predecessor, but most other paintgun on the market. Miami Effect faced off with Chicago Aftershock in a match that ended 9 to 13 in favor of Chicago. New York Xtreme defeated Detroit 12 to 9. Oakland Assassins managed a single point victory against the Los Angeles Ironmen, and at the end of the day NYX took down Miami 7 to 6.
With the 10 man games finished well ahead of time, and the last few X Ball matches of the day underway, the on site player's party became the place to unwind. Right on the edge of the track was Maywood Park's patio bar. The party was hosted by Maywood Park, Miller Lite and the NXL. NXL pro players were on hand to meet and greet fans and fellow paintballers while enjoying free beer and soft drinks at the open bar and techno music coming from DYE Precision's sound system. Some moved back and forth between the patio bar, and the indoor bar and restaurant as the party continued into the night.
SUNDAY
Games started at 8 o'clock on the ten man field with the twenty-four semi-finalists hitting the field to fight for the top two spots in their divisions. Division 1 and 2 started at 7:30 on Sunday morning, fighting to make up time in their last games for the tournament, still one game behind on both fields. With the original schedule planning for games to end by 4:45 pm, X Ball was on track to finish well before sundown.
New to the Chicago event was the use of the American Paintball Player's Association player registration database. Teams were required to register individual players in the database, and use their player ID numbers when registering the team rosters. The goals of the system are to prevent sandbagging and track player suspensions. Even before the tournament started, two teams were bumped up automatically from rookie to novice. At the event teams were spot checked on field, for player identity. According to APPA founder Chris Raehl, the next step in the growth of the system is the use of player photo ID cards. While most paintball leagues using photo IDs charge a fee to each player, Paintball Sports Promotions will be covering the costs of APPA IDs to players who compete in the PSP. Other leagues which may start using the system in the future will have the option of a similar set up or letting players buy their own ID cards for $15 each. As and added incentive, APPA has partnered with SPPLAT, so that players getting their APPA ID cards will receive automatic membership in SPPLAT, and be eligible for SPPLAT's already existing travel and entertainment discount programs.
The 10 man semifinals ran like clockwork, with the two novice divisions finishing first. With two divisions of four teams, the top two in each division would advance to the finals. Justice topped the Novices grabbing the first seeded position in finals, followed by Momma's Boys, Cypress and Havok. For the Rookies it was Syndicate on top with a single point lead over Rock It Kids followed by Outcasts and Texas Torn. Amateurs wrapped up by 11 o'clock, Cartel taking all three of their games for first placement into final, Brimstone Smoke taking all three of their games in their division for second placement followed by Nasty and Fusion who were tied with 205 points, Nasty taking the higher seed after previous rounds ranking.
In the finals Momma's boys beat Cypress, Syndicate beat Texas Torn and Rock It Kids beat Outcasts. Havok and Justice stalemated, both teams getting eliminations, but neither getting a flag pull or hang. Brimstone Smoke beat Nasty. Rock it Kids beat Texas Torn. Syndicate beat out Outcasts with 3 bodies alive. Justice beat Cypress and Havok dropped to Momma's Boys putting the Boys in the running going into the third game for the top spot. Syndicate dropped to Rock It Kids giving the Kids the winning spot in Rookie finals, Syndicate in second, Outcasts winning against Texas Torn putting them in third and Texas Torn in fourth. Brimstone Smoke beat Fusion and Nasty beat Cartel while Cartel and Fusion stalemated each other. Brimstone Smoke and Nasty fighting for first place, their scores tight enough to go either way. Cypress won their third game, putting them in third place, Havok in fourth. Cartel beat Brimstone Smoke, with the boys from Ohio missing the 14 point spread they needed to seal up first place. The outcome of the Nasty-Fusion game would settle first through third in the Pro-Am bracket. Momma's Boys beat out Justice with 7 men living, giving them first place, Justice second in the Novice bracket. Nasty and Fusion stalemated giving Brimstone Smoke first place, Cartel second, Nasty third and Fusion fourth.
Division 2 X Ball saw Saberwolf Pups taken out by TKO 8 to 5. Twisted took down Total Eclipse 10 to 8. Underworld defeated Ground Zero Silver 6 to 4, and Strange B was bested by Mayhem 3 to 4. Total Eclipse and Underworld fought a hard match with Underworld leading, but Eclipse tying up the score with a flag hang in the last 4 seconds of the match. The match went into sudden death overtime where Underworld scored a hang for the win. That put Total Eclipse out, and Underworld just one match away from the final match. In the match against Mayhem and Underworld, Mayhem took it to them 10-3, putting Mayhem against Twisted in the final round. Twisted Factory beat Mayhem 9-4 in the final round of Division 2, giving them the victory for the tournament.
In Division 1 the Naughty Dogs defeated Strange 8 to 4, earning the right to play in the finals. This bounced Strange down to the loser's bracket, but didn't knock them out of the running. Legacy beat Nasty 10 to 5 meaning that they would next play Strange for the remaining final match slot. Legacy lost to Strange, 16-2 putting Strange against the Dogs again for the final match later in the afternoon. The Dogs faced off against Strange in a tight game, the ending score 5-4 in favor of the Puppies from Oregon.
NXL wrapped up Sunday Philly beating Baltimore 7-6, Miami beating the Ironmen from LA with an 8 point spread 12-4, Chicago beating out Detroit 11-7, Philly beating NY 11-5 and Oakland taking Detroit 8-4.

Stay tuned to WARPIG.com for video with the original on-scene coverage of the PSP Chicago Open.
Personal thanks to the guys from Legacy for being awesome, space in the lounge to edit photos and for keeping me company in my room. Mitch Karn for poetry, Rosie for pizza, Lane for grilled cheese, Gen-E crew for much laughter, Tim from Jax Warriors for wrestling, Brandy for ice cream, the Dressers for peanut butter and celery - you two are awesome! Jen Duplain from Canada for backrubs, JJ from AGD for making a migraine go away, Lindsey and Elizabeth for working hard and smiling. Eric Sollenberger, Chris Burkhart, Reeg Allen, Noel Syminton, Cheryl Lever, and Bradley O'Bradley for being there. Special thanks to the teams who not only sport the WARPIG.com stickers but take the time to thank us in person and on stage - congrats to my friends from Rock It Kids, Momma's Boys, Brimstone Smoke, and Twisted Factory on their wins - thanks for the love boys. :)