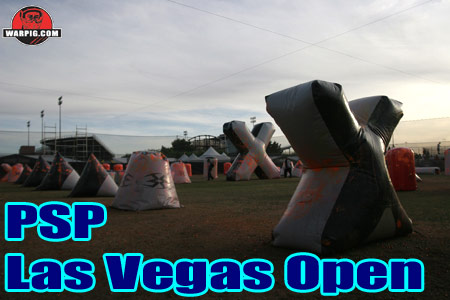 PSP Las Vegas Open
Apr 20-23, 2006
Photos by Matt Dawson
Boston Red Legion - First Place - NXL
Gridlock - First Place DI X-Ball
Voltage - First Place DII X-Ball
RipTide - First Place DIII X-Ball
Riptide - First Place DIII 5-Man X-Ball
Paradise Kids - First Place DIV - 5-Man X-Ball
Paintball Sports Promotions landed in Las Vegas, Nevada for tournament number two in its 2006 six event series. The University of Nevada, Las Vegas' Sam Boyd Stadium grounds was filled with X-Ball fields and vendor's tents for the competition.
Sin City has been no stranger to the promoters or teams of the PSP. For several years, the Las Vegas Open took the first or second spot in the annual series. In 1998, the tournament fields were held in the desert, literally a stone's throw from the Sam Boyd stadium. But times change, and in 2001 Vegas was replaced with Gettysburg. The games came back in 2002 and 2003. Vegas was left again for two years as Orlando took the number two position until 2006, when PSP went back to Nevada.
The teams on the field were competing for cash prizes ranging from $40,000 for first place NXL (pro) down to $1,800 for first place in Division IV 5-Man X-Ball – each division receiving awards for first through fourth place. All told, over $128,000 was on the line. In a city known for gambling, these teams wouldn't take home the checks by luck, they'd have to earn them.
More than just the Vegas trophy, teams were also competing for annual series points, vying for the 2006 Championship. For the pro teams in the NXL, the Philly Americans were poised as the team to beat, having finished first place at the Texas Open earlier in the year, and holding the top series rank. Waiting just behind them, bucking to move up were Baltimore Trauma, Boston Red Legion, and XSV.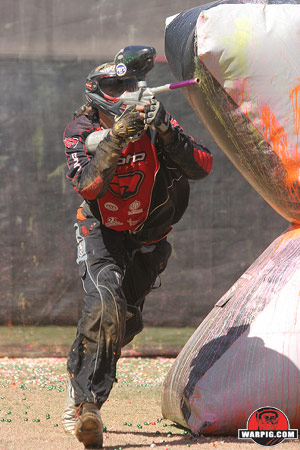 Games started on Thursday morning for the X-Ball teams, with all of D-III getting in two games each. Under the new round robin tournament format, the teams played a total of four games each in the preliminary round. The ranking system, granting two points for a win, one point for a tie, and no points for a loss left many teams with 4, 0, or two ranking points at the end of the day. Finer detail was needed to rank teams, using the first tiebreaker method – the point differential – just how many more points a team had earned than their competitors. With an average spread of 3 and a half points, East Coast Killers was sitting in the lead over the 30 teams in the division.
Of the 35 teams competing in Division II, the Palm Beach Vipers and Static ripped through the day averaging 6 point leads over the teams they faced. Division I teams had a much smaller group to battle through – eleven teams broken into two divisions. Gridlock was the early favorite here, beating United 9 to 1 and Team Impact 11 to 4.
The pros, of course were the focus of more fan attention, competing within their closed division of the NXL. Thursday started with the Philadelphia Americans – two time champions and winners of the last NXL event – defeating Ultimate by 10 points, 14 to 4. Baltimore Trauma similarly took it to the Naughty Dogs 12 to 5. Russian Legion, playing under their Boston franchise demolished San Diego Legacy 19 to 2. The Miami Raiders showed their stuff against Chicago Aftershock with an 11 to 5 win. New York Xtreme felled Less Than Zero by a couple of points, 9 to 7. Los Angeles Ironmen played another of the day's strongest games against the Oakland Assassins 13 to 3. Ultimate fell to Detroit Strange 7 to 8, and Dynasty edged out a single point win over the Naughty Dogs 11 to 10. Legacy fared better in their second game. Although they didn't win, they finished 7 to 10 against XSV. In Philly's second game they didn't fair as strong as their first, dropping to Aftershock 6 to 10.
Games continued on Friday, with some divisional teams completing their preliminary games. In Division III it remained obvious just how closely matched the teams were – the best ranked team, East Coast Killers, only had an average differential of 3-3/4 points. Teams were winning, and teams were losing, but the point spreads were not very large. With teams playing in six brackets, the top two teams from each advanced to the next round – a total of twelve.
In Division II, the top team in each of the seven brackets was selected for advancement, with five wildcards (top ranked teams overall, regardless of bracket) also moving on, also for a total of twelve. Voltage was the leader of this group with a five and a half point average spread.
In Division I the top four teams overall would advance, but more prelim games were still in store for them. Gridlock was topping the chart with an average 8 point margin from each game.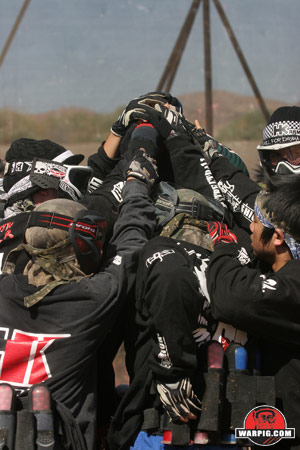 On the NXL field, the top teams went at it all day. Baltimore Trauma took down New York Xtreme 12 to 6. Boston edged out the Ironmen 12 to 7. Detroit Strange sat tied with the Miami Raiders 7 to 7, but grabbed a winning point in sudden death overtime – something that previously would not have been seen in the NXL (regular season/prelim play allowed tie finishes in the first three years of the league.) Dynasty dismantled Less Than Zero with a 12 to 2 point game. Oakland Assassins rallied from their previous day's performance and worked a single point win against XSV 7 to 6. Chicago Aftershock also beat Ultimate by a point 8 to 7. NYX fell to the Naughty Dogs 5 to 11. Los Angeles Ironmen took it to San Diego Legacy 14 to 4. Philly Americans didn't make it past Miami Raiders their game ended 6 to 10. Trauma tore into Less Than Zero 12 to 5.
Saturday while most X-Ball teams plowed through their remaining preliminary round games, Division III was already hitting the fields for their quarterfinals. Playing in four brackets of three teams each meant two games per team in this round. Data Support Systems topped the group with an average differential of 4.5 points, leading the teams into the semis.
Division II got into their quarterfinals as well – the top team in each of the four brackets moving on to the semis. Voltage led the group, followed by Naughty Leprechauns, Team Speed and Smart Parts Factory Team.
Division I finished up their prelim games, and due to the smaller number of teams in their group, the top four from the prelims were who went on. These four teams, ranked by their scores would be re-sorted by the semifinals and finals to determine first through fourth place – Gridlock, San Diego Aftermath, X-Factor and Jacksonville Raiders.
On the NXL field the prelims continued to their conclusion. Boston topped Oakland Assassins 11 to 8. Strange fell to Aftershock by a single point, 6 to 7. Dynasty bested NYX by the same amount – 9 to 8. XSV fell to the Ironmen 8 to 13. Miami Raiders beat Ultimate 11 to 6. Naughty Dogs defeated Less Than Zero 10 to 6. Oakland Assassins took San Diego Legacy 10 to 8. Philly Americans beat Detroit Strange 12 to 5.
X-Ball players weren't the only ones on the field. Division III and IV level teams also played in the 5-Man Xball preliminary rounds. For D-IV, Texas Notorious, Outlaws, and Sin City Paintball were among the early leaders of the forty teams competing. Twenty-five teams battled it out in D-III 5X, with Bad Instinct, Torque and Riptide appearing as early favorites.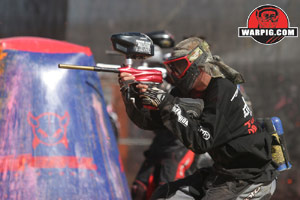 The game fields at Sam Boyd stadium weren't the only placed things were happening on Saturday. A pro-panel was assembled in the afternoon with Oliver Lang, Rocky Knuth, Rob Staudinger and Brian Fow. In discussion panel format they took questions from about 20 attendees in a conference tent at the tournament site. For the mostly younger attendees it offered a chance to learn just what the "pro" paintball lifestyle involves. Less Than Zero owner Bart Monroe and team coach Neal Williams were the speakers at a follow-up seminar on Sunday. Speaking to a similar sized, if slightly more studious audience, the two talked about what it takes to move a team up the ranks, from training to developing a sponsorable image. Paintball Sports Promotions plans to continue the concept of the seminars at future events through the season.
The X-Ball teams got into their semifinals on Sunday. For each division this meant the final four teams were battling for their position in the finals games. First ranked teams played a single game against fourth ranked and second ranked played third ranked. The winners from the semifinals advanced to play each other for first and second place, while the losers went on to play for third and fourth.
In Division III first ranked Data Support Systems took Team Spray Paint 5 to 1. Second ranked RipTide beat PBC-Gridlock with the same score. Division II pitted Voltage against Smart Parts Factory Team. Voltage came out on top of that pairing with a score of 7 to 1. The Naughty Leprechauns defeated Team Speed 5 to 3. In Division I Gridlock took the Jacksonville Raiders 9 to 2, and San Diego Aftermath edged out X-Factor with a one point win 8 to 7.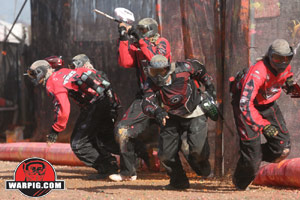 Bumping into the finals for D-III, RipTide defeated Data Support Systems 5 to 2, for first place. Team Spray Paint finished third by beating PBC Gridlock 5 to 1. Voltage beat Naughty Leprechauns 4 to 3 for first place in Division II. Team Speed fell to the Smart Parts Factory Team 4 to 5. This gave them a fourth place finish with Smart Parts in third. Gridlock beat San Diego Aftermath by just one point, with a score of 8 to 7, giving them the first place D-I trophy with Aftermath in second.
Five-Man Xball Division III semifinals saw Infinity beating Riptide for their first game, but Riptide won the next two. Bad Instinct defeated Barebonez in two straight games. This reshuffled the teams for the finals round. In the finals Infinity beat Barebonez in their first game, followed by the second securing third place. Riptide beat Bad Instinct in their first game, lost the second, and won the third, finishing the tournament in first place, with Bad Instinct in second.
The NXL had plenty of games to get through on Sunday. The quarterfinals games consisted of the top ranked teams from the prelims in a win or go home round. Boston Red Legion beat the Naughty Dogs 9 to 6. Dynasty went toe to toe with the Philly Americans, and tied 8 to 8, but lost in sudden death overtime with a point going to Philly. The Miami Raiders took it to Chicago Aftershock 16 to 4. Los Angeles Ironmen felled Baltimore Trauma 11 to 6.
This brought the teams into the semifinals round. Here the Legion took Philly 17 to 4, and Miami fell to the Ironmen 6 to 7. Philly and Miami, both having lost in the semis, were paired off to play for 3rd and fourth in the finals. In the prelims, Miami had beaten Philly 10 to 6. Miami stepped up their game even further in the finals and won 13 to 1. The final match – the game for first and second place was between Boston Red Legion and the Los Angeles Ironmen. These two had also faced off during the prelims, where the Legion won 12 to 7. In their finals game, the Ironmen also earned seven points, but Boston earned 15, taking home the first place trophy and a check for $40,000.
The event rankings for NXL teams were as follows:
| | |
| --- | --- |
| 1 | Boston Red Legion |
| 2 | Los Angeles Ironmen |
| 3 | Miami Raiders |
| 4 | Philadelphia Americans |
| 5 | Dynasty |
| 6 | Baltimore Trauma |
| 7 | Chicago Aftershock |
| 8 | Naughty Dogs |
| 9 | Detroit Strange |
| 10 | Oakland Assassins |
| 11 | XSV |
| 12 | New York Xtreme |
| 13 | Ultimate |
| 14 | Less Than Zero |
| 15 | San Diego Legacy |
The next stop for the PSP after the bright lights of Las Vegas is to come in late June – the venerable Chicago Open, an anchor event in the series, and historically typically the second largest, next to World Cup.