2007 PSP River City Open
Aug 2-5, 2007
Council Bluffs Recreation Center, Omaha, NE
Photos by Matt Holland
NXL 1st Place - Boston Red Legion
X-Ball Open Class 1st Place - Avalanche X
X-Ball Division 2 1st Place - Drama Paintball
X-Ball Division 3 1st Place - DBS Kidz
5 Man Division 3 1st Place - No Limit
5 Man Division 4 1st Place - Who What
In the old days, it was the Atlanta Open. Then it moved to new venues, including Nashville, and the Northeast and the Carolinas. Sometimes called the "redheaded stepchild" of the series, because of its smaller summer turnout, the fourth event of the 2007 PSP series was placed in an all new venue – the Council Bluffs Recreation Center in Omaha, Nebraska.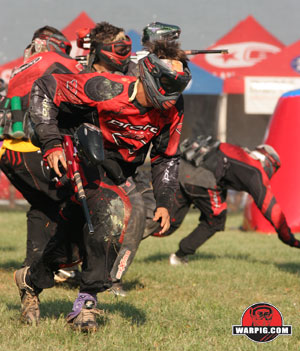 Located on the shores of the Missouri River, separating Nebraska from Iowa, Omaha has a long history from its roots as a frontier cattle and trade city through Father Flanagan starting the Boy's Town home for homeless children in 1917, and being known as the birthplace of Malcolm X. Almost central to the Continental United States, Omaha served as a more regional location, accessible to teams of the midwest.
For divisional X-Ball teams and 5-man teams, the smaller draw of the season's fourth tournament, and higher draw of local teams who don't as often compete nationally has many times allowed some less known teams to get some time in the spotlight. Fifty-nine teams came out to compete in divisional X-Ball, while fifty-two registered for five-man, all but 12 of them in D-IV-5-man, the beginner's level division for PSP.
For the pro teams of the NXL, both franchise, and invited, much was on the line. Los Angeles Ironmen won the LA Open. Boston Red Legion the Mid Atlantic Open, and X-Factor the Chicago Open. The team that would take Omaha was anyone's guess. Another wildcard added to the mix, was the withdrawl of Less Than Zero and San Diego Legacy. Their absence put a big hole in the schedule. Rather than re-scheduling teams to a 14 team prelim structure, those teams who would have faced LTZ and Legacy were instead given a bye for those games. Some teams would have to ensure 4 prelim games, while others would only need to play 3.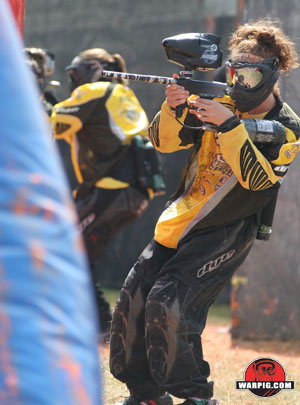 Starting the NXL games on Thursday morning was one of the bye's for team X-Factor. Later that day Los Angeles Ironmen faced off against Ultimate in a stunning 13-1 victory. Baltimore Trauma took on Dynasty and won with a single point margin of 9-8. Later still Boston Red Legion and the New York Hurricanes faced off with a final count of 9-6 in favor of the Russians. Philly Americans took Jacksonville Raiders 9-4 while Chicago Aftershock was defeated by Sacramento XSV 9-5. The Seattle Naughty Dogs and Detroit Strange faced off in a single point decision of 7-6 in favor of the Dogs while Oakland Infamous settled their bye for the last game of the day on Thursday.
The Divisional X-Ball teams of Open Class, Division 2 and Division 3 were fighting it out on 4 fields of their own. By the end of Friday afternoon, San Diego Aftermath in the Open Class division was smelling like a rose with a full four games won by a total margin of 30 points. They were followed closely by Avalanche X who finished with a full four game win with 29 points to their credit. Winning three of their four games, the other two top teams in Open Class were Tampa Bay Damage and Team Impact, all four teams maintaining their top four seeding coming in from the Chicago event. These four teams would face off on Sunday.
TX Justice League were rolling all 7's in Thursday and Friday's matches in their bracket, the top score per game allowed in Division 2. They won each of their four games with either 7-1 or 7-0 victories giving them a sure shot into the next round of games on Sunday. In Division 3, DBS Kids came out on top with a 15 point margin over Fierce's solid 4 game wins, reaching the maximum 5 point high in Div 3, but with only a 13 point margin, good enough to hit the next round of games in second place. Twelve teams would advance from Thursday and Friday's matches to play on Saturday from Divison 2 and 3.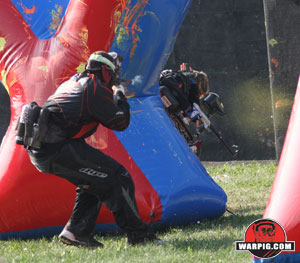 On Friday the NXL teams battled each other and the muggy Omaha heat with Boston Red Legion taking their bye for the first game of the day followed by a Sacramento XSV defeat courtesy of team Dynasty with a four point margin of 8-4. X-Factor got to play their first real game of the event mid morning on Friday against Seattle Naughty Dogs and felt the sting with a 13-4 win going to the Dogs. Philly Americans chalked up their second win against Ultimate with a score of 11-3 before Chicago Aftershock and Baltimore Trauma fought it out with Trauma coming out with just three flag hangs to Chicago's 10. Oakland Infamous and New York Hurricanes had the same score, the following game with Oakland on top, 10-3. Jacksonville Raiders took down the Los Angeles Ironmen by a point with a final score of 7-6 toward the end of the day and the final two games scheduled were bye games for both Detroit Strange and the New York Hurricanes.
On Saturday the five man teams took to the field to play their matches while the Open Class X-Ball semi finalists played their game to determine who would battle for first and second place, and for the losing two teams, third and fourth. For the first game, Avalanche X was matched up against Tampa Bay Damage where Avalanche X took the win with a defeat of 6 points, the final tally 11-5. An hour later San Diego Aftermath took on Team Impact for a blow out 8-0 win for Aftermath, ensuring they would face off against Avalanche X for the chance to take home first place Open Class for the 4th time. Tampa Bay Damage would fight for third or fourth against Team Impact.
The Division 3 X-Ball teams played their quarter finals throughout the day on Saturday in four divisions to send the top team out of each division to the next round. On top going into the quarter finals was DBS Kidz, Fierce, DSSP8ntball.com and Speedin Dirty RNT. Three of those four top ranked teams made the top spot in the quarter finals sending DSSP8ntball.com to the top ranked quarter spot with two solid blow outs against their competition. Joining them were DBS Kidz with a 5-1, 5-0 score in the quarters. Fierce was the third team to make the cut with the same score of 5-1, 5-0 and fourth going into the next round was Hershey Heat who beat out Speedin Dirty RNT, Chicago Open winners, by a single point who also lost their match to Gridlock Black. Going straight from the Quarter Finals, the top four teams from the X-Ball Division 3 category would face off again in the finals on Sunday.
Saturday's NXL games ran all day on one field with Boston Red Legion taking the field against Oakland Infamous in the first game of the day. Red Legion took Infamous with a four point margin at a score of 9-5, giving the Russians three wins in the prelims. X-Factor beat out Detroit Strange 6-4 in the second game, followed by a defeat for Chicago Aftershock who only scored twice against Dynasty who triumphed 10-2. Sacramento XSV faced off against Baltimore Trauma and came out ahead by a single point 7-6. Los Angeles Ironmen beat out Philly Americans with a 10-5 victory mid-afternoon. Jacksonville Raiders won their third match against Ultimate, giving Ultimate their third loss for the tournament with a score of 12-4 in favor of the Raiders. The last game of the day was a bye for the Naughty Dogs, giving them three victories in the prelim round.
The five man competition played a set of hard won games on Satuday with the 5 man Division 4 section finishing at the final hour. Each team plays a best two out of three matches, taking their top two scores. Of the 40 teams competing, 16 would advance into the Ocho Final round. Who What took top spot after 8 matches and four maxes of 100 points for a grand total score of 782. At the bottom of the list, in 16th place going into the Ocho finals was Mavericks with a total score of 592.
Of the 12 teams competing in the Division 3 five man competition, 8 would advance to the next round of games in the Quarter Finals. PBD won eight of their nine matches for a total score of 750. They would be joined by Stinger Factory, Team Encounter, Boom, No Limit, Team Unlimited, Disposable Hereos and MIA Outkast in eight place with a four win total of 424 points.
Sunday dawned with games starting towards the final matches for each of the teams who'd won their way to the top. Division 2 X-Ball Quarter Finals were played out on Sunday morning with Vicious hitting the top spot with two perfect games. The Castle won both of their games 7-2 and 7-3 to take second out of the quarters along with Drama Paintball and Texas Justice League.
Cutting the competition in half, the Ocho Final took the sixteen 5 man Division 4 teams and paired them down to 8 to advance to the Quarter Finals. Who What again plowed through their games, winning their three matches. Joining them in the Quarter Finals were Marked For Life, Catastrophe, DBSPaintball.com, Outta Kontrol, Chicago WiseGuys, SL Tension and Ghetto Smurfs.
Five man Division 3 played their quarter finals with eight teams to cull out the top four teams. After three games Disposable Heroes were on top. Joining them in the next round of games would be PBD, No Limit and Team Encounter. Division 4 hit the quarter final rounds hard and Marked For Life took top placing with three wins. Who What dropped a game in the quarters, but secured their place along with Chicago WiseGuys and DBSPaintball.com. For the semi final round, Division 4 team Chicago WiseGuys would face off against Who What, while DBSPaintball.com would play against Marked For Life. The semi final round for the Division 3 teams would pit No Limit against PBD and Disposable Hereos against Team Encounter.
On the NXL field on Sunday morning, the Seattle Naughty Dogs beat out X-Factor with a score of 7-6. Boston Red Legion then took on Sacramento XSV 8-5. Oakland Infamous fell to the Los Angeles Ironmen in a 13-4 match and Dynasty beat the Philly Americans 10-6 by mid-day on Sunday.
Finals games were played in the afternoon on Sunday with the X-Ball divisions finishing off with DBS Kidz taking home the win for Division 3. Hershey Heat took second place to them, with DSSP8ntball.com in third and Fierce in fourth. The Division 2 games had Drama Paintball in first, Vicious in second, TX Justice League in third and The Caste in fourth. Open Class wrapped up the event with Avalanche X beating out San Diego Aftermath in a surprise upset, giving them first and second place respectively. Team Impact took home the third place win while Tampa Bay Damage took home fourth for the Open Class.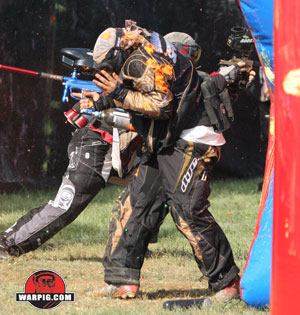 Five man finals saw Division 4 with prelim and quarter favorites, Who What in first place, DBSPaintball.com in second, Marked for Life in third and Chicago WiseGuys in fourth. The five man Division 3 teams played out three games each in their final's match giving No Limit the win, Disposable Heroes second place, Team Encounter the third place title and PBD took home fourth.
The tournament couldn't end until the NXL matches were complete. After a strong tournament, Seattle Naughty Dogs faced off against Dynasty and dropped two points to give Dynasty the win at 7-5. Shortly afterwards Boston Red Legion took a massive swing at the Los Angeles Ironmen, sending them packing 12-6. The big finish would come with a head to head featuring the Russians and the boys in blue. Boston Red Legion took on Dynasty as the last game of the day, winning 8-6 to give them their second first place win in the 2007 season.
The final ranking points would be awarded to the NXL teams after their performance at the River City Open. In first, Boston Red Legion, with Dynasty taking home the second place award and Seattle Naughty Dogs taking third. In fourth place, Los Angeles Ironmen and fifth Philly Americans. Oakland Infamous took home 6th place while Sacramento XSV took 7th. X-Factor would hold eighth place, Jacksonville Raiders played for ninth place, Detroit Strange for 10th place and Chicago Aftershock for the eleventh slot. Baltimore Trauma took home 12th, New York Hurricanes earned 13th and Ultimate went home with 14th.
Wrapping up the weekend of tournament paintball play, most of these players would go home, rest up and then start the practice sessions for the next PSP event, the season finale in October, at Disney's Wide World of Sports in Orlando, Florida.