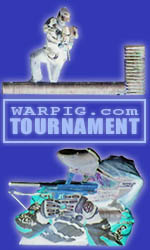 What do you think? Add your comments in WARPIG's TOURNEY TALK FORUM
PSP Pre-Cup Rankings
Sept 2011
With the PSP four-tournament season three quarters of the way done, a look at the rankings can give some sound insight as to which teams will be favorites for the championship title.

Unlike the years of old when team rankings formulas confusing to the average player, today's ranking system is very simple. At each tournament, a first place score results in 100 ranking points earned. Finishing below that teams earn a percentage of 100, based on what place they finished. In the pro division, ranking is very easy because there are ten teams. Each place finish gets 10 less points (100 total points divided by 10 teams) than the one before it. Ranking points for each tournament are totaled up, and at the end of the season the championship team is the one with the most points.

For the top skill levels where most or all teams play the entire series this is a straightforward and well-balanced system. At the lower levels such as D-IV, it doesn't take into account that some tournaments have notably larger attendance than others. The points earned by being the best out of 4 teams are the same as being the best out of 50 teams. Fortunately, most lower level teams are more focused on the event trophy than series title, making this a non-issue, as evidenced in Race To 2 Division IV, where any team playing the full season so far, has ranked in the top 12%.

In the quest for a series title, doing consistently well has shown over the years to be more important than bringing in first place trophies – though that certainly helps. This year's pro leader heading into World Cup is Dynasty. With a first place win at Galveston Island (100 pts) second place in Chicago (90 pts) and second place at the New Jersey Open, their 280 point total is just 20 points shy of perfect. Boston Red Legion, AKA Russian Legion is ranked second, but with a second place finish in Texas, and a win in Illinois, their run for the series was hampered by their seventh place finish in Jersey, garnering them only 40 points, for a total of 230. Next down the line, Tampa Bay Damage finished fourth, and seventh before their first place trophy in New Jersey, for a total of 210.

So what does this mean going into World Cup in October? Well, for the teams with less than 180 points (Edmonton Impact, X-Factor, LA Infamous, Chicago Aftershock, Vicious and Chattanooga CEP) there is no hope of taking the 2011 Championship (though Impact could do it if they take first at Cup, and Dynasty gets stuck in a TSA search airport and doesn't show).

If the Ironmen win World Cup, they'll have 300 total points, which means the only way they can best Dynasty is if the boys in blue finish lower than 9th place. Similarly, a win for Tampa Bay Damage, though very possible after their New Jersey Open victory, would yield 310 points, a total that would require Dynasty to finish in 8th or lower to grab the championship from them.
The strongest competitor Dynasty faces for the championship is Boston Red Legion. With their track record this season starting out solidly with first and second place finishes, Boston Red Legion has the most hope of triumphing over Dynasty for the series, but that still won't be an easy feat. Even if the Legion wins World Cup, they can only take the series if Dynasty finishes the event below 6th place. While that seems unlikely, one must remember that both teams went in to the New Jersey open with the same record, a first and second place win, and it was in Jersey that Red Legion finished in 7th place. Sometimes things just don't gel for even the most prepared and capable of teams.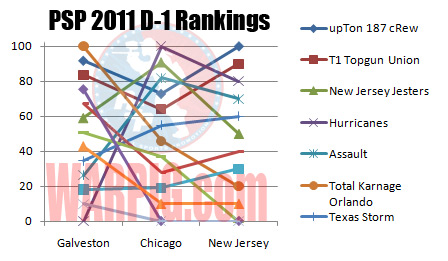 For Division I, the field of competitors is larger, at 13, but not all of the teams are playing the full season. In this Divison, it's upTon 187 cRew ranking at the top of the heap, with 263 points earned with high ranked tournament finishes and a first place in New Jersey. The team currently ranked second is T1 Topgun Union, at 237.81 points. That spread of 27.18 will be tough for Topgun Union to overcome, but not at all impossible, as within the season, the cRew has varied by as much as 27 points between events. For the New Jersey Jesters though, facing a 65 point gap, hopes for the title are pretty slim. While he Hurricanes winning Chicago and finishing third in New Jersey was excellent, the fact that they didn't compete in Galveston really hurt their series total, putting them a nearly insurmountable 85 points below upTon 187 cRew. Si9milarly Assault and Total Karnage Orlando could finish on top, but the odds are far from in their favor. For Texas Storm, VcK, Louisville Sluggers, HuSTLe, L.I.F.T, Mayhem and the Midway All-Stars, the 2011 D-I Championship is already out of reach.
So how will it all play out? The only way to find out is to follow the 2011 PSP Paintball World Cup, October 20-23 in Lakeland, Florida.